Famously Dead A-Z:

Cause of Death:
View information about Dean Paul Martin's death here on famously-dead.com. You can view information about Dean Paul Martin's death and other famous deaths. You can view by name or by cause of death. We also have included the most popular famous deaths.
Dean Paul Martin's Death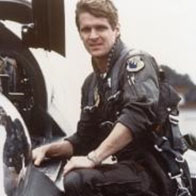 Dean Paul Martin
Music, Tennis, Military Pilot
November 17, 1951
March 21, 1987
Plane Crash
The life and death of Dean Paul Martin:
This man was named after his famous father and followed his dad in the music and film industries. He was also a successful tennis player and a military pilot. Not nearly as big a star as his Dad, he did have several major accomplishments. But unfortunately he died in his role as a pilot.
Dean Paul Martin was born in suburban Los Angeles in November 1951. His mother, the former Jeanne Biegger …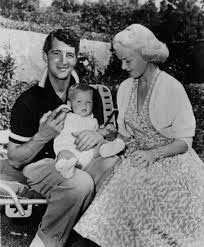 …was the second wife of his very famous Dad.
Dean Paul was the fifth child of seven for Dean Martin…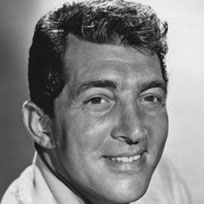 …who was part of the famous Martin and Lewis act at the time. Of course, Dad later branched out on his own as part of the Rat Pack who entertained in Las Vegas and also had great success as a recording artist, actor and TV variety show host.
Young Dean attended the Urban Military Academy in Brentwood and started his own music career at the age of 13 as part of the rock group with the son of Lucille Ball, Desi Arnaz junior and Billy Hinsche.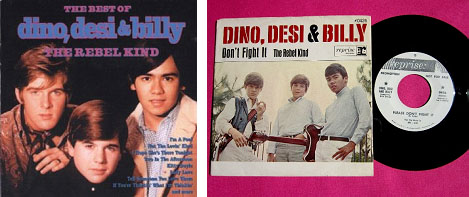 They had a couple of Top 30 hits between 1965 and 1968.
He changed from Dino to Dean Paul in his late teens and competed in a junior competition at Wimbledon. He was ranked number fifty on the pro tennis tour while he was in his twenties.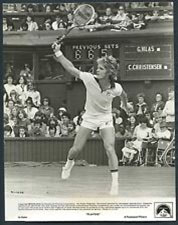 He then turned to acting, playing the role of a tennis player opposite Ali McGraw in the movie "Players".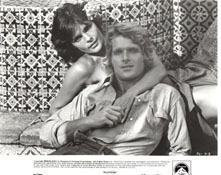 And he co-starred with Courtney Cox in the 1985 TV series "Misfits of Science."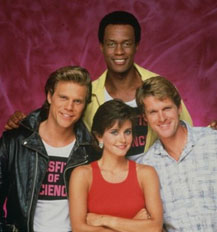 Dean Paul was married twice, first to actress Olivia Hussey …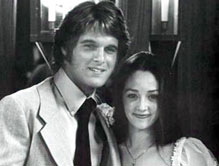 ...and later to figure skater Dorothy Hamill.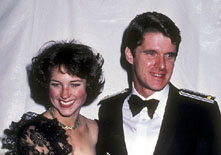 Both marriages ended in divorce.
Dean Paul Martin had a reported dust-up with the law.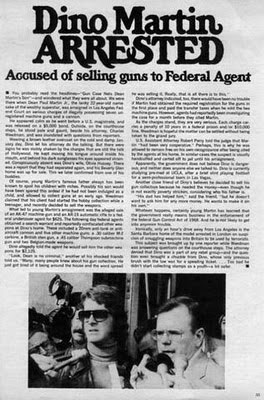 But he maintained his status as an officer in the California Air National Guard. Rising to the rank of Captain, he died when his planned crashed in the San Bernardino Mountains during a snow storm.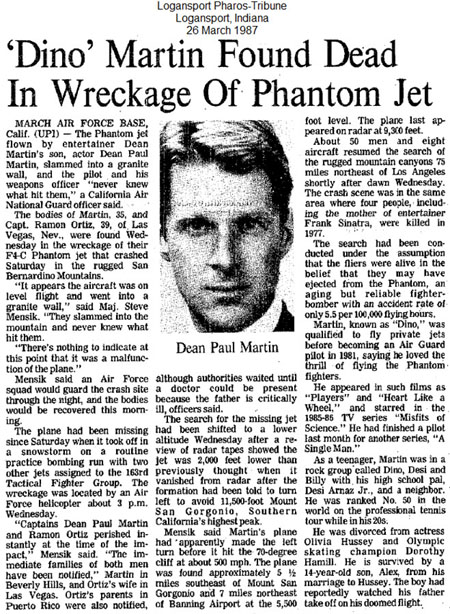 Show business elite attended his funeral.
His ailing father was devastated and never got over the loss, walking out of a reunion tour with Frank Sinatra and Sammy Davis Jr.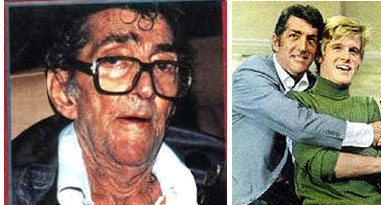 Dean Paul Martin was survived by his own son, Alex…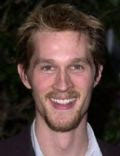 …from his marriage to Hussey. The boy, then a teenager, watched his father take off on the doomed flight.
Dean Paul Martin is buried in the Los Angeles National Cemetery.