Famously Dead A-Z:

Cause of Death:
View information about Billy Martin's death here on famously-dead.com. You can view information about Billy Martin's death and other famous deaths. You can view by name or by cause of death. We also have included the most popular famous deaths.
Billy Martin's Death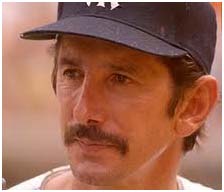 Billy Martin
Baseball
May 16, 1928
December 25, 1989
Car Crash
His feisty ways made him nearly as many enemies as they did fans. He battled his way through major-league baseball as both a player and manager in several different uniforms. In the end, he was accused of driving drunk -- a charge that was simply not true.
Billy Martin was born in Berkley, California named Alfred Manual Martin. His nickname Billy came from his grandmother, who called him "Bellisimo", which means beautiful. A street smart but poor kid, Billy grew up playing ball and winning fistfights.
His on-the-field talents gained him a spot on Oakland's minor-league team, the Oaks, under a manager who would become his mentor and father figure, the legendary Casey Stengel. When Stengel joined the New York Yankees in 1949, he brought Billy to the team the following year.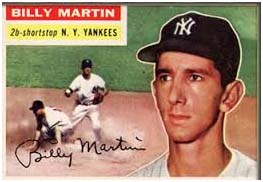 Martin's prickly ways turned off a lot of people, although he did pal around with the team's greatest star - another San Francisco Bay area native - Joe DiMaggio.
Martin's hard-nosed style of play can be seen in this game saving catch in the 1952 World Series at Brooklyn's legendary Ebbets Field. (Fast forward to about 4:25 in to see his historic catch.)
And the next year, in 1953, he won the World Series MVP award after batting a truly remarkable .500. Martin served in the Army in 1954 (the first year the Yanks didn't make it into the World Series since 1948.)
Martin's best buddies now were superstars Mickey Mantle and Whitey Ford, and the three Yankee players were notorious for taking advantage of New York City's fast nightlife. By 1957, though, Martin's act was wearing thin with Yankees general manager George Weiss, who thought he was a bad influence on the team's marquee player, Mantle. (Mantle and Martin were lifelong friends, Mantle even named one of his four sons after Billy.) Billy was traded to the Kansas City Athletics after he was part of a group of Yankees involved in a fight at the Copacabana.
Martin's playing career sagged, shuttling from Kansas City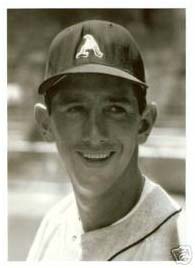 …to the Detroit Tigers….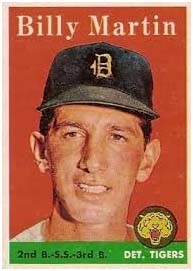 …to the Cleveland Indians…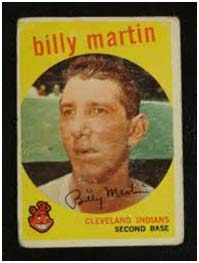 …to Cincinnati …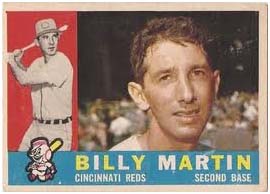 …where as a member of the Reds broke Chicago Cubs pitcher Jim Brewer's cheekbone in an on the field fight, after a brush back.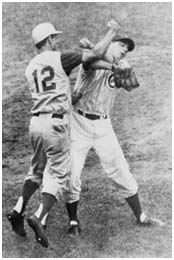 Brewer was hospitalized for a couple of months. The Cubs sued him for a million dollars for loss of Brewer's services. The pitcher sued on his own and won a $10,000 court judgment. When told about it by reporters, he replied: "How do they want it? Cash or check?"
Next he played for the Milwaukee Braves…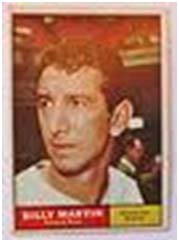 …and finally to the Minnesota Twins.
His playing days over, Billy stayed in the Twins organization, scouting, coaching and managing in the minors.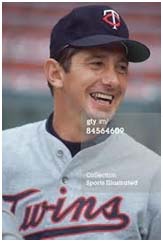 But in 1969, was resurrected when he was hired as the Twins' manager. He sparked the consistent also-rans to a playoff berth. But he was fired because he fought, sometimes with his fists, with both players and front office personnel.
The Detroit Tigers were next…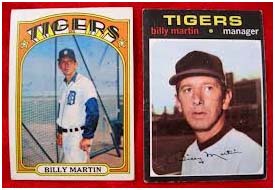 …and they experienced the same on-field success under manager Martin, who suffered with the same personality failures.
He was next hired by the Texas Rangers…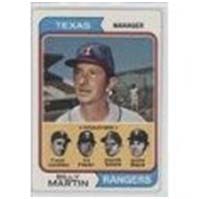 …and history repeated itself again.
Finally in 1976, Martin's dream came true. He was hired to manage the only team he ever loved - the Yankees …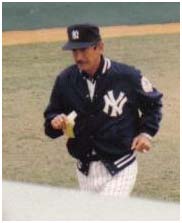 …and he led them to their first World Series appearance since 1964. They lost four straight to Cincinnati, but they won it all the following year.
But Billy's personality was still part of the deal. Notable feuds erupted with star right fielder Reggie Jackson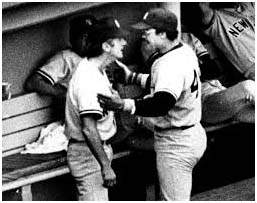 …seen here at Fenway Park in the dugout after a 1977 confrontation.
Much more significantly he had recurring problems with the team's equally combative owner, George Steinbrenner.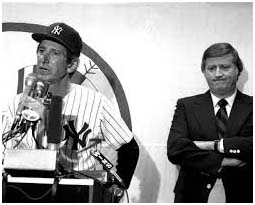 Theirs was a love-hate relationship. Steinbrenner would fire and then rehire Martin a few months later. This happened an incredible five times!
They even joked about it is this commercial…
It's ironic that Billy was doing beer commercials. He had a known drinking problem and he downed more than just a few beers at a sitting.
During one of his periods of exile from the Yankees, Billy managed the Oakland A's …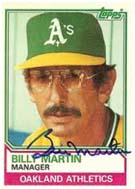 …and sparked them to playoff contention with a style of play dubbed "Billy-ball." Unfortunately, that didn't last either. But it was good for Steinbrenner, who called Billy back.
The end came for Billy Martin on Christmas night 1989. Rumors that drunken driving did him in was disputed in the HBO TV program "Autopsy." Forensic pathologist Michael Baden concluded that all of Billy's injuries were on the right side, meaning he was in the passenger seat, and that his friend Bill Reedy was the driver. No autopsy was performed at the request of Billy's family.
Martin was working as a special consultant to Steinbrenner at the time.
The Yankees eventually retired his number one, which is currently on display at Yankee Stadium's Monument Park

He's buried in Gate of Heaven cemetery in Hawthorne, New York…
…about fifty yards away from probably the greatest Yankee of them all, Babe Ruth.