Famously Dead A-Z:

Cause of Death:
View information about Buddy Holly's death here on famously-dead.com. You can view information about Buddy Holly's death and other famous deaths. You can view by name or by cause of death. We also have included the most popular famous deaths.
Buddy Holly's Death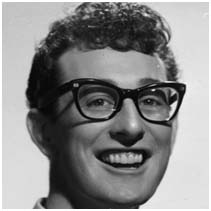 Buddy Holly
Music
September 7, 1936
February 3, 1959
Plane Crash
Elvis Presley had the looks, the voice, the moves and the girls.
But in the 1950's, Buddy Holly was the music!
Born Charles Hardin Holley in Lubbock, Texas, Buddy – as he was known to his family – not only sang, but wrote his own songs. Inspired by Elvis, he created a string of hits in the 1950's with his group The Crickets including "That'll Be The Day", "Peggy Sue", "Oh Boy", "Words Of Love" (covered later by the Beatles, who Holly influenced greatly) and "Not Fade Away", which the Rolling Stones later covered for an early hit.
After the Crickets broke up, Holly penned "True Loves Ways" for his wife Maria Elena.
Holly was a headliner act in the Winter Dance Party rock and roll tour of the Midwest in the winter of 1959, along with other recording stars like Dion and the Belmonts, The Big Bopper and Richie Valens.
Holly, Valens and the Big Bopper chartered a small airplane to get to the next stop on the tour. But it crashed soon after takeoff on a bitterly cold night in Clear Lake, Iowa, killing all on board, including the pilot.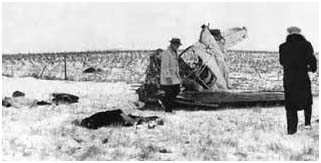 A dozen years later, Don McLean memorialized Holly's death with the song "American Pie", mourning "the day the music died."
And a few years later in 1978, Gary Busey received a Best Actor - Academy Award Nomination for his portrayal of the rock icon in The Buddy Holly Story.
On September 7, 2011, Buddy Holly received his star on the Hollywood Walk of Fame, posthumously. It would have been his 75th birthday.