Famously Dead A-Z:

Cause of Death:
View information about Jacqueline Kennedy Onassis's death here on famously-dead.com. You can view information about Jacqueline Kennedy Onassis's death and other famous deaths. You can view by name or by cause of death. We also have included the most popular famous deaths.
Jacqueline Kennedy Onassis's Death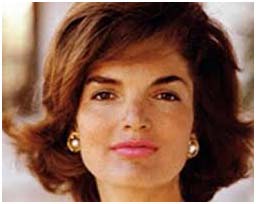 Jacqueline Kennedy Onassis
First Lady of the United States
July 28, 1929
May 19, 1994
Cancer
Her regal bearing served her well, as America's first lady and later as wife of one of the world's richest men. Jacqueline Kennedy Onassis' life was marked by dizzying highs and unimaginable lows. Yet she always displayed an elegance and charm that won her the respect of millions all over the world.
Born in Southampton, Long Island just before the Great Depression hit, Jacqueline Bouvier spent much of her early life in the Hamptons and New York City, the daughter in a privileged family.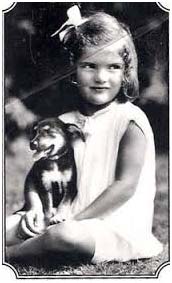 At a young age, she developed a love for horses and became an equestrian. When her parents divorced, she split her time between her mother's home in McLean, Virginia and Newport, Rhode Island and her father's homes in New York and on Long Island. She made her society debut in 1947 and spent her first two years of college at Vassar in Poughkeepsie, New York.
She worked as a photographer at the Washington Times Herald when she met some then Congressman John F. Kennedy. They married in Newport in September 1953…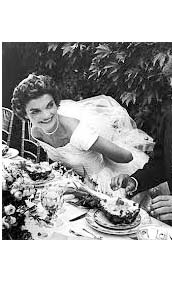 …and he was elected President seven years later.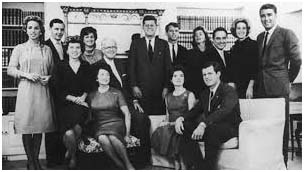 She captivated much of America as First lady, whether while traveling with the president...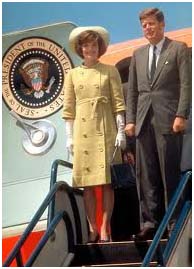 …or caring for her children, Caroline and John…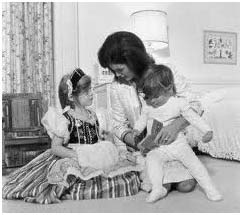 …or leading America on a televised tour through the White House, with CBS correspondent Charles Collingwood
But Jacqueline Kennedy was also repeatedly brushed with tragedy.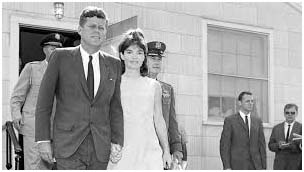 She lost a son Patrick, born prematurely, in August, 1963.
And then in November of that year…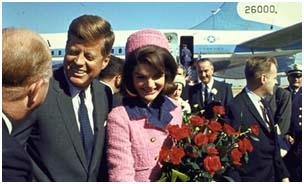 …her husband was killed in Dallas.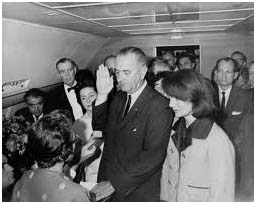 She moved her family to New York City but in June 1968, after her brother-in-law Robert was assassinated, she feared for her children's safety and wanted to get out of the United States. She surprised many people when she married the Greek shipping magnate, multimillionaire Aristotle Onassis, on October 20th of that year.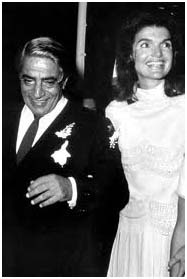 He was able to provide safety and security.
After Onassis died in 1975, she returned to New York. She never lost her aura of class and for the last twenty years of her life, worked as a book editor.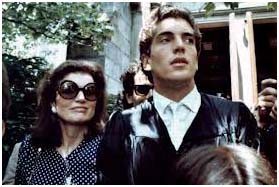 In January, 1994, Jackie O, as she came to be known in the tabloids, was diagnosed with non-Hodgkin's lymphoma, a form of cancer. It was an aggressive disease and had spread by April. A few weeks later, on the night of May 19th, she died in her sleep, at home in her Manhattan apartment.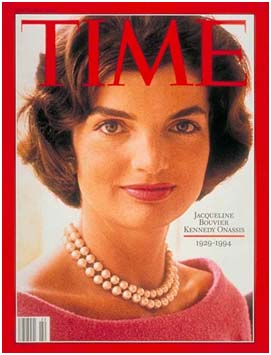 Jacqueline Kennedy is buried with her husband Jack…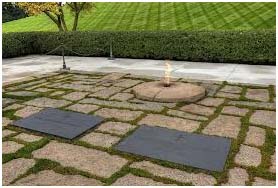 …at Arlington National Cemetery.