Famously Dead A-Z:

Cause of Death:
View information about Babe Ruth's death here on famously-dead.com. You can view information about Babe Ruth's death and other famous deaths. You can view by name or by cause of death. We also have included the most popular famous deaths.
Babe Ruth's Death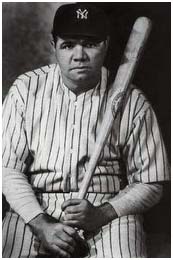 Babe Ruth
Baseball Player
February 6, 1895
August 16, 1948
Cancer
He's still considered by many to be baseball's brightest star, who excelled as both a pitcher and a hitter and whose giant personality made him one of the best known names of the twentieth century.
Born George Herman Ruth to a Baltimore saloon keeper and his wife, he was so incorrigible as a boy that his parents had him placed in St. Mary's Industrial School for Boys, where he lived for a dozen years. It was there that he learned baseball from one of the members of the school staff, Brother Mathias Boutlier.
George's prodigious blasts garnered the attention of Jack Dunne, who owned the local minor league team, the Baltimore Orioles, whom he joined as a player. In fact, that's how he earned his nickname, referred to by some older teammates as Jack's "babe".
Financial problems forced Dunne to unload his best prospects and the Babe was sold to the Boston Red Sox, where he went on to become one of the premier left handed pitchers in baseball.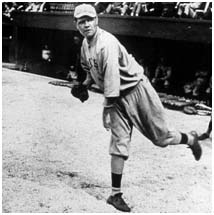 He set a World Series record of 29 2/3's scoreless innings, a record that stood until 1961.
But similar to the way the Red Sox snatched Ruth from Baltimore, financial pressures (and the Babe's maverick ways) led Boston owner Harry Frazee to sell him to the New York Yankees for the unheard of sum of $125,000 in December, 1919.
Once in New York, Ruth's potential as a hitter blossomed and he changed the nature of the game with his long home runs. Sometimes his individual single season totals were more than other team's entire tallies. He teamed with Lou Gehrig and other Hall of Fame players to create the Yankee's Murderer's Row, initiating the Yanks' dynasty of World Series winning teams.
Ruth hit 60 homers in 1927, a record that stood until 1961
He hit 714 career home runs, which stood until Henry Aaron broke it in 1974.
And he just had a way of delighting the crowds.
Meantime, all along the way, he satisfied his gargantuan appetites. For food. And drink. Cigars. And don't forget women. In fact, Ruth developed such a boisterous reputation that he was never given the chance to fulfill his dream in his later years to manage a big league team. But he was still an ambassador of sorts for the game.
In 1946, about ten years after leaving baseball, Babe Ruth began suffering headaches and a sore throat. Tests revealed he had a malignant tumor at the base of his skull and in his neck. Emaciated, he made his final appearance at Yankee Stadium on June 13, 1948.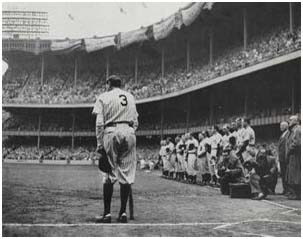 A little more than two months later, he was dead. A mass wake was staged at Yankee Stadium and a funeral mass was held at St. Patrick's Cathedral.
And then, Babe Ruth was then laid to rest at Gate of Heaven Cemetery in Hawthorne, New York.