Famously Dead A-Z:

Cause of Death:
View information about Knute Rockne's death here on famously-dead.com. You can view information about Knute Rockne's death and other famous deaths. You can view by name or by cause of death. We also have included the most popular famous deaths.
Knute Rockne's Death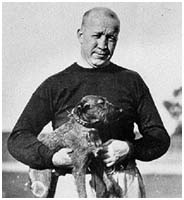 Knute Rockne
Football
March 4, 1888
March 31, 1931
Plane Crash
Over the years, football - both college and professional - has provided its fans with a number of legendary coaches, including Vince Lombardi, Paul "Bear" Bryant, George Halas, Tom Landry, and Don Shula. But the first coach's name to streak across the nation's consciousness did his work at a Catholic college in Indiana. His name was Knute (ka-NOOT) Rockne (ROCK-knee), head coach at the University of Notre Dame.
Born in Norway, Rockne came to the United States in 1893 at age 5, and learned football growing up in Chicago. He went to Notre Dame at 22 and played the position of end for the school, eventually becoming the head coach. In thirteen seasons (in which he popularized the forward pass), his teams boasted 105 victories against only a dozen losses and five ties. They earned three National Championships.
And he personified "coach." Here he is, delivering one of his legendary pep talks:
His untimely death at age 43 shocked the nation. Rockne was flying from Kansas City to California to work on the film "Spirit of Notre Dame". TWA Flight 599 broke up in midair and crashed in a Kansas wheat field.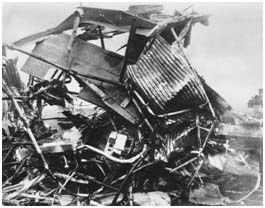 The nation mourned his loss and the resulting outcry led to new efforts to make airplane manufacturing and air travel safer. And Rockne, the coach and the man, was memorialized in the biopic "Knute Rockne, All American". Rockne was portrayed by Pat O'Brien, whose co-star was future President Ronald Reagan as George Gipp.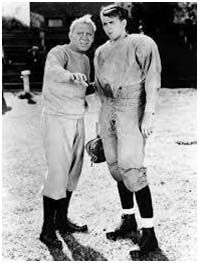 The film amplified and locked into American folklore the phrase: "Win One for the Gipper."