Famously Dead A-Z:

Cause of Death:
View information about James Gandolfini's death here on famously-dead.com. You can view information about James Gandolfini's death and other famous deaths. You can view by name or by cause of death. We also have included the most popular famous deaths.
James Gandolfini's Death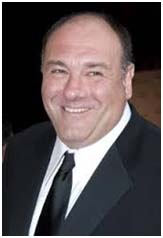 James Gandolfini
Actor
September 18, 1961
June 19, 2013
Heart Attack
A real New Jersey kid, born and raised in the Garden State, made a name for himself on a hit cable t-v series as a mob boss – from where else but Jersey?
James Gandolfini seemed born to play the role of Tony Soprano, the mythical mobster who alternated from brutal, to warm, to highly conflicted. Over a span of 86 episodes over six seasons on the HBO hit, Gandolfini won three Emmy Awards, three Screen Actors Guild Awards and a couple of Golden Globes for Best Actor.
He also appeared in several full-length feature films, including "Get Shorty", "Crimson Tide" and "True Romance."
His ending shocked millions of people. Gandolfini was vacationing in Rome, ahead of a trip to Sicily to receive another film award. After taking in the sights on a very hot day, he was found on the floor of his hotel bathroom by his 13 year old son Michael, who called for help. Gandolfini was rushed to a nearby hospital but it was too late. He was dead. An autopsy revealed he suffered a heart attack.
And at his funeral, his co-stars from the TV show paid their respects.
A few weeks after his death, it was announced that Gandolfini left the bulk of his 70 million dollar estate to the teenaged son who made that tragic discovery in a bathroom in Rome.