Famously Dead A-Z:

Cause of Death:
View information about Jayne Mansfield's death here on famously-dead.com. You can view information about Jayne Mansfield's death and other famous deaths. You can view by name or by cause of death. We also have included the most popular famous deaths.
Jayne Mansfield's Death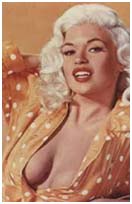 Jayne Mansfield
Movies
April 19, 1933
June 29, 1967
Car crash
Jayne Mansfield was a 1950's movie sex symbol, patterned after the original blond bombshell, Marilyn Monroe. Even other '50's sex sirens, like Sophia Loren, were impressed by Jayne's two best friends.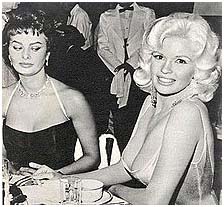 And her movies made the most of her assets. In her short career, she had box office success and won a Theatre World Award and a Golden Globe. She's perhaps best remembered in the role of fictional actress Rita Marlowe on Broadway and in film for Will Success Spoil Rock Hunter?
By the early 1960's, Jayne's movie career started to sag but she remained a well-known celebrity with a successful nightclub act. After a supper club engagement one June night in 1967, Jayne, her lover Sam Brody and their driver…along with three of her children… were driving toward New Orleans, where she had a morning TV interview arranged.
Early in the morning of June 29th, the car she was in crashed into the rear of a tractor trailer, which had slowed down because the truck in front of it was spraying for mosquitos. The three adults in the front were killed instantly, the three children in the back seat survived the crash with minor physical injuries.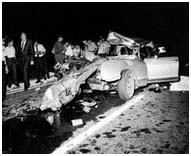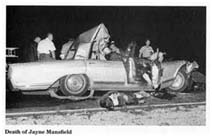 It's not true that she was decapitated, but severe head injuries killed her.
After that accident, federal highway safety authorities began requiring an under-ride guard (a strong bar made of steel tubing) on all tractor-trailers. This bar is known as a Mansfield bar, or an ICC bar.
And perhaps one more little known fact: though she was a blond bombshell for sure, Jayne Mansfield was certainly not a "dumb blond." She had a very high IQ, which she claimed was 163. (100 is considered average). She spoke five languages, including English, fluent French and Spanish, learned German in high school, and studied Italian in 1963.
She later complained that the public didn't care about her IQ score. She said: "They're more interested in 40–21–35."