Famously Dead A-Z:

Cause of Death:
View information about Bonnie and Clyde's death here on famously-dead.com. You can view information about Bonnie Parker/Clyde Barrow's death and other famous deaths. You can view by name or by cause of death. We also have included the most popular famous deaths.
Bonnie and Clyde's Death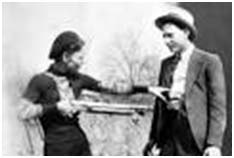 Bonnie Parker
Criminal
October 1, 1910
May 23, 1934
Clyde Barrow
Criminal
March 24, 1909
May 23, 1934
Shooting
You've heard of a match made in heaven? A lot of law enforcement officers during the Depression Era consider this to be a match made in hell!
Bonnie Parker met Clyde Barrow in 1929 when she was only 19 years old. Already married to another man who was serving time in prison, she took up with Clyde. Shortly thereafter, Barrow was arrested and imprisoned for robbery. But his new soul-mate Bonnie didn't want to be without her new man so she smuggled a gun into the lock-up to help him escape. Though Clyde was recaptured and sent back to jail, Barrow was paroled in 1932. That's when he and Bonnie hooked up again to begin their life of crime together.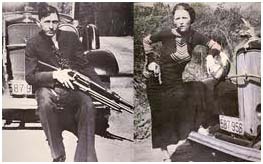 It wasn't always easy. After they committed several robberies, including a car, Bonnie was caught by police and spent two months in jail. She was let out in mid-1932, and they got back together.
Over the next couple of years, they teamed up with various accomplices and robbed banks and stores across Missouri, Oklahoma, Louisiana, Texas and New Mexico. Law-enforcement agents warned that this was a brutal crew, willing to shoot anyone who got in their way - especially police or sheriff's deputies. But many in the general public considered them kind of "Robin Hood" folk heroes, because they were robbing from banks and this, after all, was during the Depression.
The fact that Bonnie was a woman, unusual for criminals at the time - and not a bad looking one either - brought them even more attention and notoriety.
Fed up, Texas officials hired retired police officer Frank Hamer to track them down and on a day in May, he and his crew ambushed Bonnie and Clyde while hiding in the bushes along a country road in Louisiana.
They died in a hail of police bullets. This is how Hollywood portrayed it, in the 1967 film starring Warren Beatty and Faye Dunaway.
And here's the scene from real life.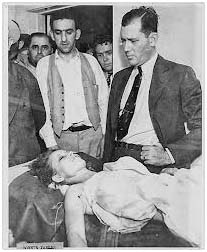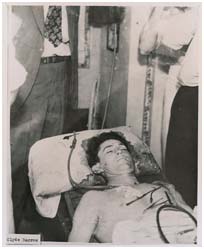 Besides the movie,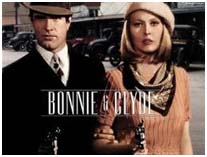 They were immortalized in this 1968 song by Georgie Fame.
The pair wanted to be together forever, but they were buried apart, at the insistence of the Parker family. She's buried in the Crown Hill Cemetery in Dallas, he in Western Heights cemetery in that city.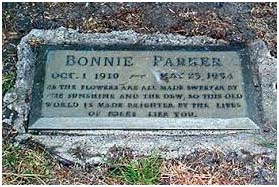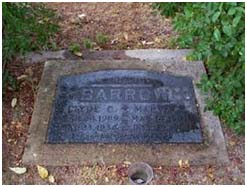 All told, Bonnie and Clyde and their gang was responsible for at least 13 deaths, including nine police officers. And while they were considered by many to be romantic figures, don't tell that to the police.