Famously Dead A-Z:

Cause of Death:
View information about John F. Kennedy's death here on famously-dead.com. You can view information about JFK's death and other famous deaths. You can view by name or by cause of death. We also have included the most popular famous deaths.
John F. Kennedy's Death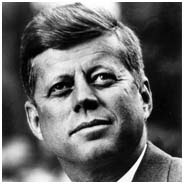 John F. Kennedy
Politics
May 29, 1917
November 22, 1963
Shooting
Easily one of the most charismatic Presidents in American history, John F. Kennedy had it all going for him, only to have it all stop in an instant on a Dallas street.
Born into wealth, the second son of businessman Joseph P. Kennedy, JFK - as he was commonly known - was thrust into politics by his father, when his older brother Joe died in World War Two. The grandson of a Boston Mayor, John Fitzgerald, Kennedy won a Massachusetts congressional seat and later represented the state in the U.S Senate.
He won the 1960 Democratic Presidential nomination and scored a narrow election victory that November against Republican Richard Nixon.
The Kennedy years began with this famous speech in January 1961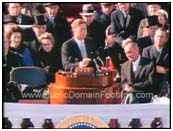 Accompanied by his elegant and attractive wife Jacqueline,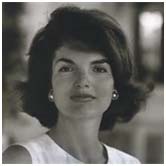 JFK's administration was commonly known as Camelot, a castle and court associated the reign of England's King Arthur. (His widow said his favorite song from the popular Broadway show of the same name was the title tune.)
Some of his decisions, like those surrounding the ill-fated Bay of Pigs invasion of Cuba by a group of Cuban ex-pats, generated much criticism. However, JFK is also remembered for opening the door to historic Civil Rights legislation and for guiding the nation through the Cuban Missile Crisis with the Soviet Union in October, 1962.
But as beloved as he was by many, Kennedy also had some serious enemies…and his Administration and life came crashing down during a campaign tour in Dallas, Texas on November 22, 1963, when he was gunned down in his motorcade.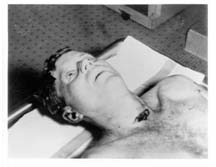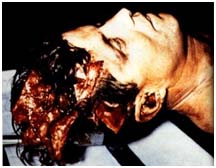 A government inquiry through the Warren Commission named Lee Harvey Oswald as the lone assassin, although to this day conspiracy theorists say it was a broader plot. (Oswald met his own end a few days later – flip ahead to read his story.)
Mourned as a hero, Kennedy is buried under an eternal flame at Arlington National Cemetery in Virginia.