Famously Dead A-Z:

Cause of Death:
View information about John Denver's death here on famously-dead.com. You can view information about John Denver's death and other famous deaths. You can view by name or by cause of death. We also have included the most popular famous deaths.
John Denver's Death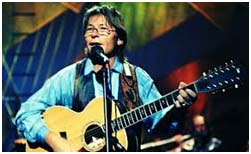 John Denver
Singer
December 31, 1943
October 12, 1997
Plane crash
When he was just starting out as an aspiring performer, he was told his name at birth, Henry John Deutschendorf, wouldn't fit on the marquee. But after changing his name to John Denver, he hit the heights as a folk singing artist only to see it all crash -- literally.
One of his earliest efforts, in 1969, was originally called "Babe I Hate to Go", but his recorded version flopped. You may still be able to hum it, though, because it became a number one hit when Peter Paul and Mary recorded it under its revised title, "Leaving on a Jet Plane."
Denver's first big hit on his own was "Take Me Home Country Roads."
Other giant hits included: "Rocky Mountain High" (one of Colorado's State songs), "Annie's Song", "I'm Sorry", "Sunshine on My Shoulders", and "Thank God I'm A Country Boy."
He also appeared on television, often on the Muppet show, and displayed a social conscience, supporting efforts to end world hunger and to protect the environment, among other causes.
He married twice -- his first wife, Annie Martell, was the inspiration for Annie's Song. Their divorce in 1982 was followed by a nasty property settlement. In 1988, he married Cassandra Delaney and they divorced in 1993.
Denver loved skiing, golfing and especially flying. He collected vintage planes…a Learjet and in 1997 an experimental fiberglass plane called a Rutan "Long E-Z".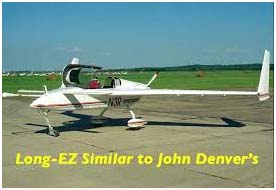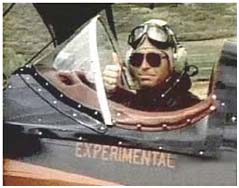 While making touch-and-go landings at the Monterey Peninsula Airport, his plane plunged straight down into the Pacific Ocean.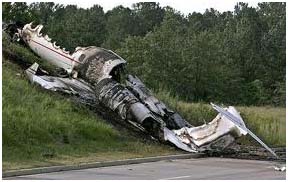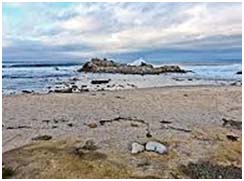 Denver was so badly broken up that authorities couldn't identify him through dental records.
Fingerprint records taken from a drunk-driving arrest confirmed his identity, although the autopsy showed John Denver had no trace of alcohol or drugs in his system on the day the plane crashed.