Famously Dead A-Z:

Cause of Death:
View information about Gary Gilmore's death here on famously-dead.com. You can view information about Gary Gilmore's death and other famous deaths. You can view by name or by cause of death. We also have included the most popular famous deaths.
Gary Gilmore's Death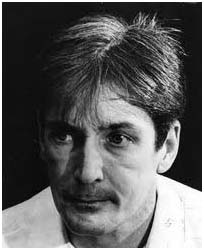 Gary Gilmore
Criminal
December 4, 1940
January 17, 1977
Execution
Gary Gilmore was sort of a pioneer. He brought the death penalty back to the United States! In fact, he insisted that he be executed. So, in January 1977 he took a seat in front of a Utah firing squad, the first person put to death after the U.S. Supreme Court upheld a new series of death penalty laws.
Gilmore was born in Texas, the son of an alcoholic who had several wives and families. The dysfunctional Gilmores (they also went by the alias Coffman) bounced around in the western part of the country, eventually settling in Portland. Oregon. Gary's unhappy childhood was often punctuated by beatings from his father.
Remarkably, Gilmore had an IQ of 133, well above the average score of 80 to 120. And he did well on scholastic and aptitude tests. But Portland's where teenaged Gary started performing some petty crimes and as a 14-year-old started a car theft ring with his friends, leading to his first arrest. He spent some time in reform school. After being released, he stole cars, pulled some armed robberies and assaults. Gilmore was caught and landed in the Oregon State Prison system.
The crimes that sparked his notoriety were a killing spree that took place in the summer of 1976, when he robbed and killed Max Jensen …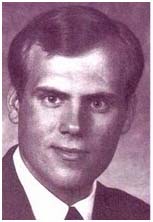 …a gas station employee in Orem, Utah. And on the next night, he robbed and murdered Bennie Bushnell, a hotel manager in Provo. He killed both men, even though they handed over the money, just as he asked.
He was tracked down by his license plate number and surrendered to police without trying to get away. His murder trial began in Provo in October, 1976 and lasted only two days. His court-appointed defense team provided no defense and on October 7th, the jury convicted him after only a half day of deliberations. Later that same day, the jury recommended the death penalty.
Gilmore had two options: firing squad or hanging. Thinking that a hanging could get messed up, Gilmore said he'd prefer to be shot and his execution was set for November 15 at 8 AM. But not so fast! The American Civil Liberties Union stepped in, and against Gilmore's wishes, received several stays of execution.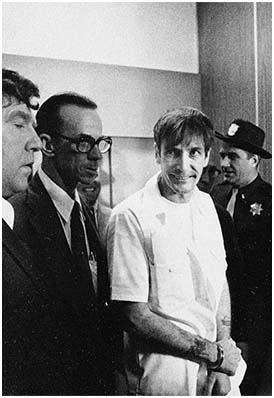 He pleaded for them to put an end to it all and was finally granted his wish, executed by firing squad at the Utah State prison in Draper.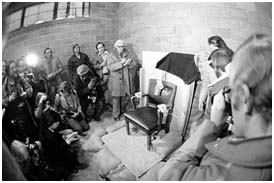 His famous last words: "Let's do it!"