Famously Dead A-Z:

Cause of Death:
View information about Michey Mantle's death here on famously-dead.com. You can view information about Mickey Mantle's death and other famous deaths. You can view by name or by cause of death. We also have included the most popular famous deaths.
Mickey Mantle's Death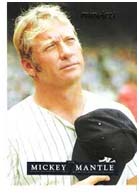 Mickey Mantle
Sports
October 20, 1931
August 13, 1995
Liver Disease
Mickey Mantle was a superstar baseball player with the New York Yankee in the 1950's and '60s.
A three time American League Most Valuable Player, he won the Triple Crown for leading the league in home runs, batting average and runs batted in in 1956, in addition to playing on a dozen Yankee pennant winners and seven World Series champion teams.
Mantle battled teammate Roger Maris for the A. L. Home Run Crown in 1961, but fell short with 54, while Maris hit 61, breaking the record at the time by another Yankee great, Babe Ruth. Over the course of his career, Mickey slugged more than five hundred career home runs.
But more than that, he was a hero to millions of Baby Boomer boys. He died, unfortunately, in an un-heroic way, of liver disease, after many years of alcohol abuse. He explained how it all started in an interview with NBC's Bob Costas.
Mickey Mantle on Drinking
Mantle received a liver transplant on June 8, 1995, after his own was severely damaged by cirrhosis, as well as hepatitis C. In July, he held a press conference, and noted that many fans had looked to him as a role model. "This is a role model: Don't be like me," he said. He established the Mickey Mantle Foundation to raise awareness for organ donations. But he suffered a turn for the worse and died a few weeks later.
Nevertheless, Mantle's still fondly remembered by many and is a member of baseball's Hall of Fame.
At his funeral, Roy Clark sang this song at Mickey's request.
Despite his sad demise, Mickey Mantle's still fondly remembered by many. His number 7 was retired by the Yankees and he is a member of baseball's Hall of Fame.
(His close buddy, Billy Martin, for whom Mickey named one of his four sons, also died from the effects of excessive drinking, but in a different way. See his story too.)