Famously Dead A-Z:

Cause of Death:
View information about Lucky Luciano's death here on famously-dead.com. You can view information about Lucky Luciano's death and other famous deaths. You can view by name or by cause of death. We also have included the most popular famous deaths.
Lucky Luciano's Death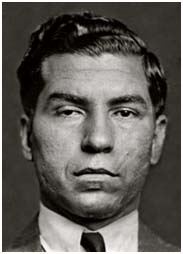 Lucky Luciano
Crime Boss
November 24, 1897
January 26, 1962
Hearth Attack
Vito Corleone, the "Godfather", was a fictional character. Salvatore Lucania was not fictional, he was very real. It's just that most people know him by his "godfather" name - Charles "Lucky" Luciano. He's considered the father of modern organized crime in the United States and probably the most powerful Mafia boss ever.
Born in Sicily, he arrived in the United States at age ten, when his family settled on New York's Lower East Side. A school dropout at 14, Luciano started running in the streets, teaming up with another teen who'd be his future partner in crime – Meyer Lansky. Lucky, as he came to be known, wasn't always so lucky. He was arrested 25 times between 1916 and 1936, for everything from assault to robbery to gambling to blackmail. But he always avoided jail, so he probably was very lucky after all.
Basically, Luciano was the guy who split New York City among five different crime families. It wasn't always that way. When Luciano was an up-and-coming mobster, Joe Masseria ruled the rackets in the City …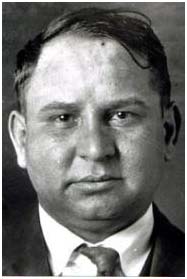 ...and Luciano was one of his boys. Lucky helped to set up Joe the Boss's death.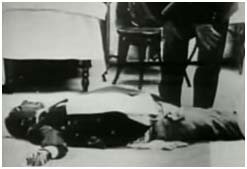 Salvatore Maranzano was next in line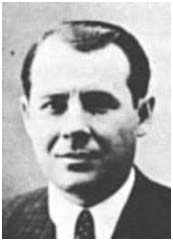 Lucky helped make Maranzano unlucky too.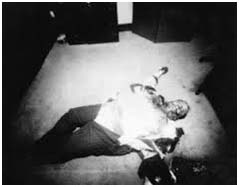 Luciano was now the king,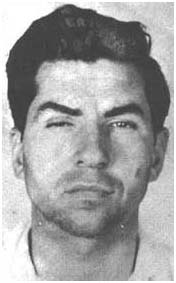 but instead of becoming the Number One guy, he split the New York pie with four other crime lords and set up a National Commission of bosses from other big cities, like Al Capone in Chicago, and the crime chieftains in Philadelphia, Los Angeles, Detroit, Buffalo and Kansas City.
And that's how things went, for decades, as the money came rolling in from all kinds of illicit activities. Luciano was making big bucks from prostitution…

But some of the girls in his stable (pictured here) testified against him and Lucky was convicted of 62 counts of compulsory prostitution in July, 1936.
Sent to Sing Sing and then to the Clinton Correctional Facility, another upstate New York prison, appeals of Luciano's conviction continued until 1938 – while he continued to run his crime mob's operations. But when the appellate process ended unsuccessfully, Luciano surrendered the reins to a surrogate, Frank Costello.
Remarkably, during World War II, the government struck a deal with the imprisoned crime lord. The Navy was concerned about German and Italian agents, and figured that Luciano could help them because of his connections. When America won the war, New York Governor Thomas Dewey reluctantly commuted Luciano's prison sentence and Lucky was deported to Italy.
Lucky sailed from Brooklyn in 1946 and after a 17 day voyage his ship arrived in Naples. When he got there he told reporters he'd probably go back to Sicily. But there was a secret trip in 1946, to oversee the Mob's Gambling interests in Havana…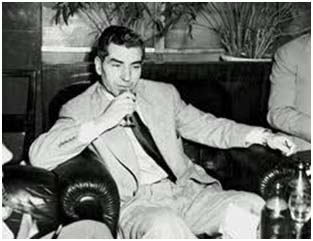 …along with the growing heroin trade and the nagging problem of what to do with Benjamin "Bugsy" Siegel, who was costing the Mob millions with his gambling casino in the Nevada desert, at the time a little cow town called Las Vegas.
After that Havana jaunt, the heat was on Lucky and he was forced to stay in Italy under police surveillance.
But he continued dabbling in the Mafia from afar until one day in January 1962. Luciano's luck rank out, when he dropped dead of a heart attack at the Naples airport. He'd just met with an American movie producer about a film biography.
After getting permission from the U.S. government, Luciano's body was brought back to New York by his family.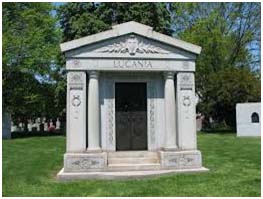 He's buried in a crypt at St. John's Cemetery in Queens, New York.