Famously Dead A-Z:

Cause of Death:
View information about The Big Bopper's death here on famously-dead.com. You can view information about The Big Bopper's death and other famous deaths. You can view by name or by cause of death. We also have included the most popular famous deaths.
The Big Bopper's Death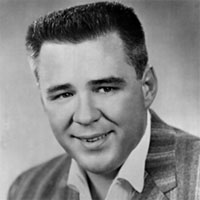 The Big Bopper – J.P. Richardson
Music
October 24, 1930
February 3, 1959
Plane Crash
The life and death of The Big Bopper – J. P. Richardson:
He was an early star of rock n' roll, thanks to a 1958 song that's still heard on the radio. But he only had that one big hit because he was one of the three victims in one of the best-known tragedies on the rock era, known as "The Day the Music Died."
The Big Bopper was born Jiles Perry Richardson in Sabine Pass, Texas, the oldest son of Jiles Sr., an oil field worker, and his wife, the former Eilse Stalsby. JP, as he was known, had two younger brothers and the family moved to Beaumont, Texas where JP played high school football.
He also got a job at a local radio station and quit college when he was offered a full-time job. Moving from station to station, he also became an announcer's supervisor.
After a brief Army stint from 1955 to 1957, JP returned to radio and he took the nickname The Big Bopper, after a dance fad called "the bop."
His signature song was "Chantilly Lace", which earned him hours of radio play and a guest shot on Dick Clark's American Bandstand.
JP wrote the song "running Bear", which became a hit for Johnny Preston in January, 1960.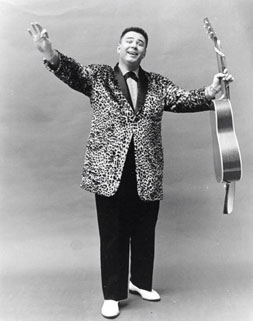 But JP never lived to see it.
That's because the previous February, he was part of the ill-fated Buddy Holly tour, and he, Holly, Richie Valens and a 21-year-old local pilot named Roger Peterson, all were killed in the crash of their small plane that took off from Clear Lake, Iowa after their show at the Surf Ballroom.
The three singers were ejected from the plane and all died of severe head and chest injuries.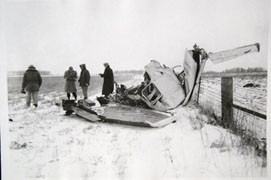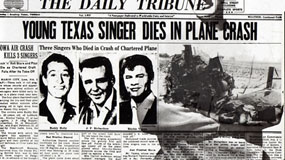 JP was survived by his wife Adrianne and their daughter Debra. His son, Jay Perry, was born two months after he died.
In January 2007, Jay requested his body be exhumed to answer internet rumors that JP survived the crash.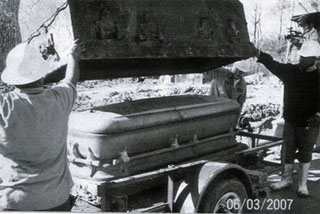 After that autopsy on his remarkably well preserved remains (he was still recognizable 48 years after he died), the Big Bopper was buried in a new casket next to his wife in Beaumont's Forest Lawn Cemetery.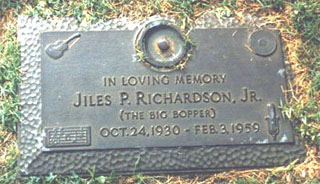 The Richardson family had very bad luck. The Big Bopper Jr. died in August 2013 three years after his older sister Debra died.