Famously Dead A-Z:

Cause of Death:
View information about Dick Clark's death here on famously-dead.com. You can view information about Dick Clark's death and other famous deaths. You can view by name or by cause of death. We also have included the most popular famous deaths.
Dick Clark's Death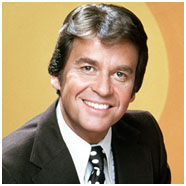 Dick Clark
TV host
November 30, 1929
April 18, 2012
Heart Attack
The life and death of Dick Clark:
He was a fixture on American TV screens for almost a half century, first as on air talent and also as a major producer. He was the legendary host of American Bandstand and then later was the guy who helped America usher in the New Year. A brutal stroke damaged his ability to speak but he battled his way back and returned to New Year's Eve telecasts until the year that he died.
Richard Wagstaff Clark was born in Mount Vernon, New York. His father Richard managed an upstate New York radio station that was owned by Dick's uncle. His mother was Julia Fuller Barnard Clark. Clark's only sibling was a brother, Bradley, who was killed in the Battle of the Bulge during World War II.
When he was only ten years old, he decided he wanted a career in radio and attended Syracuse University, graduating in 1951 with a degree in advertising and a minor in radio.
He started his career from the ground up in the mail room, albeit at the Rome, New York radio station owned by his uncle and run by his Dad. Almost immediately was filling in for the weatherman and in a few months he was announcing station breaks.
He worked at a series of stations in upstate New York, and then moved south to the Philadelphia area where he was hired as a disc-jockey at radio station WFIL.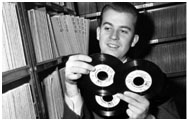 That's when started calling himself Dick Clark.
WFIL had a sister TV station in Philly and Dick began filling in as a vacation replacement on a program known as "Bandstand." When the regular host was fired after a drunk driving arrest, Dick became Bandstand's regular host.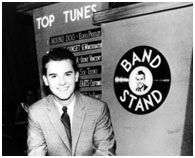 And when the show was picked up by ABC-TV, they renamed it "American Bandstand", sowing the seeds of Dick's fame.
Thanks to Clark's natural rapport with teenage audience, the show really took it took off.
Not only were they dancing to the latest Rock' n Roll hits, but Dick was introducing new artists to the national audience, including Ike and Tina Turner, Smokey Robinson and the Miracles, Stevie Wonder, Talking Heads and Simon and Garfunkel.
And some of his big time guests included the ultimate '60's act, The Beatles.
American Bandstand moved from Philadelphia to Los Angeles in 1964 and Dick kept playing the hits, although air times drifted from weekday afternoons to Saturdays only.
There was a bump in the road in 1960 during the U. S. Senate investigation of payola, in which record companies paid broadcasting companies to promote their music. Because of Dick's personal investments in music publishing and recording companies, those stakes were considered a conflict of interest and Dick had to sell off those companies.
However, there were other ways to make money – such as TV game shows, like "The $10,000 Pyramid."
Dick hosted the show for most of its run and won three Emmy Awards for Best Game Show Host.
Dick's career came full circle in 1972, when he produced his first "New Year's Rockin Eve" for NBC. It was a challenge to the dominant New Year's specials on CBS, hosted by bandleader Guy Lombardo. The idea was to attract younger audiences and it worked.
New Year's Rockin' Eve moved to ABC with Dick as host.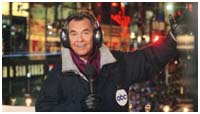 When Lombardo died in 1977, "Rockin' Eve" became the most watched New Year's Eve broadcast every year.
Clark revealed that he had Type Two Diabetes and 2004 and in December of that year he was hospitalized after what was initially called a minor stroke. It was later announced that he would be unable to host New Year's Rockin Eve's 2004-2005 edition. However, he returned in 2005-06 to make short appearances….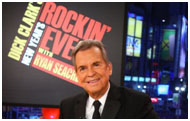 …eventually turning the show over to Ryan Seacrest.
Dick also kept a hand in radio with his "Countdown America" and "Rock, Roll & Remember" broadcasts. And he was also shrewd businessman, never forgetting his teen audience by producing "Where the Action Is", an afternoon TV program taped at different locations, featuring Paul Revere and the Raiders.
Married three times, his first marriage to Barbara Mallery produced a son, Richard.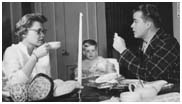 They were divorced in 1961. His 1962 marriage to Loretta Martin…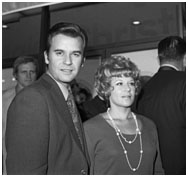 …led to two children, Duane and Cindy. They also divorced and in 1977 Dick married Kari Wigton…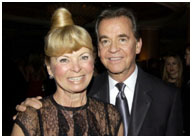 …and they stayed together until his death.
Unable to speak clearly for the rest of his life after his stroke, Dick also suffered from coronary artery disease and Parkinson's disease in his final years
He died of a heart attack following surgery to fix an enlarged prostate in April 2012.
Dick's family didn't immediately decide whether that be a public memorial service, simply stating that would be no funeral. Dick Clark was cremated and his ashes were scattered in the Pacific Ocean.