Famously Dead A-Z:

Cause of Death:
View information about Sammy Davis Jr's death here on famously-dead.com. You can view information about Sammy Davis Jr's death and other famous deaths. You can view by name or by cause of death. We also have included the most popular famous deaths.
Sammy Davis Jr's Death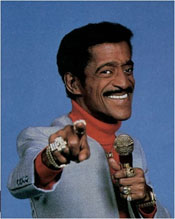 Sammy Davis Jr
Singer
December 8, 1925
May 16, 1990
Cancer
The life and death of Sammy Davis Junior:
He was an all-around entertainer whose career started at age three. Over the years he starred as a singer, actor, dancer, and had a night club act noted for his impersonations of other celebrities. He could do it all with style, always touching all of the bases.
Samuel George Davis Junior had a modest beginning, born in Harlem in New York City. He was the only child of Sammy Davis Senior and Elvera Sanchez, a tap dancer of African-Cuban descent. His parents were vaudeville dancers and as an infant Sammy was raised by his paternal grandmother. Sammy was three his parents separated and his father, not wanting to lose custody, took him out on tour.
Sammy learn to dance from his father and his "Uncle" Will Mastin, who led the dance troupe that his father worked for. Little Sammy join the act as a child and they became the Will Mastin Trio.
When he was only seven years old, Sammy played the title role in the film "Rufus Jones for President", in which he danced and sang.
Sammy had a very successful singing career, with several hits like "What Kind Of Fool Am I?", and "I've Gotta Be Me".
He won the 1972 Pop Male Vocalist Award in 1972 for "Candy Man".
In 1960, Sammy appeared in the first Rat Pack film, "Ocean's Eleven", with his buddies Frank Sinatra and Dean Martin…
They often performed in Las Vegas casinos along with fellow Rat Packers Joey Bishop and Peter Lawford.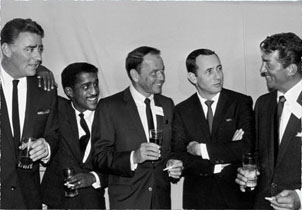 Sammy also wowed crowds in nightclubs and on TV with his impressions of famous people.
Sammy served in the Army during World War II but was confronted by racial prejudice. In fact he grew to become a large financial supporter of the Civil Rights movement. And he raised a few eyebrows when he visited Republican President Richard Nixon at the White House in March, 1973.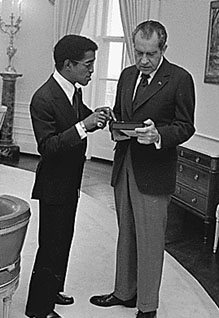 On the golf course one day with Jack Benny, Sammy was asked what his handicap was. He replied "I'm a one eyed Negro Jew." Davis was nearly killed in a November, 1954 auto accident in San Bernardino, California while making a return trip from Las Vegas. He lost his left eye because of the bullet -shaped horn button which was standard equipment on the Cadillac he was driving.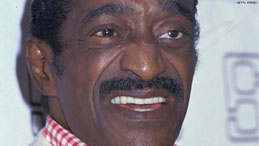 Davis converted to Judaism after that.
In the late 50s he was romantically involved with actress Kim Novak…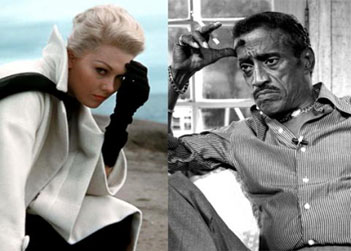 …but the head of Columbia Pictures was worried about the negative effect the relationship would have on the studio. It was revealed the studio boss, Harry Cohn, arranged for Davis to be threatened and he was told to marry black woman within 48 hours or he'd lose his remaining eye. He married dancer Loray White…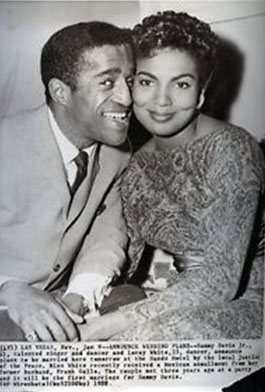 …but Sammy claimed it was never consummated. They split nine months later.
Another controversy erupted in 1960 when Sammy married Swedish-born actress May Britt.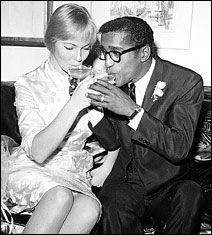 They divorced in 1968 and Davis later married Altovise Gore, a dancer.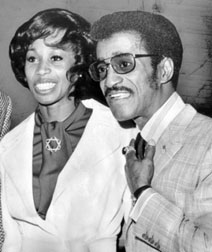 Sammy was diagnosed with throat cancer and was told his best chance of survival would be to have throat surgery. He said he would rather keep his voice and was treated with a combination of chemotherapy and radiation. It didn't work
A few weeks before he died, his entire larynx was removed during surgery and he died in Beverly Hills at the age of 64 of complications from throat cancer. He was survived by his widow, children, mother, grandmother, sister and two grandchildren.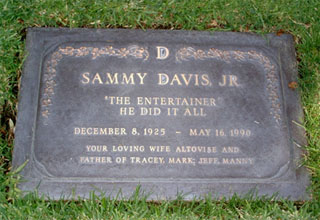 Sammy Davis Junior is buried at Forest lawn Memorial Park in Glendale California, next to his father and his uncle Will - the dance team reunited. And on May 18, 1992, days after Sammy died, the Las Vegas strip's neon lights were darkened for 10 minutes in tribute to him.