Famously Dead A-Z:

Cause of Death:
View information about Frank Sinatra's death here on famously-dead.com. You can view information about Frank Sinatra's death and other famous deaths. You can view by name or by cause of death. We also have included the most popular famous deaths.
Frank Sinatra's Death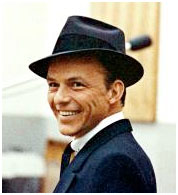 Frank Sinatra
Singer, Actor
December 12, 1915
May 14, 1998
Heart Failure
The life and death of Frank Sinatra:
He was a skinny Italian kid from Hoboken, New Jersey who rose to great fame with a legendary singing voice and new microphone-friendly style, leaving bobbysoxers swooning in the World War II era. And when his voice faltered, he managed to reinvent himself and went on to star in dozens of dramatic films, even winning an Academy Award.
But there was so much more to Frank Sinatra. He was a close friend of two presidents, John F. Kennedy and Ronald Reagan …

…was linked to several organized crime leaders…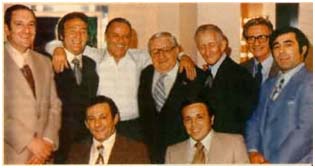 …and with his Rat Pack pals…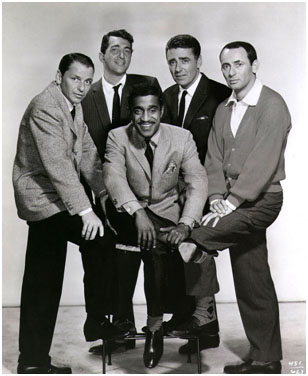 …Dean Martin, Sammy Davis, Peter Lawford and Joey Bishop, he made Las Vegas an entertainment hot spot in the 1960s.
Francis Albert Sinatra's early years were spent in Hoboken, New Jersey – right across the Hudson River from Manhattan.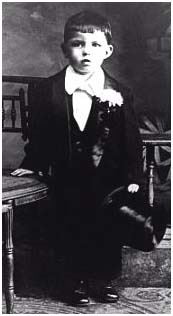 An only child, his mother Dolly was influential in their neighborhood and in local Democratic Party circles. She also performed illegal abortions and was convicted twice for it. His father Marty was a lightweight boxer and worked for the local fire department.
He achieved astronomical success despite little formal education. Sinatra left high school without graduating, having attended only 47 days and being expelled because of rowdy conduct. He also ran afoul of the law in 1938…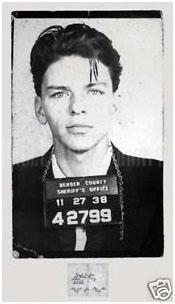 …for adultery and seduction. (Talk about foreshadowing!)
Frank never knew how to read music…he learned it by ear, listening closely to Big Band Jazz. He got his first break in 1935 when his domineering mother persuaded a local singing group called the Three Flashes to let him join them. They became known as the Hoboken Four and appeared on the "Major Bowes Amateur Hour" – the "American Idol" of the Depression Era. The Hoboken Four attracted 40,000 votes and won the first prize.
He quit that group and started working solo in New Jersey. Later, Sinatra sang with Big Band legends like Harry James and the Tommy Dorsey Orchestra. Here he is in a live, 1943 performance.
Sinatra's relationship with Dorsey was troubled because of their contract. Dorsey had the rights to one third of Sinatra's lifetime earnings. A story appeared in the Hearst newspapers that Chicago mobster Sam Giancana forced Dorsey to release Sinatra for $3000. The Johnny Fontaine character The Godfather was a fictionalized account of the incident.
As World War II was ramping up in 1942, Sinatra was the top male singer in both Billboard and Downbeat magazines and his legendary shows at New York's Paramount Theater were punctuated by the screams of teenaged girls.
The thing was, Frank was already married at the time to Nancy Barbato….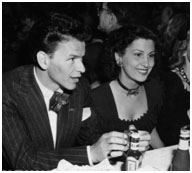 …and they had three children: Nancy, Frank Junior and Christina, known as Tina.
Sinatra also appeared in movies in the 40's, co-starring in musicals like "Anchors Away", "Take Me Out to the Ballgame" and "On the Town" with Gene Kelly. What he didn't do was to serve in the military in World War Two, classified 4-F by his draft board because of a perforated eardrum.
By the early 50s Sinatra's voice weakened and he experienced hemorrhaging of his vocal chords on stage of the Copacabana. His career and appeal to teen audiences nosedived. He went through periods of serious self-doubt as efforts to launch a TV show failed. Columbia Records dropped him.
But his career came back from the dead with his role in "From Here to Eternity", for which he won an Academy award for Best Supporting Actor.
Sinatra's later dramatic movie credits included "The Man with the Golden Arm" and "The Manchurian Candidate."
In 1953 he also starred in an NBC radio program called Rocky Fortune. And he signed with Capitol records and started to work with some of the best musical arrangers of the era, including Nelson Riddle, Gordon Jenkins, and Billie May.
His personal life was tumultuous. His deep affection for Ava Gardner…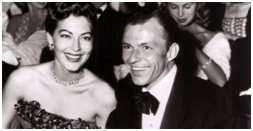 …led to the breakup of his marriage to Nancy, but Ava was no pushover and their marriage was tempestuous and their fights were legendary.
And by using more emotional material, he reinvented his musical style in songs like "In the Wee Small Hours of the Morning". Other hit recordings of this era included: "Frank Sinatra Sings Only for the Lonely", "Songs for Swingin' Lovers!", "Swing Easy!" and "Come Fly With Me".
Sinatra had a staggering 209 hits on the Billboard pop singles charts. 127 reached the Top Twenty, 70 were Top 10 and he had nine Number One Hits, including:
'I'll Never Smile Again' (1940),
'There Are Such Things' (1942),
'In The Blue Of The Evening' (1943),
'All Or Nothing At All' (1944),
'Oh, What It Seemed To Be'(1945),
'Five Minutes More' (1946),
'Strangers In The Night' (1966)
and '
Something Stupid' (1967, with daughter Nancy).
And he still belts it out every time the New York Yankees win a home game
Besides recordings and movies, his night club work is legendary. Here's Frank with fellow Rat Packers Dean Martin, Sammy Davis and a special contributor you may have seen on TV
In the '60's, Sinatra married the much younger Mia Farrow…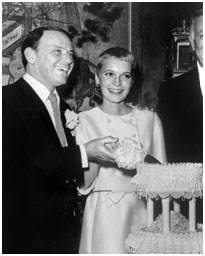 He was also linked romantically with Lauren Bacall, Juliet Prowse, Marilyn Monroe, Angie Dickinson and we'll stop now because our computer server doesn't have enough storage space to list everyone.
Still going in the 1990's, he performed duets with a series of more contemporary artists.
But in his later years, Frank Sinatra started showing signs of dementia and following a heart attack in February 1997 he made no further public appearances.
He suffered a second heart attack on May 14, 1998 and died at Cedars-Sinai medical center in Los Angeles with his fourth wife, Barbara, by his side.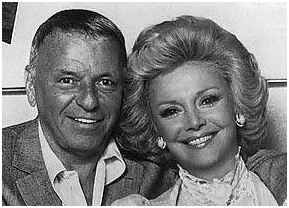 Frank Sinatra has a star on the Hollywood Walk of Fame and is recognized as one of the top entertainers of the 20th century.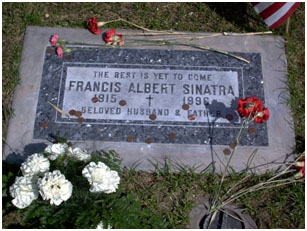 He's buried at Desert Memorial Park, in Cathedral City, California.