Famously Dead A-Z:

Cause of Death:
View information about Ronald Reagan's death here on famously-dead.com. You can view information about Ronald Reagan's death and other famous deaths. You can view by name or by cause of death. We also have included the most popular famous deaths.
Ronald Reagan's Death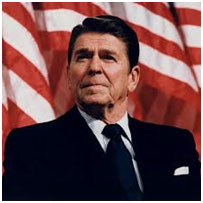 Ronald Reagan
Government, Politics, Actor
February 6, 1911
June 5, 2004
Pneumonia / Alzheimer's disease
The life and death of Ronald Reagan:
He's the President who brought the conservative movement to prominence in the United States but before that, Ronald Reagan was a star in many respects: appearing on radio, in movies, on television and serving as a two-term governor in California.
He was born Ronald Wilson Reagan in Tampico, Illinois to Jack Reagan and Nelle Wilson Reagan. Reagan's father was a salesman and also an alcoholic.

His father nicknamed him "Dutch" because he said he looked like a "fat little Dutchman".
The Reagan's moved to various Illinois' towns, eventually settling in Dixon where he attended the local high school. He was interested in acting, sports and storytelling. He also got a job as a lifeguard at Rock River Park.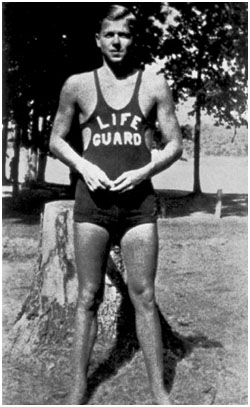 He later attended Eureka College, where he became a cheerleader while majoring in economics and sociology.
After graduating college in 1932, he drove to Iowa to audition for a job at a local radio station, WOC. Helped by his vocal skills, he then moved on to WHO Radio in Des Moines, where he worked as an announcer recreating Chicago Cubs' baseball games.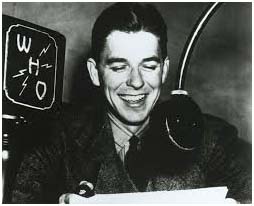 While traveling with the Cubs in California, Reagan took a 1937 screen test with Warner Brothers. It resulted in a seven-year contract and he spent the first few years in the B film unit.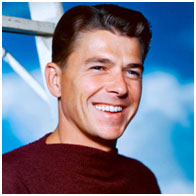 Some of his early major film credits included "Love is in the Air", "Dark Victory", "Santa Fe Trail" and the role of George Gipp…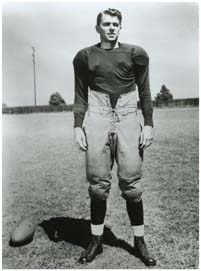 …in "Knute Rockne, All American".
Reagan's favorite role was as a double amputee in "Kings Row".
Because of poor vision, (nearsightedness) he couldn't serve overseas in the military, but was a member of the Army Enlisted Reserve during World War II.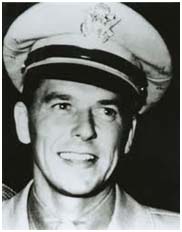 Reagan's first marriage to actress Jane Wyman…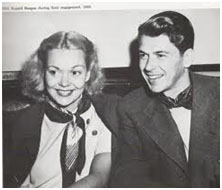 …broke up. They had two children: daughter Maureen and adopted son, Michael.
He later married Nancy Davis…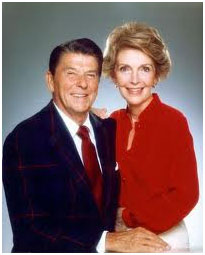 …and they had two children: son Ronald Junior and daughter Patty.
Friends said their relationship was close, authentic and intimate. He would call her "Mommy", she called him "Ronnie."
By 1941, he had his first political victory: election to the Board of Directors of the Screen Actors Guild, serving as an alternate. At the time he considered himself a Roosevelt Democrat.
But his political leanings turned in the late 1940s and Reagan and his then-wife Wyman provided the FBI with names of actors of the motion picture industry that they thought were communist sympathizers. Reagan also testified before the House Un-American activities committee.
With his movie roles drying up, Reagan went into television in the late 1950s, hired as the host of the General Electric Theater. He also went on to host a TV series "Death Valley Days" from 1964 to 1965.
As Reagan's political leanings turned to the right, he went from a Roosevelt Democrat to a Conservative Republican. He even endorsed conservative presidential contender Barry Goldwater in 1964, gaining a lot of national political attention for himself.
From 1967 in 1975, Reagan served as the Governor of California, setting the stage for even bigger work in the future.
He challenged incumbent President Gerald Ford for the Republican nomination in 1976 and lost. However, in doing so he laid the groundwork for his own nomination in 1980 and went on to beat sitting President Jimmy Carter, who was saddled with problems because of the Iran hostage crisis, gasoline lines and a sluggish economy.
Only 69 days into his Presidency, Reagan survived an assassination attempt on March 30, 1981. His Press Secretary James Brady was seriously injured and Reagan himself barely escaped death, surviving a bullet wound to the chest.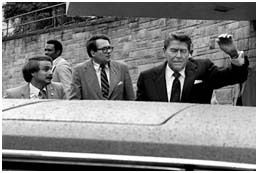 By that summer, he fired striking air-traffic controllers and then instituted Reaganomics, slashing federal income tax rates. And Reagan's also remembered for escalating the cold war against the Soviet Union, which eventually he spent into submission.
Reagan was re-elected in 1984. His opponent was former Vice President Walter Mondale. With many saying Reagan was too old to be President, he made a joke about age during one of their debates, declaring he wouldn't make it a campaign issue because "I will not exploit for political purposes my opponent's youth and inexperience."
And his polished speaking style soothed the nation, when the Challenger space shuttle exploded.
Reagan's presidency was criticized by some for his slow response to the AIDS crisis, and the Iran-Contra affair -a scandal that shook his administration because of the use of money from covert arms sales to Iran to fund Nicaraguan rebels. Critics also say Reagan's war on illegal drugs was a failure.
By 1987, at the Berlin wall, Reagan made a historic challenge to Soviet leader Mikhail Gorbachev.
Towards the end of his presidency, there were concerns about Reagan's health. He needed a hearing aid, had cancerous polyps removed from his colon, and had an enlarged prostate. Some also said that he was drifting in meetings, although others denied it.
After leaving office in January, 1989 the Reagan's retired to their home in Bel Air in Los Angeles. They also owned Ronald Reagan ranch in Santa Barbara.
In was August 1994, Ronald Reagan was diagnosed with Alzheimer's disease and wrote a letter to the nation, in what served as a farewell. In the ensuing years the disease slowly destroyed Reagan's mental capacity. He was only able to recognize a few people, including his wife Nancy. Other health crises followed. He broke a hip after suffering a fall in his Bel Air home on January 13, 2001.
And on June 5, 2004 Ronald Reagan died of pneumonia, complicated by his Alzheimer's disease at his home in Bel Air. Tributes came in from around the world. President George W. Bush declared June 11 a National Day of Mourning and Reagan's body was flown to Washington where he became the 10th president to lie in state in the capital.
He was then flown back to the Ronald Reagan presidential library in California, where he is interred.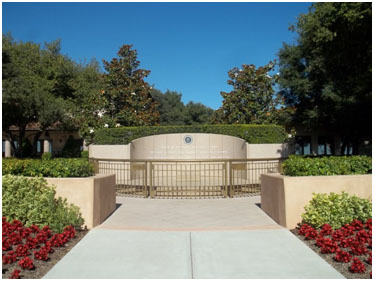 Ronald Reagan's historical legacy reflects the split in US politics. Many Liberals pan his two terms. But Conservatives say he made the country more efficient and prosperous as a result of Reaganomics and helped cause the eventual breakup of the Soviet Union.