Famously Dead A-Z:

Cause of Death:
View information about Richard Nixon's death here on famously-dead.com. You can view information about Richard Nixon's death and other famous deaths. You can view by name or by cause of death. We also have included the most popular famous deaths.
Richard Nixon's Death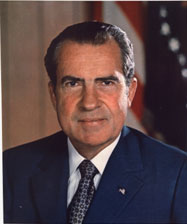 Richard Nixon
Politics & Government
January 9, 1913
April 22, 1994
Stroke
The life and death of Richard Nixon:
He's the only president to ever resign from office. Richard Milhous Nixon had a long, controversial and sometimes illustrious political career. He served as a U.S. Congressman and Senator from California…was a two term vice president of the United States from 1953 to 1961…and he was elected twice to the presidency itself, only to see his career crash and burn.
He had a very modest beginning, born in Yorba Linda, California to a conservative family; one of five brothers.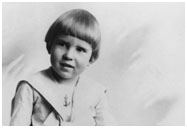 The family struggled financially.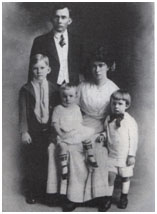 However, he did well in grade school, elected eighth grade class president…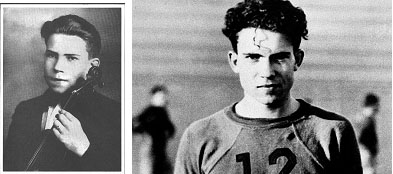 …and he graduated from Whittier College in 1934 and Duke University school of Law in 1937. He wanted to work for the FBI after law school, but budget cuts scuttled that hope.
Even though he could have claimed exemption from the draft because he was raised a Quaker; Nixon served in the Navy during World War II, rising to the rank of ensign and later lieutenant.

He and his bride, Thelma "Pat" Ryan…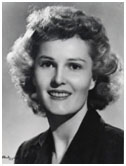 …moved to Washington, D.C. to work for the federal government in 1942. Their marriage lasted until she died in 1993, and they had two daughters, Julie and Tricia.

By 1945, California Republicans were looking for a new congressional candidate and they nominated Nixon.

He won his congressional seat in 1946, was reelected in '48. His controversial work on the Alger Hiss spy case established his reputation as an anti-Communist and put him into the national spotlight. It also marked the start of his rancorous relationship with some members of the press.
By 1950, Nixon won election to the Senate from California.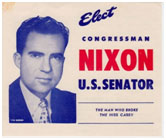 He kept climbing politically, and became Vice President as running mate Republican presidential nominee Dwight Eisenhower in 1952 and in 1956…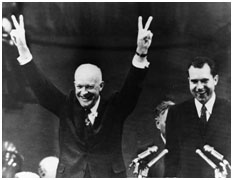 …and he served as Vice President for eight years. But he almost didn't make it to V-P, because of controversy over a fund that opened him to suspicions of possible conflict of interest. He used the new medium of television to salvage his career, with his now famous "Checkers" speech, in September, 1952.
However TV was a two edged sword for him, as his lackluster performance in televised debates in 1960…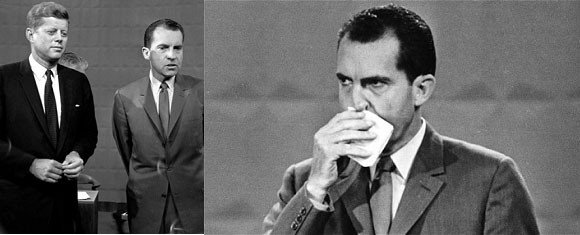 …helped lead to his very narrow defeat in the race for President to John F. Kennedy.
Nixon also lost a race for governor of California 1962, leading to this famous press conference…
But then in 1968, like a Phoenix rising from the ashes, he not only snared the Republican presidential nomination…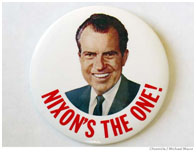 …but was elected president that year.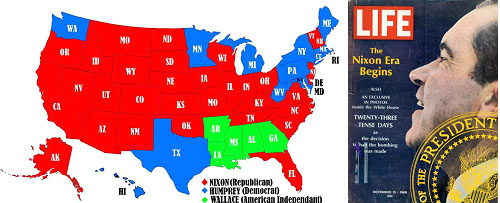 He was always a controversial political figure and his reputation for stiffness grew as President for his role in escalating the Vietnam War, including bombing raids in Cambodia.
But Nixon was President when Americans landed on the moon with Apollo 11 in 1969 and he worked to open a dialogue with Russia and China with détente, trying to end the Cold War deadlock in relations with those countries.

He won a re-election landslide in 1972…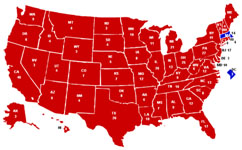 …and Nixon's second term saw crisis in the Middle East with the OPEC oil embargo and the start of the Middle East peace process.
But his ability to govern was derailed by the simmering Watergate scandal, in which a burglary at the Democratic National Headquarters pointed to operatives linked to his re-election team and to a cover-up at the highest levels of his Administration, including him.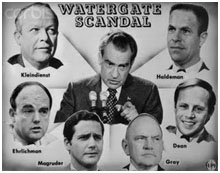 Congressional hearings followed…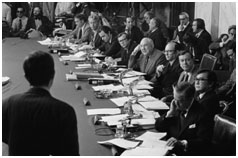 …and after two years the Watergate revelations pulled him down and he resigned from office on August 9, 1974.
He quit in the face of almost certain impeachment and removal from office because of the cover-up of the original burglary at the Watergate office complex.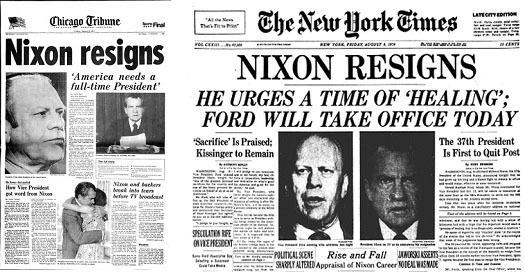 He accepted a pardon issued by his successor Gerald Ford and as a retired politician, Nixon worked to rehabilitate his public image through writings, speaking engagements and several foreign trips.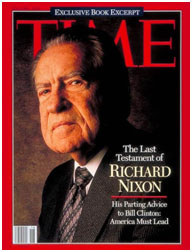 He suffered a serious stroke on April 18, 1994 and died a few days later at the age of 81.
Biographers disagree about his legacy. Some say he displayed flashes of brilliance.

Others insist he was morally lacking.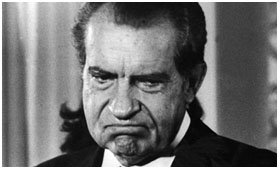 Richard Nixon is buried near his childhood home in Yorba Linda, California.