Famously Dead A-Z:

Cause of Death:
View information about Yogi Berra's death here on famously-dead.com. You can view information about Yogi Berra's death and other famous deaths. You can view by name or by cause of death. We also have included the most popular famous deaths.
Yogi Berra's Death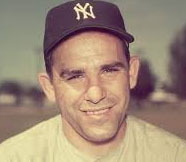 Yogi Berra
Baseball
May 12, 1925
September 22, 2015
Natural Causes
The life and death of Yogi Berra:
He was an American original, famously known for his colorful nickname, a great Hall of Fame baseball career with off the chart accomplishments with the most successful franchise in the sport's history. He was also successful big league manager and will always be remembered for some very familiar quotes, some of which he himself said he never even uttered.
Lawrence Peter Berra was born in the Italian section of St. Louis called The Hill. His parents Pietro and Paolina were immigrants from Milan, in northern Italy.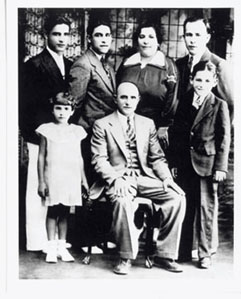 His nickname as a boy was Lawdie, which came from his mother's difficulty in saying Lawrence or Larry.
One of his close boyhood (and lifetime) friends was Joe Garagiola…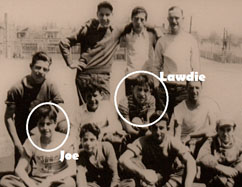 …himself a major league player and later star broadcaster on NBC-TV.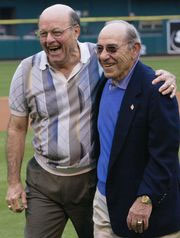 Another neighbor on The Hill was Jack Buck, who was destined to become a broadcaster for the home town St. Louis Cardinals.
Yogi grew up in the neighborhood playing sports…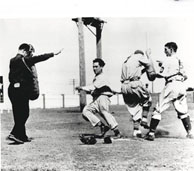 …and got his nickname from one of the kids who said he spun like a Yogi they'd seen in a movie
As a young athlete, Berra was shocked when his buddy Joe was signed by the hometown Cardinals by then General Manager Branch Rickey for a $500 bonus. Yogi was offered $300, which Berra rejected. It was suspected that Ricky knew he was moving to Brooklyn and wanted Yogi for the Dodgers but the Yankees stepped in and signed Yogi for the $500 he felt he deserved.
But World War II got in the way and Yogi was part of the Armed Forces in the D-Day invasion at Normandy, France as a member of the U.S. Navy.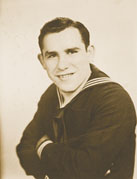 After his Navy stint he joined the Yankees organization, starting with the Newark Bears before being propelled into the big leagues.
A Yankee for his entire playing career, he enjoyed tremendous success, following in the tradition of Babe Ruth, Lou Gehrig and their 1940's superstar Joe DiMaggio.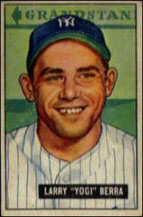 Yogi took a lot of ridiculing because people didn't think he "looked like a Yankee", but showed he more than belonged by doing it on the field.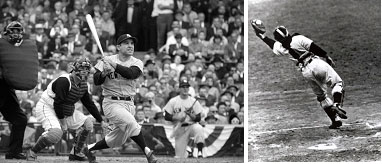 He enjoyed a superstar career, in which he won three American League Most Valuable Player awards, appeared it more World Series games than anyone in history and was on 10 World Series championship teams from the late 1940s to the early 1960s - helping the Yankees to fourteen Series matchups overall.

Here's Yogi at his best in the World Series at Brooklyn's legendary Ebbets Field

.

He also caught the only perfect game in World Series history in 1956 and was an All-Star 18 times and was a favorite of his manager Casey Stengel, who considered Yogi his on the field general. In 1972, Yogi was elected to the Baseball Hall of Fame.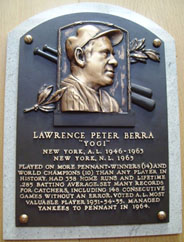 He was also elected to the Italian-American Hall of Fame in 2004 and the New Jersey Hall of Fame in 2008.
Yogi became Yankee manager upon his retirement and took the team to the seventh game of the 1964 World Series against his old hometown team the Cardinals, but the Yanks lost.
Yogi was then fired but his old boss Stengel wanted him for the Mets, so Yogi moved across town and became a coach. He remained a Mets' coach until the death of manager Gil Hodges, and became the Mets' manager.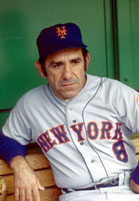 He guided them to the seventh game of the 1973 World Series only to lose Game Seven. For all of his 10 championship teams as a player, Berra never took a team to the Series championship as a manager.
But Yogi was a standout throughout his baseball career on teams that included fellow Hall of Famers like Mickey Mantle, Whitey Ford, DiMaggio and Stengel.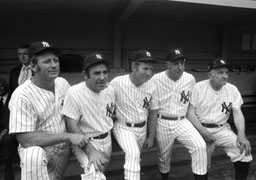 Berra and Phil Rizzuto opened up a bowling alley in New Jersey and Yogi was a master businessman, as a celebrity spokesman for Yoo Hoo chocolate flavored drink in the late 1950's and early '60's.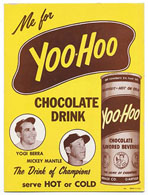 He was also a pitchman for other companies on TV.
Yogis and his wife Carmen…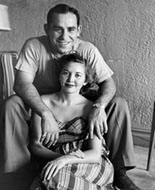 …were married 65 years. She died about a year and half before he did.
They had three sons, Tim, Larry and Dale.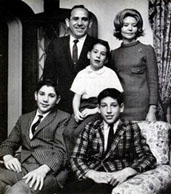 Tim played briefly for the Baltimore Colts in the National Football League…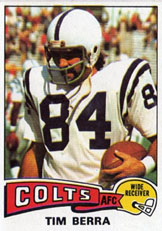 …at Dale followed Yogi to the majors, first with the Pittsburgh Pirates…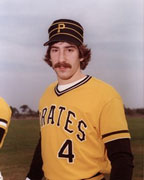 …and later as a member of the Yankees.
Yogi had a very famous falling out with Yankees' owner George Steinbrenner after he was fired in a very dramatic way in the early 1985 season. Yogi then refused for years to go to Yankee Stadium for fourteen years, until the two men made up.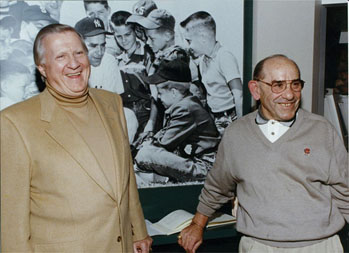 Above all, Yogi was beloved American icon.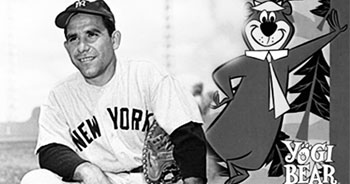 The Yogi Bear cartoon character was inspired by Yogi Berra and some of his sayings are recorded in Bartlett's Famous quotations.
Among Yogi's Hall of Fame quotes:
His approach to at-bats: "You can't think and hit at the same time."
Selecting a restaurant: "Nobody goes there anymore. It's too crowded."
How events sometimes seem to repeat themselves: "It's Deja vu all over again!"
On frustrations at bat: "Slump? I ain't in no slump. ... I just ain't hitting."
Travel directions: "When you come to a fork in the road take it."
Pregame rest: "I usually take a two-hour nap from 1 to 4."
Being asked what time it was: "You mean now?"
On given a day in his honor: "Thank you for making this day necessary."
On a spring training drill: "Pair off in threes."
His approach to playing baseball: "Baseball is 90 percent mental. The other half is physical."
On learning: "You can observe a lot by watching."
On his team's fading pennant chances: "It ain't over `till it's over."
Being told he looked cool: "You don't look so hot yourself."
On the quotes attributed to him: "I really didn't say everything I said."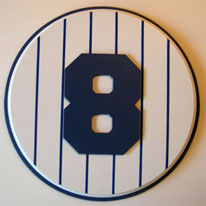 The Yankees retired his number 8, but if you look closely it's seen twice on the wall at Yankee Stadium.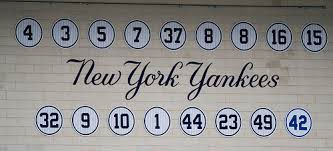 Another Yankee Hall of fame catcher, Bill Dickey…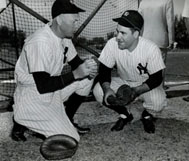 …who Yogi credited for his success behind the plate - wore number 8 as a player too, so it's retired for both of them.
The beloved Berra died in his sleep of natural causes on Tuesday, September 22, 2015. Ironically, it was the 69th anniversary of Yogi's major league debut and he was 90 years old.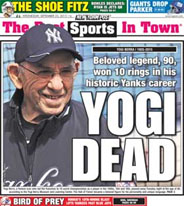 Or as Yogi was once heard to say: "Always go to other people's funerals. Otherwise they won't go to yours."