Famously Dead A-Z:

Cause of Death:
View information about Lou Gehrig's death here on famously-dead.com. You can view information about Lou Gehrig's death and other famous deaths. You can view by name or by cause of death. We also have included the most popular famous deaths.
Lou Gehrig's Death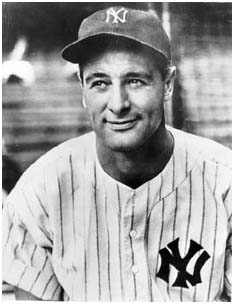 Lou Gehrig
Baseball Player
June 19, 1903
June 2, 1941
ALS (amyotrophic lateral sclerosis, commonly called Lou Gehrig's disease)
He's revered by many people as a genuine American hero, who in the pre-World War II era symbolized the quiet, hard-working man who achieved great success and wide acclaim, but who never let his fame go to his head.
New York City is where it all started, peaked and tragically ended for Henry Louis Gehrig.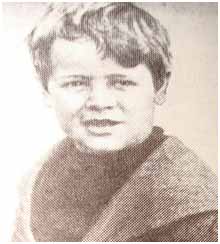 Born to a pair of German immigrants…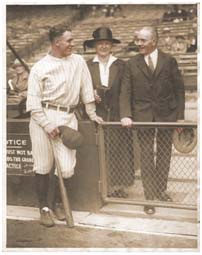 Gehrig's father Heinrich was a sheet-metal worker who was frequently unemployed because he was an alcoholic. His mother Christine worked as a maid and was the main breadwinner. She also laid down the law in the Gehrig home. Lou was the only one of their four children who survived - two daughters died of whooping cough and measles at an early age and another son died in infancy.
Lou was a hard-working young boy, helping his mom by folding laundry and buying supplies. He also was a good student, attending public school in the Washington Heights section of Manhattan and later on went to Columbia University, where he studied engineering and excelled as an athlete in both baseball and football.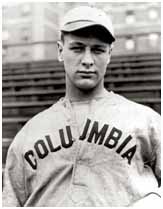 Lou's heroics were spotted by the New York Yankees, who played just across the river in the South Bronx. He was signed to a contract and made his debut on June 15, 1923 as a pinch-hitter, though he played sparingly that year. But once Gehrig made it into the starting lineup in 1925, it took years and a fatal illness to get him out. (Gehrig became a regular when he filled in for first baseman Wally Pitt one day, when Pipp was given a day off. That's where the phrase "Wally Pipped" comes from. Pipp lost his job to his temporary replacement.)
Once on the field every day, Gehrig teamed with Babe Ruth…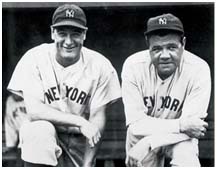 …forming the core of the Yankees' "Murderers Row" in the 1920s.
And when Ruth left the team in 1934, Gehrig remained the Yanks' stalwart, even though the media's attention turned to a rising star, young Joe DiMaggio, who joined the team as a rookie in 1936.
Gehrig's career numbers are legendary: a seven time All Star…six time World Series champ…two-time American League Most Valuable Player…three time Home Run Champ…League Batting Champion and one-time Triple Crown winner.
But his modest, quiet ways belied all that he accomplished. And he performed consistently, nicknamed the "Iron Horse" for setting a consecutive game playing streak that stood for 56 years until 1995 when Baltimore's Cal Ripken exceeded it.
He married Eleanor Twitchell of Chicago in September, 1933.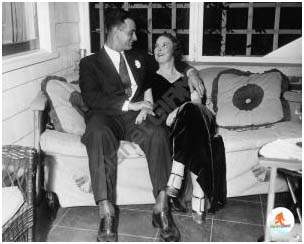 They never had children and Eleanor never remarried, dying on her 80th birthday in 1984.
In the second half of the 1938 season, Gehrig reported physical changes. He felt weak and didn't have the stamina that he once did. By spring-training 1939, it was obvious to everyone that Gehrig lost his magnificent skills.
A battery of medical tests followed and it was determined at the Mayo Clinic in Minnesota that Gehrig suffered from amyotrophic lateral sclerosis, an insidious disease in which the central nervous system is destroyed, hampering swallowing and speaking, while the mind remains aware until the end. The disease eventually claimed his life.
But not before one of the truly historic, human moments in all of American sports, Gehrig's farewell speech at Yankee Stadium on July 4th, 1939.
The Yankees retired Gehrig's uniform number …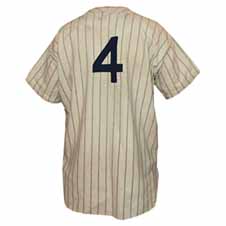 …making him the first player ever in major-league baseball to be so honored.
And he was elected to the Baseball Hall of Fame on December 7, 1939 in a special election related to his illness
By late 1939, Lou accepted an appointment to a ten-year term as New York City's Parole Commissioner and was sworn into office on January 2, 1940. As usual, he performed quietly and efficiently at his new job until his illness forced him to quit and he quietly resigned about a month before he died.
On June 2, 1941, 16 years to the day after replacing Wally Pipp and less than two years after his retirement from baseball Lou Gehrig died at age 37 at his Riverdale home in the Bronx.
After a funeral at Christ Episcopal Church in Riverdale, Gehrig was cremated and his remains interred at Kensico Cemetery in Valhalla, New York.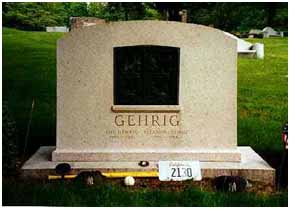 Coincidentally, the cemetery is next door to Gate of Heaven Cemetery, where two other Yankees whose numbers were retired, Babe Ruth (3) and Billy Martin (1) are both located.
Lou Gehrig's life was immortalized in the acclaimed Gary Cooper movie "Pride of the Yankees" in 1941, and it received 11 Academy Award nominations – winning one. And it's a little known fact that Lou himself starred in a movie: Rawhide" in 1938.
The Yankees erected a Lou Gehrig memorial in Yankee Stadium in 1941 and moved it across the street to their new ballpark. And there, on the outfield wall, there's an image of his number…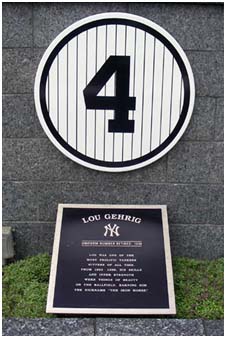 …honoring the franchise's All Time Great first baseman.