Famously Dead A-Z:

Cause of Death:
View information about Casey Stengel's death here on famously-dead.com. You can view information about Casey Stengel's death and other famous deaths. You can view by name or by cause of death. We also have included the most popular famous deaths.
Casey Stengel's Death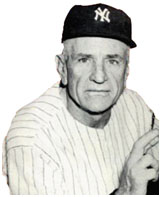 Casey Stengel
Baseball
July 30, 1890
September 29, 1975
Cancer
The life and death of Casey Stengel:
He didn't have the most overall victories among major league baseball managers, but he had a raft of World Series titles under his belt and he was easily one of the most colorful field bosses in baseball history. He managed four teams in all, and his success with one of them made him famous.
Charles Dillon Stengel picked up his nickname "Casey" because he hailed from Kansas City, K-C.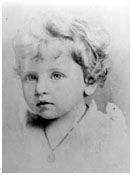 He studied dentistry but was left-handed, which created some unusual handiwork for him, because of the lack of left handed instruments.
So he went into baseball instead and got a job playing the outfield for the Brooklyn Dodgers from 1912-1917.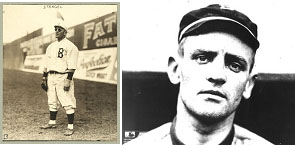 They traded Stengel to Pittsburgh and during a 1919 visit to Ebbets Field while a member of the Pirates, Casey put a sparrow under his cap, tipped it and the bird flew out – flipping the bird to the crowd.
Stengel then went from the Pirates to the Philadelphia Phillies and in 1921 joined the New York Giants.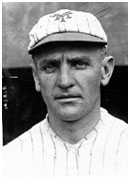 Perhaps his most notable on-the-field accomplishment was hitting the first World Series home run ever at the brand new Yankee Stadium in 1923 as a member of the Giants, an inside the park job.
He beat the mighty Babe Ruth to the punch on that one.
And he picked up tons of baseball savvy playing for the legendary manager of the Giants, John McGraw.
Stengel was named manager of the Brooklyn Dodgers in 1934 and remained there through 1936.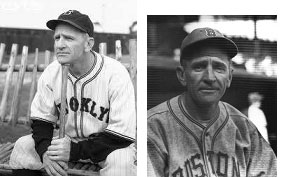 The Dodgers were a hopelessly inept team in that era and Stengel's record with them, and in his next managerial job with the Boston Braves (1938-43), were both a bust.
He went back to the minors and was managing the Oakland Oaks in the Pacific Coast league to a championship in 1948 when, surprisingly, he got a call to manage the New York Yankees.
Many in the press criticized the move, calling Stengel a clown.
But history shows he was crazy like a fox, because he developed a system of platooning his players that led to World Series Championships in 1949, 1950, 1951, 1952, 1953, 1956 and 1958.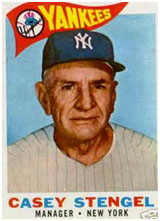 He's the only person to manage five straight World Series championship teams.
Of course, having players like Hall of Famers Joe DiMaggio, Yogi Berra Phil Rizzuto, and later Mickey Mantle, and Whitey Ford didn't hurt.
The Yanks also competed in but lost the World Series in 1955, 1957 and 1960 during the Stengel reign.
After the Yanks fired Stengel after they lost the 1960 Series to Pittsburgh, he sat out a season and returned to New York City baseball in 1962 as manager of the New York Mets.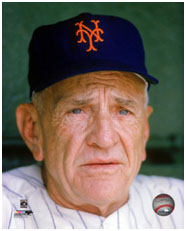 He on the field magic was lost with the Mets' expansion roster, but his colorful style made them a box office hit.
He had a funny way of talking, which writers called Stengelese and which he employed in congressional testimony in 1958 , while accompanied by his Yankee star Mantle.
Not everyone loved him. DiMaggio, for one, couldn't stand him. And a lot of his players considered him cruel.
After breaking his hip when he fell off a bar stool, Stengel retired in 1965 and returned to his home in Glendale, California, where he lived with his wife Edna.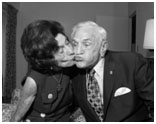 Casey's the only man to have worn the uniform of all four New York City baseball teams, as a player and manager for the Dodgers, player for the Giants and manager of the Yankees and Mets.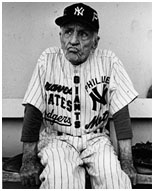 Warren Spahn- who started his career under Casey in Boston and ended it with the Mets – famously said, he's probably the only guy who played for Stengel before and after he was a genius!
A member of the baseball hall of Fame since 1966, whose uniform number 37 was retired by both the Yankees and the Mets…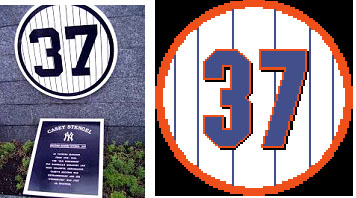 …"The Old Perfessor" died of three weeks after being diagnosed with lymphatic cancer. He was 85.
He's buried at Forest lawn Memorial Park in Glendale, where his wife of 51 years was later interred next to him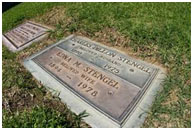 And at the Mets' home at Citi Field in Queens, there's a nearby bus depot named after him by the New York City Transit Authority