Famously Dead A-Z:

Cause of Death:
View information about Joe DiMaggio's death here on famously-dead.com. You can view information about Joe DiMaggio's death and other famous deaths. You can view by name or by cause of death. We also have included the most popular famous deaths.
Joe DiMaggio's Death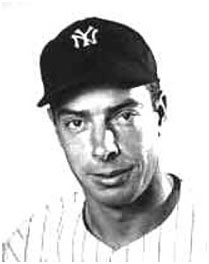 Joe DiMaggio
Baseball
November 25, 1914
March 8th, 1999
Cancer
The life and death of Joe DiMaggio:
He was the Yankee Clipper and probably the brightest star in baseball in the Depression of World War II era. And his fame extended beyond the ball field, through marriages to famous women to starring in successful TV commercials.
Joseph Paul DiMaggio was born in Martinez, California to Sicilian immigrant parents who travelled across the United States to work as fishermen in the San Francisco area.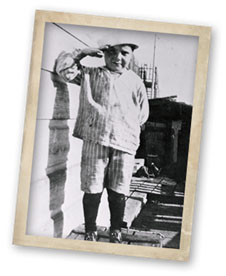 Joe had an older brother, Vince, who made it to the big leagues first and younger brother who starred for the Boston Red Sox, Dominic DiMaggio.

But Joe was the pick of the baseball litter - a superstar in every phase of the game. He was a slugger who hit for a high average, was an impeccable Fielder and swift and smart base runner in his heyday.
Joe came up as a Yankee shortstop at 1936 but was quickly changed to centerfield where he ruled the pasture for many seasons through 1951.
In addition to all the World Series titles he helped the Yankees win and three American League Most Valuable Players Awards, DiMaggio's greatest personal achievement, is his 56 game hitting streak in 1941. Never before had anyone gone that many games in a row and got at least one safe hit. (And no one's done it since!)
The DiMaggio streak mesmerized the American people. Even those who hadn't been following baseball wondered if DiMaggio was keeping it going.
Amazingly enough, Joe's parents Giuseppe and Rosalia were classified as "enemy aliens" after Pearl Harbor was bombed after their son's heroic 1941 season. They were forced to carry photo ID booklets and had to stay within five miles of their home unless they got a permit.
The elder DiMaggio was banned from fishing in San Francisco Bay where he'd worked for years and his fishing boat was seized. Rosalia became an American citizens in 1944 and Giuseppe attained citizenship in 1945.
Joe's first wife was actress Dorothy Arnold …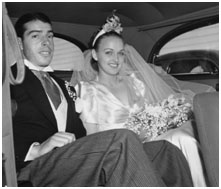 and they had a son together, Joe Junior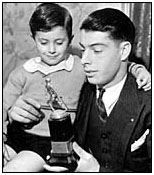 The marriage fell apart and Joe was a sergeant in the Army during World War II…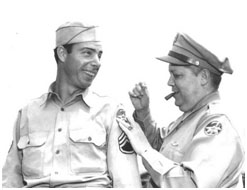 …but mostly played baseball to entertain the troops and saw no combat duty.
After the war, injuries plagued Joe's career but he still was able to lead the Yankees to championships in 1947, 1949, 1950 and 1951.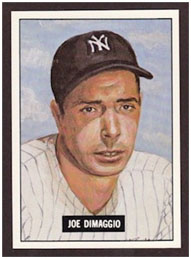 And Joe retired from baseball after the 1951 season because he didn't feel he could perform to his own high standards anymore.
But in 1954 he was back in the public guy when he married sex bomb Marilyn Monroe.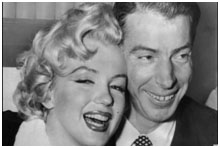 Their marriage only lasted for a few months before ending a divorce. DiMaggio never remarried but expressed his love for Monroe for the rest of his life, even paying for her funeral, barring her Hollywood friends.
Joe even put a baseball uniform back on in the late 1960's, not for the Yankees, but for the Oakland A's, near his San Francisco home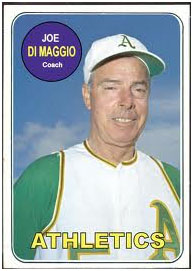 And he wasn't just tied into baseball either. DiMaggio was a famous figure on television with successful advertising campaigns, first for the "Bowery Savings Bank: and second for the "Mr. Coffee" coffeemakers.
Shy and what some people considered aloof, DiMaggio led a very private life.
A lifelong smoker...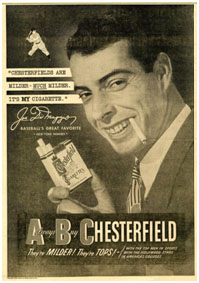 …DiMaggio died of lung cancer in Hollywood Florida
He had become estranged from not only his son Joe but also his brother Dominic.
But none of his personal foibles can diminish his legendary stardom.
Joltin' Joe's a member of the Baseball Hall of Fame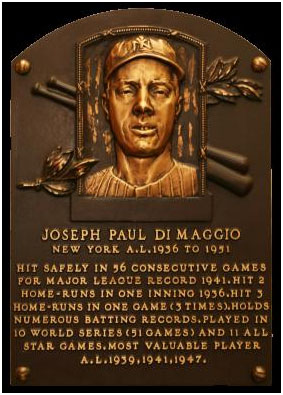 at the Yankees long ago retired his number five.