Famously Dead A-Z:

Cause of Death:
View information about Joe Louis's death here on famously-dead.com. You can view information about Joe Louis's death and other famous deaths. You can view by name or by cause of death. We also have included the most popular famous deaths.
Joe Louis's Death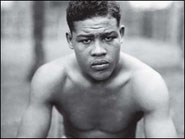 Joe Louis
Champion Prize fighter
May 13, 1914
April 12, 1981
Heart Attack
The life and death of Joe Louis:
More than just one of the greatest boxers of all time, he was a true American hero for blacks and whites alike. That's because Joe Louis not only excelled in the ring as a prizefighter but he also helped stir anti-Nazi sentiments in the years leading up to World War II, with his dramatic defeat of Germany's Max Schmeling.
He was nicknamed the "Brown Bomber"…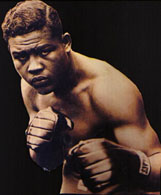 …and brought boxing back from its decline in popularity with his reputation as an honest, hard-working fighter. His heavyweight championship reign lasted 140 straight months, during which he won 25 championship fights.
And while regarded as one of the greatest heavyweight champs ever, Louis also had a strong cultural impact. Before Jackie Robinson broke the baseball color barrier in 1947….
…Black Americans had Joe Louis to look up to as a genuine hero. And so did the rest of the country when he defeated Schmeling in their second heavyweight bout.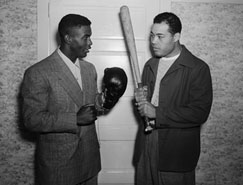 He was born Joseph Louis Barrow in Alabama, the seventh of eight children born to Monroe Barrow and his wife Lillie. His parents were former slaves working as sharecroppers and tenant farmers. A true heavyweight from the start, Joe tipped the scales at 11 pounds at birth.
His father was committed to a mental institution in 1916 and lived until 1938 but never knew of his son's great fame. Joe's family moved to Detroit in 1926 because of threats by the Ku Klux Klan.
His brother got a job at the Ford Motor Company, where Joe also found work there for a while. Louis attended vocational school to learn cabinet making and his mother even encouraged him to try learning how to play the violin.
Like most families, the Louis's struggled during the Depression, but instead of getting into gang activity Joe started spending time at a local youth recreation center in Detroit and learned how to box.
He made his ring debut in 1932 and when he signed his name wrote in such large lettering only the first two parts of his name fit of the card. That's when Joe Louis Barrow became Joe Louis.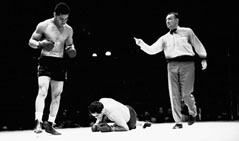 He had 72 professional fights with only three losses and 57 of his victories were knockouts. Here he defeats Tony Galento, part of Joe's so-called "Bum of the Month Club" era.
His career ended when he was knocked out by Rocky Marciano in 1951.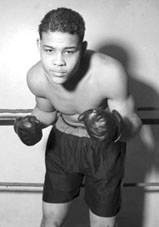 His first professional loss was against Germany's Max Schmeling in June, 1936 at Yankee Stadium. Schmeling's victory provided a source of pride for Adolph Hitler, who portrayed the Germans as a master race.
But in that defeat were the seeds of Louis' most famous victory. It was a rematch that became one of the most famous bouts of all time and is still remembered as one of the major sports events of the 20th century. A Nazi publicist said a black man could not defeat Schmeling, and that Max's prize money would be used by tanks for Germany.
"Tanks for nothing", as they say.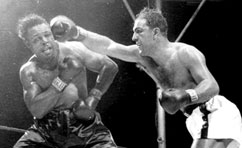 On the night of June 22, 1938, again at Yankee Stadium, 70,000 people were in attendance and the battle was broadcast on the radio to millions of listeners. But it didn't take long. In a bout that lasted two minutes and four seconds, Joe Louis wiped out Schmeling who was only able to throw two punches.
And the "Brown Bomber", a name that would never fly today, became a source of pride for millions of Americans.
Joe Louis also served his country in World War Two in a segregated cavalry unit at Fort Riley, Kansas.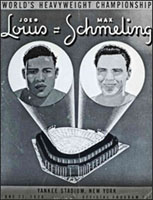 He never saw military combat, but still had to contend with racism while in the service.
Joe had some significant debt when he got out of the Army and a large tax bill was part of it. An IRS audit showed he owed the government half million dollars that he earned during his boxing career. (Louis himself received only about $800,000; most of the proceeds went to his handlers.)
And his impact was not limited to boxing. Joe Louis also integrated the game of golf, breaking that sport's color barrier by appearing in a PGA event in 1952. And he was a popular celebrity in his later years.
He had two children with his wife Marva Trotter.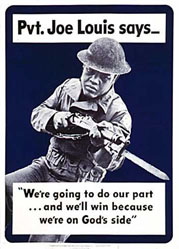 They divorced in 1945, remarried, but divorced again a 1949.
His second marriage to Rose Morgan was annulled after three years.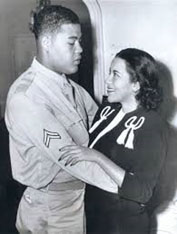 …and his last marriage to Martha Jefferson lasted from 1959 until his death.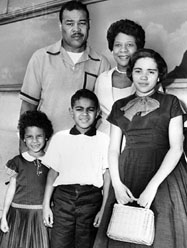 Joe had some famous girlfriends along the way, including Lena Horne, Sonya Henle and Lana Turner.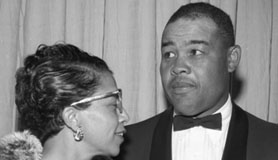 After he retired, Joe suffered through drug abuse and his health failed.
Joe Louis died of a heart attack in Las Vegas in 1981, just hours after his last public appearance at the Larry Holmes-Trevor Brubeck heavyweight fight.
President Ronald Reagan waived the eligibility rules for burial at Arlington National Cemetery, which is where Joe Louis is interred.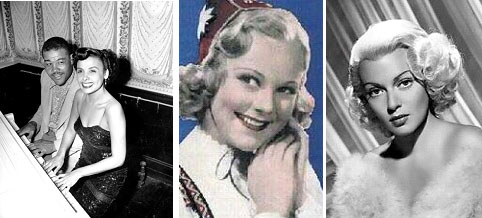 Detroit's Joe Louis Arena…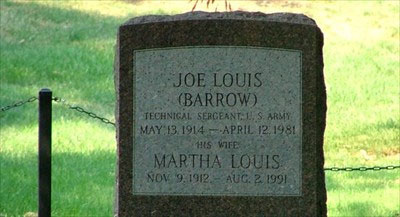 …home of winter sports teams like the NHL Red Wings, was named after him in honor of his contributions to American society.
And added to that, he's remembered for a comment made about him by a white New York sports writer named Jimmy Canon. When someone said that Joe Louis "was a credit to his race", Cannon agreed that, yes, Joe Louis is a credit to his race: the human race.