Famously Dead A-Z:

Cause of Death:
View information about Rocky Marciano's death here on famously-dead.com. You can view information about Rocky Marciano's death and other famous deaths. You can view by name or by cause of death. We also have included the most popular famous deaths.
Rocky Marciano's Death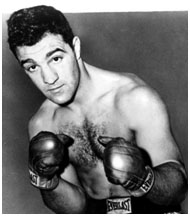 Rocky Marciano
Boxer
September 1, 1923
August 31, 1969
Plane Crash
The life and death of Rocky Marciano:
He's the only prize fighter to reign as World Heavyweight Champion who went undefeated and untied for his entire career. "The Rock from Brockton" had 49 wins, with 43 by knockout and was the top Heavyweight from September 1952 to April 1956, successfully defending his title six times. And his first name became synonymous with the heavyweight champ in pop culture.
He was born Rocco Francis Marchegiano in Brockton, Massachusetts. His father, Pierino, and his mother, Pasqualina Picciuto, were Italian immigrants. Rocco had three sisters: Alice, Concetta and Elizabeth and two brothers: Peter and Louis.
Although fearsome in the ring, baby Rocco almost didn't survive a bout with pneumonia when he was 18 months old, when he nearly died. Growing up in Brockton, he played baseball and football at Brockton High School but dropped out of school after the 10th grade.
From there he worked as a ditch digger, shoemaker and for a local ice and coal company. Rocco was drafted into the Army in 1943 and ferried supplies across the English Channel from Wales to Normandy. He completed his military service in March, 1946.
He got a taste of boxing in 1946 while awaiting discharge from the Army, winning the Amateur Armed Forces boxing tournament. In March 1947, Rocky lasted three weeks with the Fayetteville Cubs, a farm team for the Chicago Cubs' minor league system, before being released.
Unable to find another spot in baseball, he returned home to Brockton to begin training for his prize-fighting career. Rocky turned pro in July 1948, and he won his first 16 bouts by knockout. He also changed his name to Marciano when a ring announcer couldn't pronounce Marchegiano. And he kept on winning his fights. He almost killed Carmine Vingo with a fifth-round knockout in 1949 and the closest he ever came to losing a fight was against Roland LaStarza in March 1950, when Rocky beat the similarly undefeated LaStarza by a split decision.
It was a bittersweet victory in 1951 when Rocky beat the heavyweight legend Joe Louis, who was then 37. The fight was on October 27, 1951 and Rocky came in the underdog in what turned out to be the "Brown Bomber's" last bout.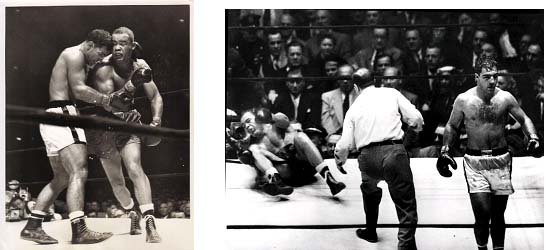 Afterwards, Marciano expressed mixed feelings after his knockout victory, because Louis was his boyhood idol.
Rocky won the World Heavyweight title against Jersey Joe Walcott…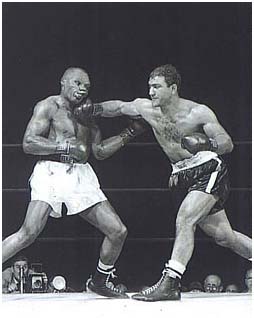 …on September 23, 1952, in Philadelphia. Walcott stormed to an early lead, but Rocky took him out in the thirteenth round.
In a rematch a year later, Rocky knocked out Walcott in the first round.
Ezzard Charles was the only man to last 15 rounds against Marciano…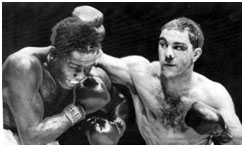 …and Rocky won their first 1953 fight on points, and the second with an eighth round knockout.
Marciano was on top of the boxing world.

And the endorsements were rolling in, like this "Saturday Evening Post" ad in 1954.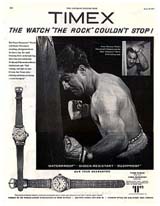 Rocky married Barbara Cousins…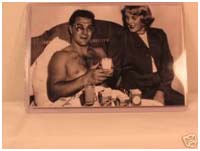 …seen here with him and his Mom for a family dinner…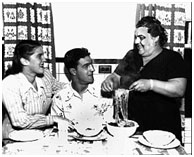 And Rocky's love for baseball never faded. Here he is with a couple of other noted sluggers from his sports era….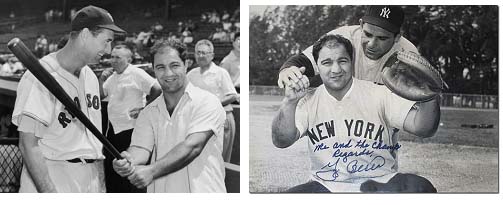 …Ted Williams of the Boston Red Sox and Yogi Berra of the New York Yankees.
Rocky's final title defense came against Archie Moore in September, 1955 and he retained the Championship with a ninth round knockout. Rocky retired from boxing in April 1956, 49 wins and no defeats, no draws.
After boxing, Rocky appeared on ABC-TVs "Combat"…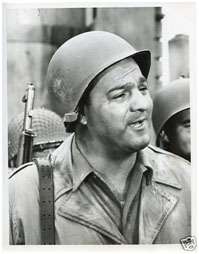 …starring Vic Morrow…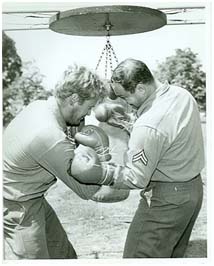 …and in late July, 1969, about a month before he died, Rocky was in a fantasy Superfight against Muhammed Ali.

They were filmed sparring and then it was edited to match a computer simulation of a real Marciano-Ali bout.
The first version had Rocky winning, the second declared Ali the victor. When asked if he thought he could take Ali, Rocky said: "I'd be conceited if I said I could but would be lying if I said I couldn't." Ali joked as he dismissed the computer results as being racist, saying the machine must have been made in Mississippi.
On the eve of his 46 birthday in August, 1969, Rocky was on a Cessna flying to Des Moines, Iowa when the weather turned bad. The pilot wasn't certified for flying by instruments and tried to land in a small airfield outside Newton, Iowa. However, the plane hit a tree and crashed into a cornfield…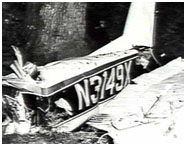 …and Rocky, the pilot and Frankie Ferrell, a passenger on board, all died.
Rocky's buried at Forest Lawn Memorial Gardens Central in Fort Lauderdale, Florida with his wife, Barbara, who died five years after him.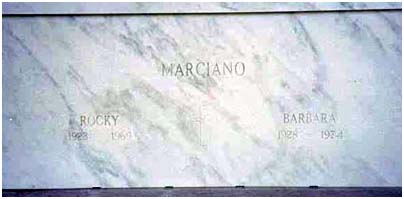 And his name became synonymous with the Heavyweight Boxing Champ.
Rocky Marciano was the inspiration for the movie character Rocky Balboa, championed by Sylvester Stallone.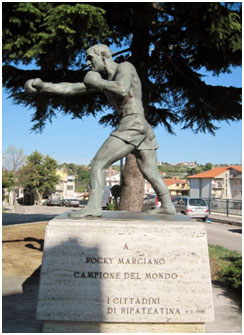 There's a statue of Rocky Marciano in Ripa Teatina, Italy, celebrating the birthplace of Rocky's father.
And there's another one in his hometown of Brockton, Massachusetts.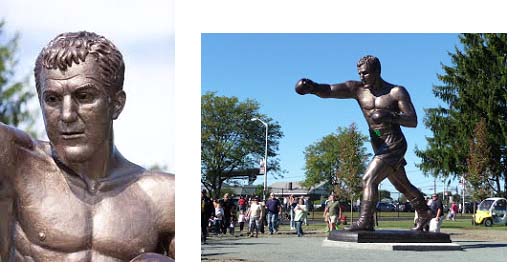 Rocky Marciano was inducted into the International Boxing Hall of Fame 21 years after he died, in 1990.