Famously Dead A-Z:

Cause of Death:
View information about Ted Williams's death here on famously-dead.com. You can view information about Ted Williams's death and other famous deaths. You can view by name or by cause of death. We also have included the most popular famous deaths.
Ted Williams's Death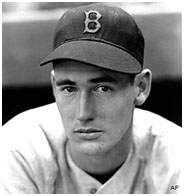 Ted Williams
Baseball
August 30, 1918
July 5, 2002
Heart Failure
The life and death of Ted Williams:
When he began his baseball career, he said he wanted to be remembered as the greatest hitter who ever lived. Many people say he accomplished it. However, his whirlwind legacy reached a humiliating end when two of his children acted against his stated wishes after he died, leaving him exposed to some nasty satire and scorn.
Teddy Samuel Williams was born and raised in San Diego. Later to be known by nicknames like "The Kid", "The Thumper" and "The Splendid Splinter", he formally changed his first name from Teddy – after President Roosevelt - to Theodore.
Ted's father Samuel was a sheriff, soldier and photographer from New York. What's not known by many is Ted was the first Hispanic superstar in baseball history. While many people consider Puerto Rican native Roberto Clemente to be the first Hispanic to really make it big in baseball (and Clemente was a truly great player and heroic humanitarian), Ted Williams' waspy surname and all-American look masked the fact that he was half Mexican.
His mother, May Venzor…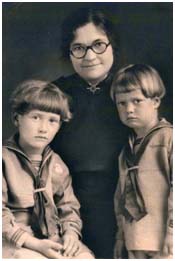 …pictured here with young Ted on the left and his brother Danny on the right… was from El Paso, of Mexican ancestry with Basque, Russian and Native American roots. Williams had some relatives living south of the border. It's just that he lived in a different time and didn't want it known that he was half Mexican, because of prejudices in Southern California.
He grew up in a poor family but was always able to play baseball, excelling in his local sandlots and playing for the San Diego Padres, then the local minor league team...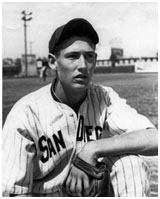 …before being picked up by the Boston Red Sox in 1939…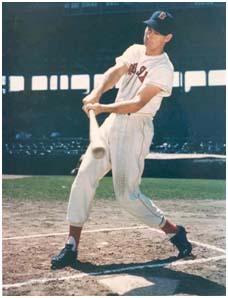 …noted for his sweet swing and scientific approach to hitting a baseball.
His accomplishments are legendary. He was the last man to bat .400 (4 hits in every 10 at bats), with a .406 percentage in 1941. Seventeen years later, he came closest to doing it again in 1958 when he hit .388. He won the American League Triple Crown for most Homeruns, RBI and highest batting average twice, in 1942 and 1947 and was the A.L. Most Valuable player in 1946 and 1949. Nineteen times an American League All-Star, he was a six time batting champ and was elected to the baseball Hall of Fame in his first year of eligibility in 1966.
Ted's career numbers would have been even better had he not lost six years to the military service in World War II and Korea.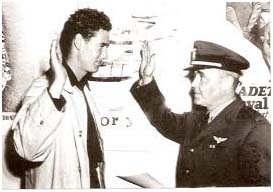 Drafted at the start of 1942, Williams, as sole support for his mother was reclassified from 1-A to 3-A. However, there was public outcry, he lost an endorsement deal with Quaker Oats and he ended up joining the Navy Reserve in May, 1942. After his Triple Crown season that year, he went on active duty in 1943 and served as a naval aviator in the U.S. Marine Corps.
After the war, he returned to baseball as one of the premier sluggers in the game. However, in 1952, Williams was enraged when he was recalled from a list of inactive reserves to go an active duty in Korea. However, he felt it was his duty to re-up and he did.
He was such a talented flier that he was wingman to future astronaut John Glenn in Korea and safely landed a plane that had been hit with flak, an incident that might have killed a lesser pilot and that earned him the Air Medal.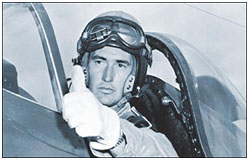 Amazing as he was in so many ways, he was far from perfect. His fielding and base-running skills were nothing to brag about and he slumped badly in his only World Series appearance in 1946, when the Red Sox lost the St. Louis Cardinals.
He also had strained relations with the local fans...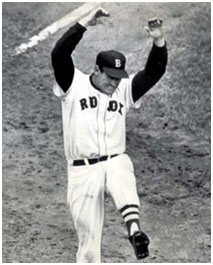 …even refusing to tip his cap when he circled the bases with a home run in his final at bat at Fenway Park. It wasn't until 1991, thirty one years later, when he was honored with Ted Williams Day at Fenway Park, that he pulled a Red Sox cap from his jacket and tipped it to the fans.
Some members of the Boston press also seemed to relish giving their city's biggest sports hero the most difficult treatment, considering him one-dimensional on the field and temperamental.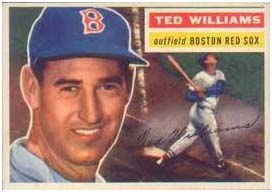 Yet despite the anger and bad feelings, Ted gave generously to the Jimmy Fund of the Dana-Farber Cancer Institute for children's cancer research and treatment. Moreover, he was a genuine star across the county in every sense of the word, as you can see in this guest appearance on TV's "What's My Line."
…even hosting a TV show about fishing and gaining membership in the IGFA Fishing Hall of Fame.
Ted also worked as a commercial spokesman for the Sears retail chain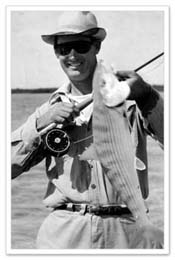 Williams also had a managerial stint with the Washington Senators/Texas Rangers…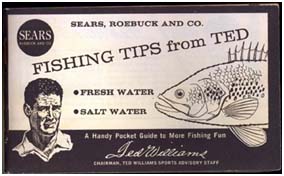 …moving the team from doormat status to pretty good.
He was married three times.
Doris Soule…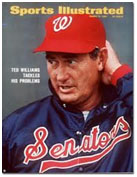 …was the daughter of his hunting guide and they had a daughter, Bobbi Jo, born in 1948 while Ted was on a fishing trip. They divorced in 1954 and in 1961, Ted married socialite model Lee Howard.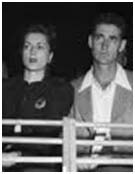 That ended in 1967 and in 1967, Ted married Dolores Wettach...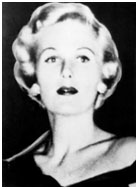 …a former Miss Vermont and Vogue model. She was the mother of Ted's son, John Henry...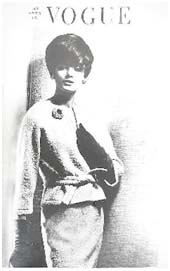 …who Ted tried unsuccessfully to turn into a baseball player…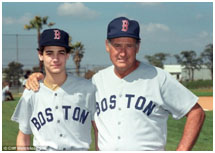 …and youngest daughter, Claudia. Ted and Dolores divorced in 1972 and then Ted lived with Louise Kaufman…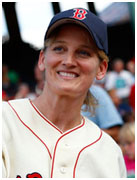 …for the next two decades, until she died in 1993.
In his later years, Ted had a pacemaker implanted in 2000 for a heart condition, cardiomyopathy. There was open heart surgery in 2001 and after suffering a series of strokes and heart failure, "Teddy Ballgame" died of a heart attack on the day after the Fourth of July at age 83.
Ted's will stated he wanted to be cremated with his ashes scattered in the Florida Keys, and his oldest daughter Bobbi-Jo…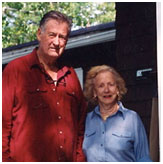 …went to court to see that those wishes were respected. However, her half-brother John Henry and half-sister Claudia produced a document in which they and Ted all agreed to have their remains frozen cryogenically, with the hope of being revived in the future.
It led to some brutal jokes about Ted's frozen head.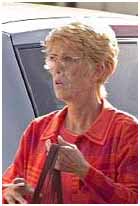 They jokes were a sad and unfortunate smudge on a great athlete's reputation.
John Henry eventually died of leukemia and his body was also transported to the cryonics facility to fulfill the family agreement. Ted remains interred at Alcor Life Extension Foundation in Scottsdale, Arizona.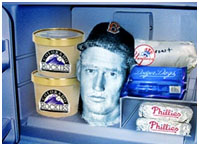 Ted's last great hurrah on a baseball diamond came at his home field, Fenway Park, at the 1999 All-Star game.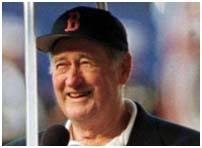 Ted's baseball legacy is secure, as a member of Major League Baseball" All-Century Team, All-Time Team. The Boston Red Sox retired his number.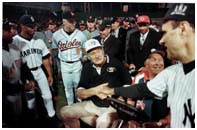 And not long before he died, Ted went full circle, with becoming the first inductee to the Hispanic Heritage baseball Hall of Fame.