Famously Dead A-Z:

Cause of Death:
How did Jackie Robinson Die? Here on famously-dead.com, you can view information about Jackie Robinson's death and other famous deaths. You can view by name or by cause of death. We also have included the most popular famous deaths.
Jackie Robinson's Death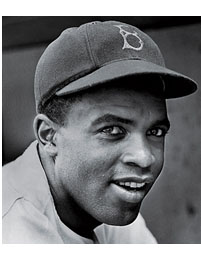 Jackie Robinson
Baseball, Civil Rights Activist
January 31, 1919
October 24, 1972
Diabetes (Heart Attack)
The life and death of Jackie Robinson:
He was a tremendous athlete. Period. He excelled in several sports and will always be honored as the first black to break the segregation line in Major League Baseball. But Jackie Robinson's contribution to American society went well beyond the games that he starred in. Leading by example, he challenged the traditional biases that marked most aspects of American life and he contributed significantly to the civil rights movement.
Jack Roosevelt Robinson was born to a pair of sharecroppers in Cairo, Georgia…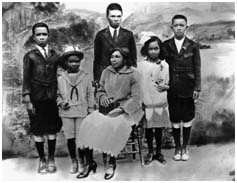 …the youngest of five children. His middle name was in honor of Theodore Roosevelt, who died weeks before Robinson was born.
When his father Jerry left the family, his mother Mallie moved her children to Pasadena, California in 1920. She worked at various jobs to support her family. But the Robinsons were poor compared to their neighbors in a fairly affluent area. Jackie and his other minority group friends were shut out from many recreational activities. For a while, Jackie ran with a neighborhood gang but one of his friends persuaded him to abandon it.
Jackie's older brother Mack…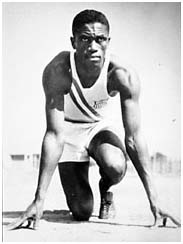 …was also a noted athlete, winning a Silver Medal in track at the 1936 Olympics.
Jackie Robinson played several sports at John Muir High School and went on to Pasadena Junior College, where he continued his athletic career, playing basketball, football, baseball and track.
From there he went to UCLA, when he became the school's first athlete to win varsity letters in baseball, basketball, football and track.

Also at UCLA, Jackie met his future wife…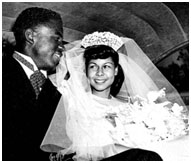 …Rachel Isum. They married in February, 1946.
In 1942, Robinson was drafted into to the Army and assigned to an all-black cavalry unit at Fort Reilly, Kansas. Jackie and some of the others in his unit applied to an Officer Candidate School. After several months of delays, and the protests of heavyweight boxing champ Joe Louis who was stationed at Fort Reilly, Jackie was accepted and eventually became a second lieutenant in early 1943.
In his personal life, Jackie and Rachel were formally engaged.
After getting his commission, Robinson was reassigned to Fort Hood, Texas. But on the evening of July 6, 1944 Robinson's military career was derailed when he was boarding an unsegregated army bus with a fellow officer's wife and he refused to go to the back of the bus, as ordered by the driver. The driver let it slide until reaching the end of the line and then called the military police, who took Jackie into custody.
After some tense moments of what he considered racist questioning by an investigating officer, Robinson was recommended to be court-martialed. But the charges were later reduced and Jackie was acquitted by an all-white panel of nine officers. He never saw action in World War II because the court-martial proceedings prevented him from being sent overseas.
After being discharged from the Army, Jackie returned to his football team the Los Angeles Bulldogs and then went on to play in the Negro Baseball Leagues for the Kansas City Monarchs.
A groundswell was growing for Blacks to be included in the major leagues, especially after so many had served the country during the war. Not everyone was fully on board. Even though Jackie tried out for the Boston Red Sox at Fenway Park, he didn't make it. It was later said to be a staged farce to soothe a powerful, desegregationist city councilman. Even with only management in the stands, Jackie was further humiliated with racist catcalls. (The Red Sox were the last big league team to sign a black player, in 1959.)
But Branch Rickey…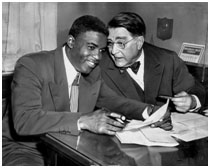 …President and General Manager of the Brooklyn Dodgers, was serious. In 1945, he signed Robinson to a contract, with the understanding that Jackie couldn't lose his cool on the field – Rickey saying he needed a man with guts enough not to fight back.
Jackie was assigned to Brooklyn's International League farm club, the Montreal Royals. Although his Spring Training appearance in Florida sparked racial controversy, Robinson starred in his 1946 rookie season in Montreal, where he led the league in hitting with a .349 batting average.
The following year, April 15, 1947, Jackie made his big league debut at first base (a new position for him) for the Dodgers at Brooklyn's Ebbets Field.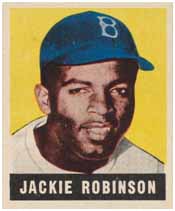 He suffered a lot of insult and abuse from some of his Dodger teammates, the fans in the stands and especially opposing teams, notably Philadelphia Phillies manager Ben Chapman…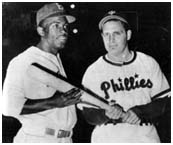 …who posed for this photo, in a public peace treaty.
But Jackie's on-the-field talent could not be denied and he went on to become Rookie of the Year…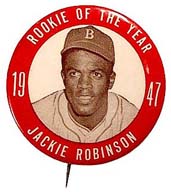 …leading the Dodgers to the National League pennant. (They lost to the New York Yankees in the World Series.)
Jackie also helped usher in a Golden Age of Brooklyn baseball, with the Dodgers winning the N. L. pennant in 1947, 1949, (losing on the last day of the season in 1950 and 1951), 1952, 1953, the World Series in 1955 and another pennant in 1956. They left Brooklyn after the 1957 season for Los Angeles.
And the Dodgers, the crosstown rival New York Giants and the Boston Braves pioneered in signing blacks to major league contracts. And eventually, the American league joined too, when Larry Doby became the first black to play in the American League for the Cleveland Indians.
It spawned a new era in baseball, in which speed and daring on the bases changed the game, like Jackie stealing home in the 1955 World Series…
When the Dodgers traded Robinson to the New York Giants after the 1956 season, Jackie quit baseball and took a job to become and executive for Chock Full o'Nuts. And he continued to try to advance the cause of blacks in business and industry.
But in 1957, after complaining of numerous physical ailments, doctors diagnosed Robinson with diabetes. He needed to inject insulin but it couldn't prevent the continued deterioration of his body.
He and Rachel had three children…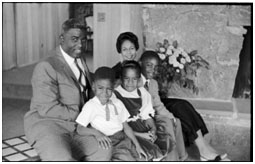 …Jackie Junior, Sharon and David. Jackie Junior had childhood emotional problems, was wounded in Vietnam, and struggled with drug problems. A year before his father died, Jackie Junior was killed in a car crash at the age of 24, in June, 1971.
Media savvy, in 1965 Jackie served as an analyst…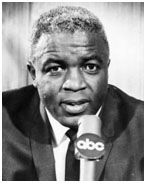 …for ABC's Major League Baseball Game of the Week. And he even starred in the 1950 movie about his life, "The Jackie Robinson Story".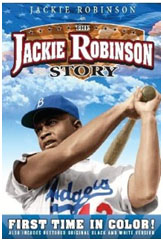 In 1972, the Dodgers retired his uniform number, 42 along with those of Roy Campanella (39) and Sandy Koufax (32). In time, his number was retired in all of baseball and a copy of it hangs in his honor…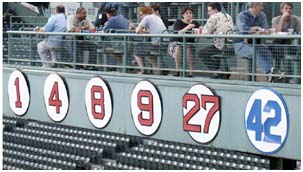 …shown here at Fenway Park, where he "failed" his tryout. No other athlete has ever gained such recognition.
In his post baseball life, Jackie considered himself as a political independent, although he was conservative on many issues, including the Vietnam War. He supported Richard Nixon in the 1960 presidential race against John F. Kennedy, although later Robinson praised Kennedy for his stance on civil rights.
Jackie made his last public appearance October 15, 1972, throwing out the first pitch before Game Two of that year's World Series.
Complications from heart disease and diabetes weakened Jackie Robinson, leaving him nearly blind. And on October 24, 1972, nine days after that World Series appearance, he died of a heart attack in North Stamford, Connecticut. He was only 53.
Not only is he a member of the Baseball Hall of Fame. Baseball honors Jackie every year on April 15th, the day of his debut, when every player can wear 42.
He's further honored in many ways, quite notably by the New York Mets, who modeled their stadium Citi Field on Brooklyn's long demolished Ebbets Field and named the entrance, the Jackie Robinson Rotunda.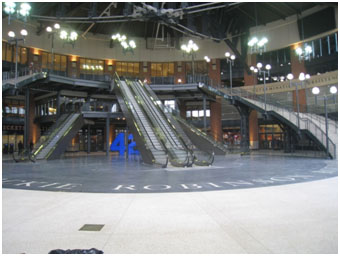 And across the street from the site of Ebbets Field, where Jackie made his name, sits Public School 375…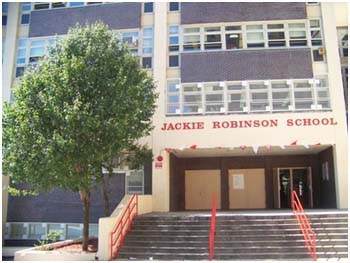 …which further honors his contribution to America.
Jackie Robinson is buried in Brooklyn…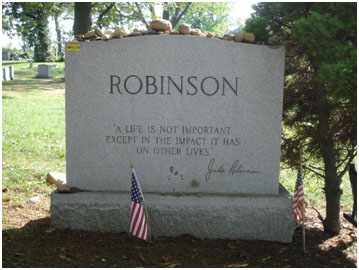 …at Cypress Hills Cemetery.