Famously Dead A-Z:

Cause of Death:
View information about Joe Frazier's death here on famously-dead.com. You can view information about Joe Frazier's death and other famous deaths. You can view by name or by cause of death. We also have included the most popular famous deaths.
Joe Frazier's Death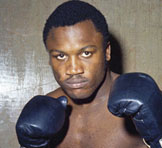 Joe Frazier
Boxing
January 12, 1944
November 7, 2011
Cancer
The life and death of Joe Frazier:
His nickname was "Smokin' Joe", an undisputed World Heavyweight champion who was also an Olympic Gold Medal winner and famous for a boxing style that spelled an all-out, relentless attack. His three bouts with Muhammad Ali are an indelible part of prize-fighting history.
Joseph William Frazier was born in Beaufort, South Carolina, the twelfth child born to Rubin and Dolly Alston Frazier. The couple worked as share croppers and as a boy, Joe was called "Billie Boy". The family bought a black and white TV in the early 1950's and watched boxing matches. An uncle remarked that Joe, with his stocky build, could be "another Joe Louis." The comment had a big impact on Joe and proved to be prescient.
Joe filled a burlap bag with all sorts junk and used it as a heavy bag to train as a boxer. He also developed a reputation of being a guy you didn't mess around with.
In 1958, Joe headed north to live with a brother in New York and got a job at a local Coca Cola plant. But he chose to move on again, settling in Philadelphia in 1959 when he was only 15 years old. It was there he started his amateur career and won Golden Gloves Heavyweight championships in 1962, '63 and '64. Then it was on to the Olympics, where Joe won the Gold medal.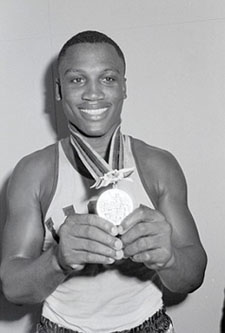 He turned pro in 1965 and added Eddie Futch as an assistant trainer in 1966. (Futch later became and trainer and manager.) Joe kept winning in a series of heavyweight matches. And with a record of 26-0, was pitted against Muhammad Ali in the "Fight of the Century" in 1971 at New York's Madison Square Garden.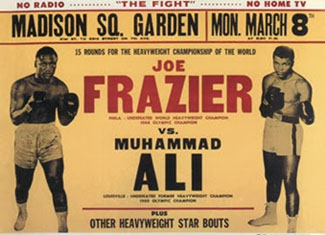 The stars were out that night in the audience too! (Frank Sinatra showed up as a photographer for Life Magazine to get a ringside seat.) 27-year-old Joe got the best of 29-year-old Ali, who was making a comeback after a three-year absence from the ring after his suspension over his dispute with his Draft Board.
Joe had two successful title defenses but lost his crown and unbeaten record in a fight with George Foreman in January, 1973.
Joe's boxing career had peaked. He lost a rematch with Ali in January, 1974….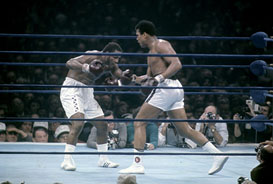 …and lost again in October, 1975's "Thrilla in Manila"…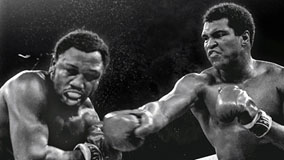 Joe branched out after his boxing career ended in 1976, with a cameo appearance in 1976's "Rocky", his late '70's foray in music with his group "Joe Frazier and the Knockouts" …
…and voice actor appearances on "The Simpsons".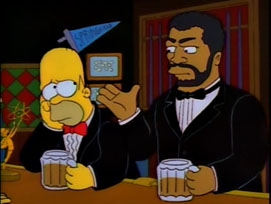 Joe had two children. His son Marvis had a pro boxing career of his own…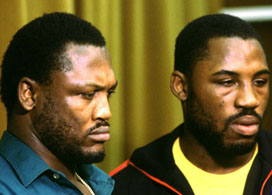 …and daughter Jackie Fraizer-Lyde also boxed professionally.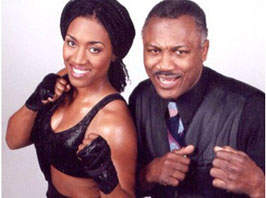 Joe died less than two months after being diagnosed with liver cancer.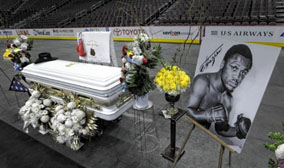 He's buried at Philadelphia's Ivy Hill Cemetery.