Famously Dead A-Z:

Cause of Death:
How did Muhammad Ali die? Here on famously-dead.com, you can view information about Muhammad Ali's death and other famous deaths. You can view by name or by cause of death. We also have included the most popular famous deaths.
Muhammad Ali's Death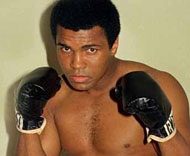 Muhammad Ali
Boxing
January 17, 1942
June 3, 2016
Respiratory Problems, Parkinson's disease
The life and death of Muhammad Ali:
He often proclaimed "I am the greatest" after winning one of his heavyweight fights, and his many fans would agree. And that's because he was not only one of the most famous and successful professional prize fighters of all time – a three time Heavyweight champ who many say was the best ever - but he was also a leader among black Americans since the height of the American Civil Rights movement.
He was born Cassius Marcellus Clay in Louisville, Kentucky. His father, whom he was named after, painted signs and billboards. His mother Odessa was a domestic worker.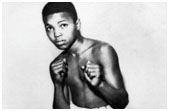 His ancestors were American slaves, mostly of African American descent with some Irish, English and Italian sprinkled in.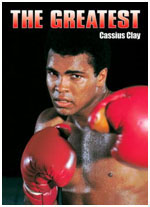 Young Clay was a great boxer and won six Golden Gloves title before going on to win the Light Heavyweight Gold Medal at the 1960 Summer Olympics in Rome.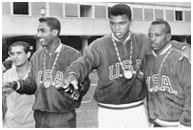 He turned pro and beat a number of opponents, including legendary but aging heavyweight Archie Moore. Clay shocked the boxing world with his upset victory for the Heavyweight title against Sonny Liston on February 25, 1964, in which he boasted that he floated like a butterfly and stung like a bee.
And he made quick work of Liston in their rematch a year later on May 25th, 1965 in Lewiston, Maine with a first round knockout, the first time Liston was ever k-o'd.
His ascent marked a new era for many Americans, as Clay – like the Beatles – were a breath of fresh air for a country still struggling to get past the assassination of John F. Kennedy in November 1963.
He turned a lot of heads when he converted to the Nation of Islam and chose Muhammad Ali as his Black Muslim name.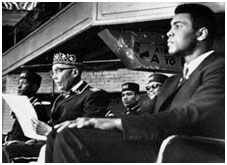 He won 56 of his 61 fights, 37 by a knockout. But after a successful title defense against Zora Foley in 1967, Ali was stripped of his title and his boxing license was suspended by New York State, after he refused to be drafted into the Army to fight in Viet Nam. He refused to do it on religious grounds and ended up winning that fight too!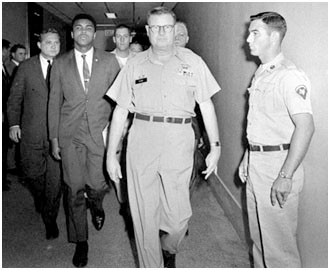 His famous quote: "No Vietcong ever called me nigger!" He was convicted on June 20 of draft evasion and sentenced to five years in prison and fined $10,000.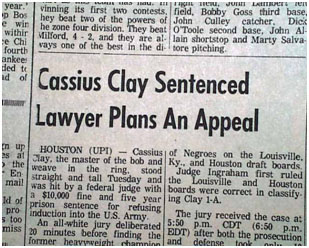 While some fans turned against Ali, public opinion also turned against the war. And although Ali could not box from March 1967 to October 1970 – prime years for a prize fighter, ages 25 to 29 – his case worked its way through appeals and the U.S. Supreme Court unanimously overturned his conviction.
Ali returned to the fight game and had some legendary clashes with Joe Frazier, like the March 8, 1971 "Fight of the Century" at New York's Madison Square Garden.
Ali suffered his first professional defeat in a unanimous decision. But he beat Frazier, who'd lost his heavyweight title to George Foreman in an Ali-Frazier rematch, setting the stage for a title bout with Foreman.
The October 30, 1974 "Rumble in the Jungle" garnered a global audience and few gave Ali a chance to win. But he did win – by a knockout.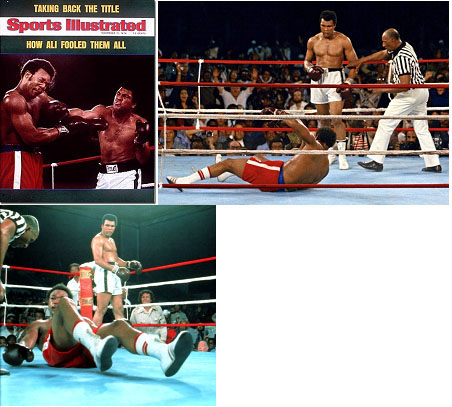 Foreman later said Ali outfought and outhit him.
A third match with Frazier followed, the "Thrilla in Manila ", and Ali won a technical knockout, keeping his crown.
But Ali began to slow and lost his title to Leon Spinks in Las Vegas in February, 1978 and then won a rematch making him the first heavyweight to claim the title three different times.
In later years, Ali suffered from trembling hands and vocal stutters and was diagnosed with Parkinson's syndrome in 1984, common among boxers because of blows to the head.
Married four times…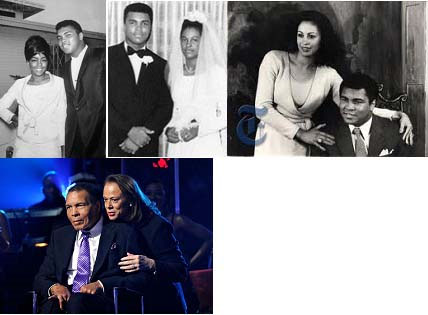 …Ali has seven daughters and two sons, some pictured here.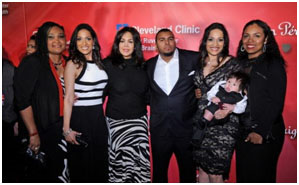 In his later years, Ali's health went into a long, slow decline.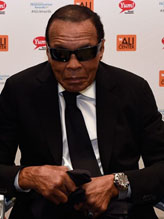 He was admitted to a hospital in Phoenix, Arizona in early June 2016, suffering from a respiratory illness. Reports began circulating that he was, in fact, in very grave condition and was on life support, surrounded by his family.
Muhammad Ali passed away at the age of 74 after a 32-year battle with Parkinson's disease after those respiratory complications. As the world mourned his passing, funeral services were held in his hometown of Louisville, where there was a huge procession.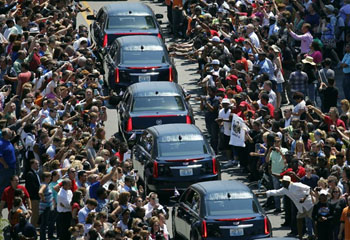 Ali planned the details of his own funeral, saying he wanted an open and inclusive service. Former President Bill Clinton eulogized him at the memorial service, as did comedian Billy Crystal…

…and journalist Bryant Gumbel.
Ali's widow and children also spoke at the memorial and one of the eight pallbearers was actor Will Smith, who portrayed Ali in the movie about his life.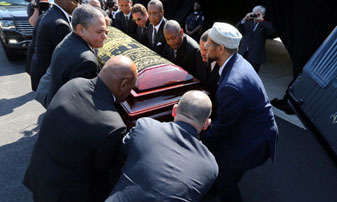 The Greatest is buried at Louisville's Cave Hill Cemetery.