Famously Dead A-Z:

Cause of Death:
View information about David Bowie's death here on famously-dead.com. You can view information about David Bowie's death and other famous deaths. You can view by name or by cause of death. We also have included the most popular famous deaths.
David Bowie's Death
David Bowie
Music
January 8, 1947
January 10, 2016
Cancer
The life and death of David Bowie:
He was the chameleon of the rock era, changing his style and image so many times…

…that music fans never knew what to expect next over a career spanning four decades. However, even though the presentation changed, he said his work centered on four key facets of life: isolation, abandonment, fear and anxiety.
The orange hair and makeup signified his alter ego, Ziggy Stardust. The name on his birth certificate was a lot more conventional: David Robert Jones. He was born in London to his waitress/mom named Peggy and his father Stenton, who went by the name of John and was a promotions officers for a children's charity.
Growing up, he was greatly affected by rock music, saying that when he heard Little Richard's "Tutti Frutti" he heard God. He was playing in bands by his teens, performing blues, rock and folk.
He struggled for an identity in his early career because there was already a very famous, though quite dissimilar, rock act with the same name….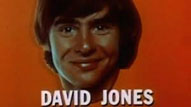 …Davy Jones of the Monkees.
So he changed his name to David Bowie…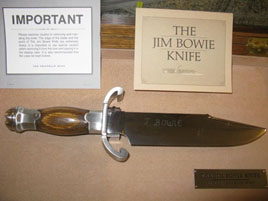 …the last name mainly associated with knife of the American frontiersman Jim Bowie, who died at the Alamo with Davy Crockett.
Bowie first major hit was "Space Oddity" released in 1969 just before the Apollo 11 mission in which Neil Armstrong became the first man to walk on the moon.
And as the years went by, his style and personal look evolved with albums and persona like "Fame" and "Ziggy Stardust", who came to life in 1972.
Another signature Bowie song was 1983's "Let's Dance"
He was elected into the Rock & Roll Hall of Fame in 1996.
David also appeared in several movies, including "The Man Who Fell to Earth" …
Another major movie role was "Merry Christmas Mr. Lawrence" and he played the role of Pontius Pilate in 1988's "The Last Temptation of Christ."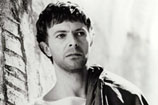 His first wife was Mary Angela Barnett, known as Angie Bowie. They married in 1970 and divorced ten year later but they had a son nicknamed "Zowie"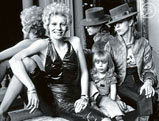 Their son is now known as Duncan Jones.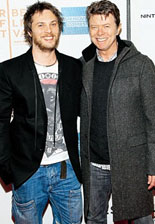 David declared himself bisexual in 1972 and in 1983 called that public declaration his biggest mistake, and that he was really a closet straight. In 2002, he noted that his announcement was a bigger problem for him in the United States that it was in Europe.
Married to the fashion model Iman from 1992 until his death…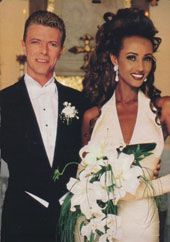 …they had a daughter, Alexandria Zahra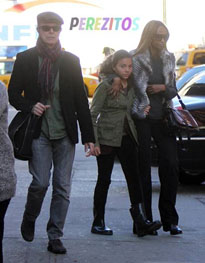 David Bowie died only a few days after his 69th birthday...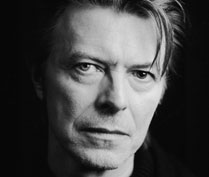 …which was the release date of his final album "Blackstar".
He had been battling liver cancer for a year and a half and died in his New York home.