Famously Dead A-Z:

Cause of Death:
View information about Davy Crockett's death here on famously-dead.com. You can view information about Davy Crockett's death and other famous deaths. You can view by name or by cause of death. We also have included the most popular famous deaths.
Davy Crockett's Death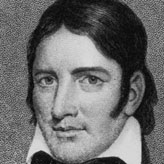 Davy Crockett
Politician, Pioneer
August 17, 1786
March 6, 1836
Shooting
The life and death of Davy Crockett:
He's remembered as "King of the Wild Frontier", thanks to a 1950's movie. But he was more than a pioneer. He was a full-scale American hero of the 19th century because in his time he was a well known politician and a noted solider – even though he was killed in battle, probably the most famous casualty at The Alamo.
David Crockett, known by all as Davy, was born and raised in East Tennessee. His parents were John Crockett and the former Rebecca Hawkins.
This stone commemorates his birthplace…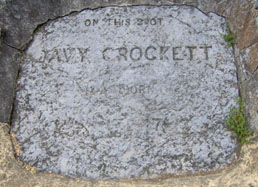 …and there's a replica cabin at the site in Limestone, Tennessee.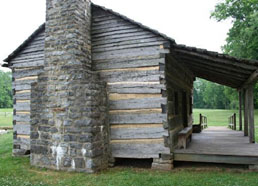 He developed an early reputation for hunting and storytelling, serving in the Lawrence County militia and rising to the rank of colonel. He was then elected to Tennessee state legislature in 1821 and elected to the U. S. Congress in 1825.
As a Representative, he was a big opponent of President Andrew Jackson …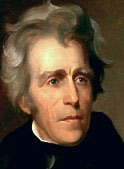 …especially Johnson's Indian Removal Act, which forced native Americans westward while their land was taken over by white European settlers.
Crockett's political battles with the President led to his defeat in the 1831 elections, and although Crockett regained his seat in 1833, he was out again in 1835 and angrily left Tennessee for Texas.
There, Davy became involved in the Texas revolution, arriving in January, 1836. He arrived at The Alamo, a mission in San Antonio, on February 8, 1836.
In a move that caught the Americans by surprise, General Antonio Lopez de Santa Anna…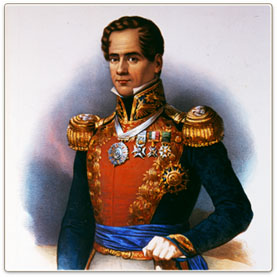 …arrived at The Alamo on February 23rd, and led his Mexican soldiers into battle.
The Alamo commander, William Travis, ordered his artillery to stop shooting to save ammunition. Crockett and his men were told to keep firing, because they rarely missed. Calls for reinforcements didn't work, because it was considered too risky to try to reinforce the Alamo.
The siege ended March 6th, when the Mexicans launched a pre-dawn attack while the Texas defenders were sleeping. Because the battle was so fierce, they had no time to reload their weapons so they used them as clubs.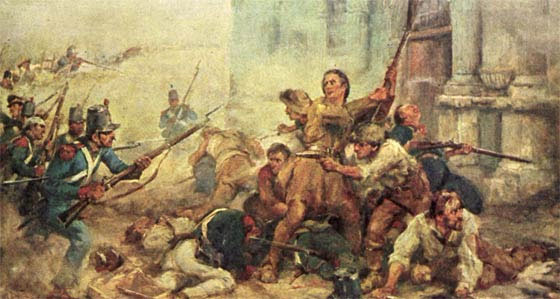 In a legendary defeat for the Texans, Crockett and all of the others were killed. Santa Anna ordered his men to take the bodies to a nearby stand of trees and piled together with wood on top. A bonfire was set and the defenders remains were burned to ashes.
Davy was part of the ashes. The spot where the ashes were buried was left unmarked and can't be identified. Weeks after the battle, there were reports that Crockett surrendered and was executed, although many historians dispute that.
Davy Crockett's legend lives on 100 years later thanks to TV shows and movies.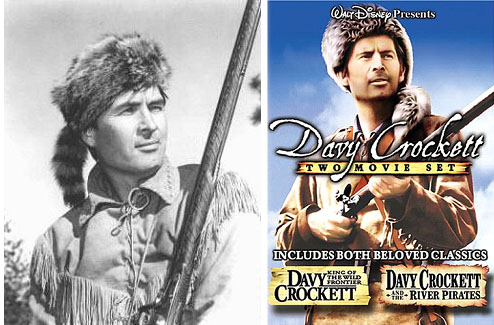 This was the theme music used in the Walt Disney movie, "Davy Crockett, King of the Wild Frontier." Fess Parker had the starring role and made a coonskin hat a fashion statement for American boys in the 1950's.
And there's a famous movie about The Alamo in which Davy was portrayed by John Wayne
Davy was immortalized in film by two dozen actors, including Brian Keith, Johnny Cash and Billy Bob Thornton.
Meantime, this is how The Alamo looks in modern day San Antonio.