Famously Dead A-Z:

Cause of Death:
View information about Yul Brynner's death here on famously-dead.com. You can view information about Yul Brynner's death and other famous deaths. You can view by name or by cause of death. We also have included the most popular famous deaths.
Yul Brynner's Death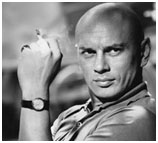 Yul Brynner
Actor
July 11, 1920
October 10, 1985
Cancer
The life and death of Yul Brynner:
He was born in Russia and gained fame in big budget stage and movie productions as the King of Siam and as an Egyptian pharaoh. He also recorded a famous public service announcement in which he appeared "back from the grave" to warn about the dangers of smoking.
Yuliy Borisovich Briner was born In Vladivostok, Russia. He had some other names he went by, Like Julius Briner, Jules Bryner and Youl Bryner. His father Boris was a mining engineer and his mother Marousia studied to be a singer and actress.
Boris left his family for another woman and Yul's mother took him and his sister Vera to Manchuria, now part of China, in the mid 1920's. Fearing war in 1932, she took them to Paris in 1932 where he started his life as a performer, playing Russian and gypsy songs on his guitar in Russian nightclubs in Paris.
His mother, suffering from leukemia, and Yul moved to the United States in 1940 and settled in New York, where his sister Vera made a career singing on Broadway and at the Metropolitan Opera.
Yul worked as a French-speaking radio announcer during World War II for the U.S. Office of War Information and started appearing in stage presentations. He worked as a TV director for CBS, including "Studio One" and other programs and in 1949, made his film debut in "Port of New York."
His breakout role was in Rogers and Hammerstein's "The King and I" and he played the part over 4600 times on stage, in addition to a starring film role.
Yul shaved his head for "The King and I", and became a style innovator, pioneering the "bald is beautiful" look, although he sometimes appeared with a full head of hair.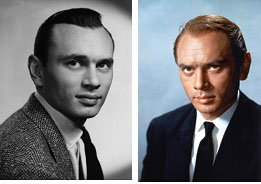 Brenner also had a starring role as the Pharaoh Ramses in "the Ten Commandments."
And Brynner used his intense stare to its maximum advantage in "The Magnificent Seven", in which he co-starred with Steve McQueen, Charles Bronson and Eli Wallach.
Yul also worked as a photographer and wrote two books and was married four times, fathering three children and adopting two. Three marriages ended in divorce.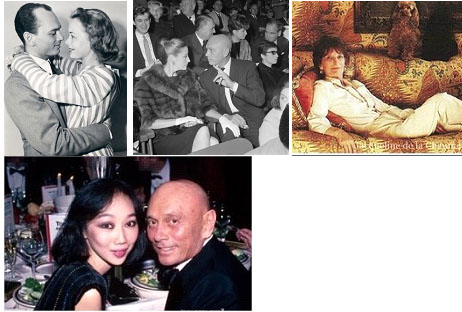 His last wife, Kathy Lee, survived him.
A smoker since the age of 12, Yul was often photographed with a cigarette.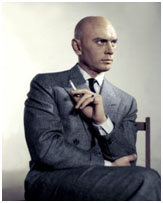 In September 1983, a lump was found on one of his vocal chords and a checkup revealed his throat was fine, but that Yul had inoperable lung cancer. He recorded the following anti-smoking commercial which aired after he died.
Yul Brenner is buried at Saint-Michel-de-Bois-Aubry Russian Orthodox Monastery near Luzé, France.