Famously Dead A-Z:

Cause of Death:
View information about Steve McQueen's death here on famously-dead.com. You can view information about Steve McQueen's death and other famous deaths. You can view by name or by cause of death. We also have included the most popular famous deaths.
Steve McQueen's Death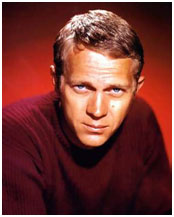 Steve McQueen
Actor
March 24, 1930
November 7, 1980
Mesothelioma
The life and death of Steve McQueen:
Steve McQueen's anti-hero roles made him a big movie star in the 1960's and '70's, at the height of the Viet Nam war era.
Known as the "King of Cool",

…he received an Academy Award nomination for his role in "The Sand Pebbles"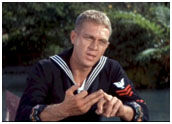 And his celebrity included some live appearances, like this one on "What's My Line".
McQueen's other hit films included…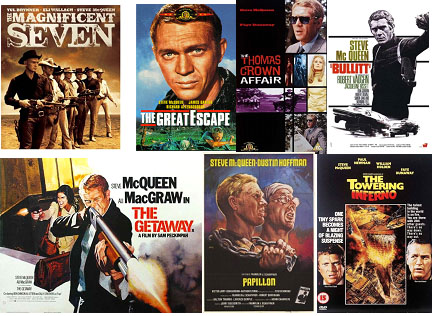 He accomplished a lot, especially when you consider that he didn't have a story-book childhood. Born in a suburb of Indianapolis, his father William abandoned his mother six months after meeting her. And his mother, Julia Ann Crawford, was said to be a rebellious, alcoholic prostitute.
So Steve was raised by his maternal grandparents, who had to move in with other family members on a farm when the Great Depression hit. He got along fine with his great Uncle Claude. However, when he returned to his mother and new stepfather in Indianapolis when he turned eight, trouble followed. His step dad beat Steve - so he took to the streets, running with a gang and pulling off small crimes.
It got worse and Steve was declared an incorrigible and was forced to attend an all-boy's high school for troubled adolescents in Chino, California. His rebelliousness marred his stint in the Marine Corps and he spent time in the brig. However, in later years he said he enjoyed his time as a Marine.
With the help of the G.I. Bill in 1952, Steve began studying acting. He also started making money by competing in motorcycle races in Long Island City, New York, marking the start of his life-long love for biking. But in 1955, at the age of 25, McQueen left New York after some bit roles, heading for Hollywood.
His first big roles were in TV western's, like "Tales of Wells Fargo" and "Wanted: Dead or Alive." His movie career got a kick start when Frank Sinatra chose McQueen to replace his erstwhile buddy Sammy Davis Jr. in "Never So Few". (Sinatra was miffed by some comments Sammy made about him).
From there, it was a role in "The Magnificent 7" and Steve's future was secure. The roles got bigger as the years went by. He earned an Academy Award nomination for his role in "The Sand Pebbles" and then got an Oscar nomination for 1968's "Bullitt".
McQueen was married three times…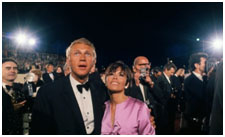 …to Neile Adams and they had two children, daughter Terry and son Chad. One of his four grandchildren, Steven R. McQueen is known for his role in "The Vampire Diaries."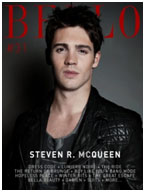 Steve's other two wives were Ali McGraw and Barbara Minty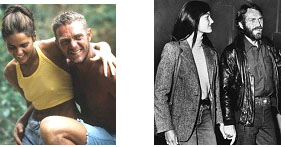 Even during his Hollywood heyday McQueen was known for heavy drug use, including marijuana and cocaine.
In 1978, a persistent cough led to tests that revealed mesothelioma, cancer resulting from exposure to asbestos. He tried all sorts of remedies, including the use of laetrile, a drug available in Mexico. But nothing stopped the cancer – he had a tumor on his liver that weighed five pounds!
McQueen blamed his illness on asbestos exposure, tracing it to movie sound stage insulation and race driver's protective suits.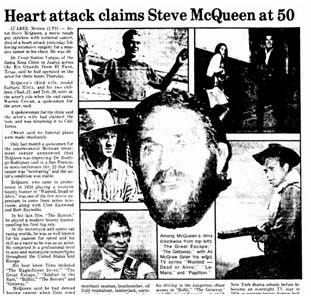 Steve died of a heart attack related to multiple surgeries for mesothelioma and was cremated, his ashes scattered in the Pacific Ocean.