Famously Dead A-Z:

Cause of Death:
View information about Charles Bronson's death here on famously-dead.com. You can view information about Charles Bronson's death and other famous deaths. You can view by name or by cause of death. We also have included the most popular famous deaths.
Charles Bronson's Death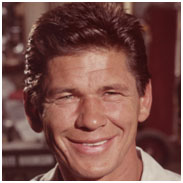 Charles Bronson
Actor
November 3, 1921
August 30, 2003
Alzheimer's Disease, Pneumonia
The life and death of Charles Bronson:
He was the Hollywood tough guy, best remembered for playing in a wide range of roles in which he was featured as a cop, gunslinger or vigilante. However, his range as an actor allowed him to appear in comedies and character roles late in his career.
Charles Dennis Buchinsky was born in the Pennsylvania coal region, in the Allegheny Mountain's town of Ehrenfield. He was the eleventh of fifteen children born to Lithuanian immigrants, Walter Bunchinski and Mary Valinsky.
His father changed the family name from Bunchinski to Buchinsky to sound more Americanized. When Charles hit Hollywood during the McCarthy hearings, his agent feared Buchinsky sounded too Russian, so Charles changed his surname to Bronson, borrowing the name from the Hollywood Avenue where the gate to Paramount Pictures sits.
Charles didn't learn English until he was a teenager, speaking Russian and Lithuanian at home as a child. When Charles was ten his father died, so Charles went to work in the coal mines, earning a dollar per ton. The family was so poor that the future Hollywood tough once reportedly wore his sister's dress to school because he didn't have clothes of his own.
Nevertheless, he was the first member of his family to make it through high school, although he also worked in the mines until he entered the Army Air Forces as an enlistee in 1943.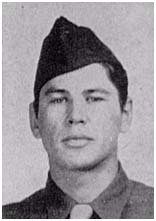 He served as an aerial gunner based on Guam and received a Purple Heart for his battle wounds.
When the war ended, Charles worked various off jobs before joining a Philadelphia theatre group. He later moved to New York City and took on fellow aspiring stage actor Jack Klugman as a roommate.
By 1950, he married Harriet Tendler.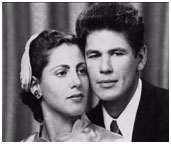 The family moved to Hollywood where Charles enrolled in acting classes and won small roles, like Igor in Vincent Price's "House of Wax."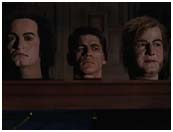 Charles did some TV work, like playing a boxer in a skit with Red Skelton and played guest roles on "The Twilight Zone" and "Alfred Hitchcock Presents."
However, he started getting big-time attention when he was cast in John Surges' "The Magnificent Seven" in 1960. He made $50,000 for that role.
Sturges hired Charles again two years later, when he made "The Great Escape."
However, Bronson turned down the lead in "A Fistful of Dollars" in 1964, which helped launch Clint Eastwood's fame. Charles's signature role was still in the future – and the "Death Wish" series ran from 1974-1980.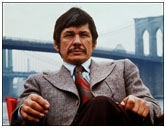 In "Death Wish", his character Paul Kelsey is a successful New York architect turned vigilante, whose wife is murdered and daughter sexually assaulted. It led to several sequels. Here's a clip from one featuring Denzel Washington in his film debut.
Charles and his first wife Harriet, an actress, divorced in 1965. She once said on their first date he had four cents in his pocket. He went on to become one of the highest paid actors in America.
Bronson's second wife was British actress Jill Ireland.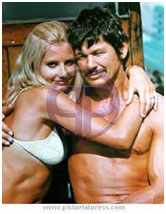 They met in 1962 while she was married to actor David McCallum, one his his co-stars in "The Great Escape", whom he supposedly told "I'm going to marry your wife." Bronson did, in 1968. As husband and wife, she often played his leading lady, starring fourteen times together. They would take the entire family with them when going on location.
Charles and Jill lived on a 260 acre spread in West Windsor, Vermont, while wintering in Snowmass, Colorado. Unfortunately, Jill was diagnosed with breast cancer…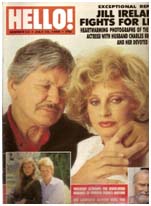 …and she died of the disease at age 54 in 1980 at their Malibu, California home.
Eight years later, Charles married Kim Weeks…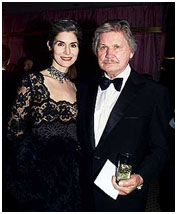 …and they stayed married until his death in 2003. He'd been in declining health and stopped acting after hip-replacement surgery in 1998. He also suffered from Alzheimer's disease and died of pneumonia at age 81.
Charles is buried in Brownsville Cemetery in West Windsor, Vermont…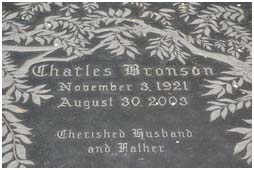 …and is remembered with a star on the Hollywood Walk of Fame.