Famously Dead A-Z:

Cause of Death:
How did Pat Summerall's die? Here on famously-dead.com, you can view information about Pat Summerall's death and other famous deaths. You can view by name or by cause of death. We also have included the most popular famous deaths.
Pat Summerall's Death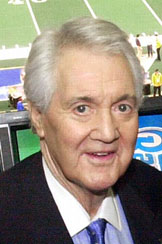 Pat Summerall
Football, Broadcasting
May 10, 1930
April 16, 2013
Heart Attack
The life and death of Pat Summerall:
In many ways, he had a unique insight on pro football, as both a player and a broadcaster, and he was considered by many as the play-by-play voice of the game for many years. His broadcast resume was broad, however, as he also worked 26 Masters Golf Tournaments and 21 U.S. Opens.
He was born George Allen Summerall, but was known to all at Pat. He grew up in Lake City, Florida and played football, baseball, basketball and tennis. He went on to play college football for the Arkansas Razorbacks was drafted into the NFL by the Detroit Lions in 1952, playing with legendary quarterback Bobby Layne.
His next NFL stop was with the then Chicago (later St. Louis and now Arizona) Cardinals from 1953-57.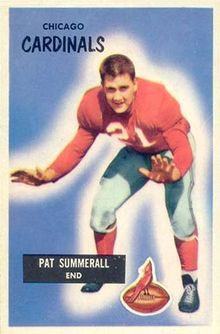 But his most notable playing time was as placekicker for the New York Giants from 1958 to 1961.

One of his Giants' teammates also went on to broadcasting fame, Frank Gifford.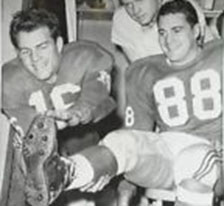 And Summerall also played for two coaching legends: Vince Lombardi and Tom Landry.
After his football playing days ended, Pat went into broadcasting, starting with a morning show on pre-all-news WINS in New York City. He was also hired by CBS Sports in 1962 on its NFL coverage and had several broacast partners until he was teamed with John Madden in 1981.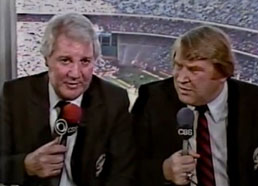 Here's the popular pair on CBS before 1987 playoff game between the Washington Redskins and the Chicago Bears
Summerall – Madden moved to Fox in 1994 when that network assumed NFC games, a pairing that lasted, in all, 22 years.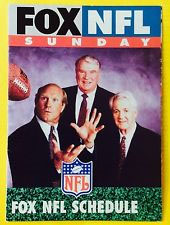 After the move to Fox, he and Madden were featured in an episode of "The Simpson's"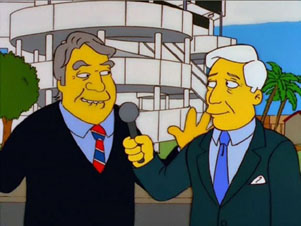 But his real mark was as the voice of sixteen Super Bowls. He also was a familiar voice as a commercial pitchman for Ace Hardware and Dux beds.
Pat was known to be suffering from alcoholism in the early 1990's but he got help and overcame his addiction. Nevertheless, he required a liver transplant in 2004.
Pat underwent broken hip surgery in Dallas at Zale Lipshy University Hospital and died there of cardiac arrest at the age of 82.
Nearly 1700 mourners gathered at Prestonwood Baptist Church to pay tribute to Summerall.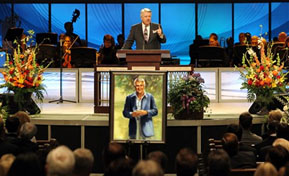 Pat's buried at the Dallas-Fort Worth National Cemetery.