Famously Dead A-Z:

Cause of Death:
View information about Vince Lombardi's death here on famously-dead.com. You can view information about Vince Lombardi's death and other famous deaths. You can view by name or by cause of death. We also have included the most popular famous deaths.
Vince Lombardi's Death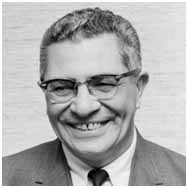 Vince Lombardi
Football
June 11, 1913
September 3, 1970
Cancer
He's remembered for the phrase "Winning isn't everything, it's The Only Thing." The gold standard of the professional football coach, his name is attached to the NFL's biggest prize, given every year to the winner of the Super Bowl.
Vince Lombardi was born in Brooklyn in a close-knit Italian family, and grew up in an ethnically diverse, middle class neighborhood. Sunday church attendance was mandatory for all the Lombardi's and it was followed by a traditional Sunday dinner with family and friends. Vince worked in his father Enrico's butcher shop, but grew to hate it.
Vince graduated from the eighth grade at age 15, then went to Cathedral College of the Immaculate Conception, a six-year program to become a Catholic Priest. But after four years he decided he no longer wanted to be a priest and enrolled at St. Francis Preparatory High School.
Vince had already been playing football and accepted a scholarship to Fordham University, to play for the Fordham Rams.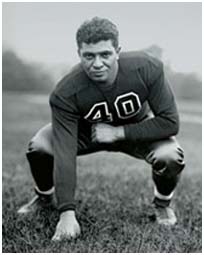 He became part of the "Seven Blocks of Granite", the nickname given to the team's offensive line.
After graduating from Fordham, the tough economic times of the Great Depression offered few career opportunities. By 1939 he accepted an assistant coaching job at St. Cecilia High School, a Roman Catholic high school in Englewood. New Jersey. Vince taught a variety of subjects, including Latin, chemistry and physics, making $1000.00 a year. He also scored a big victory over Brooklyn Prep, which was led by a senior who also went on to coaching fame: Joe Paterno.
He wanted to marry his non-Italian girlfriend, Marie Planitz. However, her father didn't want her to marry an Italian, and that prejudice against his heritage was something Vince faced more than once in his life.
Vince and Marie did eventually marry and had two children, son Vincent Junior and daughter Susan.
It was back to Fordham in 1947 where he became the coach of the freshman football and basketball teams.
And by 1948 he accepted an assistant's job at the West Point Military Academy, which greatly influenced his future coaching style, because he was learning as offensive line coach under legendary head coach Earl "Colonel Red" Blaik.
Blaik's emphasis on execution became a trademark of Lombardi's coaching style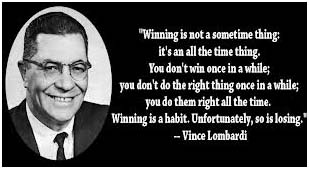 Vince started his NFL career in 1954 with the New York Giants, taking the job that would later become known as offensive coordinator under head coach Jim Lee Howell. He worked for the Giants with another future coaching legend: Tom Landry, who went on to fame with the Dallas Cowboys.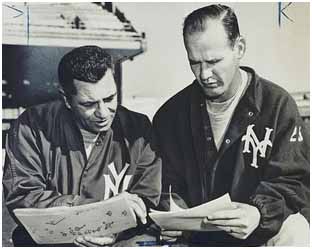 By 1958, the Green Bay Packers (with five future Hall of Famer's already on their team) finished with the worst record in team history, and lured Lombardi to be their head coach and general manager.
He took them from a 1-10-1 record in 1958 to a 7-5 record in 1959, and was named Coach of the Year in his first season.
The Packers then vaulted to the NFL championship game by 1960 and although they lost the game to the Philadelphia Eagles, it was a sign of things to come.
Lombardi's Packers went on to win a string of championships, in 1961, '62, and three straight in 1965,'66 and "67, including the first two Super Bowls ever played.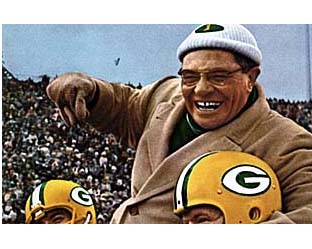 And it was there that he developed the "Lombardi Sweep", a devastating running play.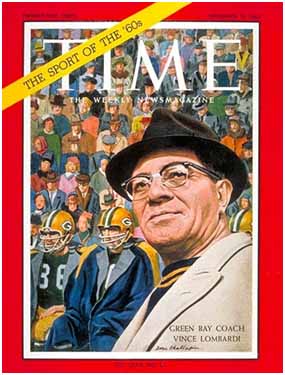 After the 1967 season, he stepped down as the Packers head coach but stayed as the team's general manager for 1968.
But the lack of on-the-field action bored him and by 1969 the coaching bug returned with Lombardi moving to the Washington Redskins, where he helped to break a string of 14 losing seasons.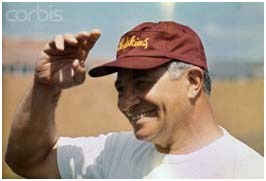 But as early as 1967 Lombardi suffered with digestive tract problems and he was diagnosed in June 1970 with colorectal cancer. On his death bed, he told his priest that he wasn't afraid to die, but regretted he didn't accomplish even more in life.
Vince Lombardi died at age 57. His funeral was held September 7, 1970 at New York's St. Patrick's Cathedral with 1500 people lining Fifth Avenue from 39th to 50th St.
He's buried at Mount Olivet Cemetery in Middletown, New Jersey with his wife, Marie.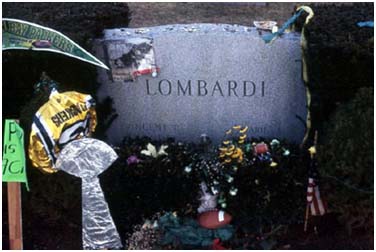 There's a Vince Lombardi Service area on the New Jersey Turnpike…a 14 foot statue in his honor outside the home of the Packers, Lambeau Field…and a he's a member of the Pro Football Hall of fame.
And in perhaps the league's biggest tribute possible, the NFL named its Super Bowl trophy the Vince Lombardi Trophy, which is given to the winner of the league championship every year.