Famously Dead A-Z:

Cause of Death:
View information about Joseph Bonanno's death here on famously-dead.com. You can view information about Joseph Bonanno's death and other famous deaths. You can view by name or by cause of death. We also have included the most popular famous deaths.
Joseph Bonanno's Death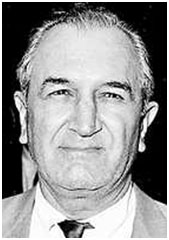 Joseph Bonanno
Criminal
January 18, 1905
May 11, 2002
Heart Failure
The life and death of Joseph Bonanno:
He was one of the original five bosses of the New York City underworld in the formative days of the Italian Cosa Nostra and ruled his family for several decades. When his life was done, it wasn't in a hail of bullets, but of heart failure, in retirement, at the age of 97. But he also wrote the book that provided the road map for the dismantling of the Italian mob in New York.
Giuseppe Carlo Bonanno was born in the town of Castellammare Del Golfo in Sicily. When he was three, his family moved to Williamsburg, Brooklyn but they returned to Italy in 1918. Joe, already running with gangsters in Italy, returned to America in 1924 and joined a mob headed by Salvatore Maranzano…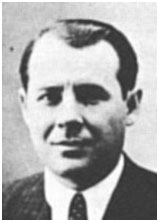 …who hailed from the same town in Sicily.
Maranzano was involved in a tug of war with Joseph Masseria…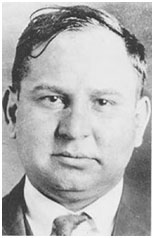 …nicknamed "Joe the Boss" to head the crime syndicate in New York and arranged Masseria's murder.
Maranzano then came up with the plan for five New York crime families. His mistake was making himself "boss of all the bosses".
felt otherwise…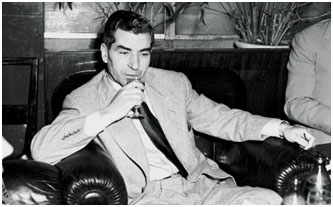 …and Maranzano was rubbed out.
Bonanno took the reins of the Maranzano gang at the age of 26 and never let go for decades.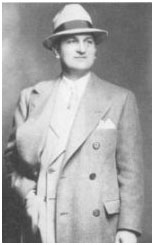 The Bonanno clan was smaller and more tightly knit than the other New York gangs, and concentrated on loansharking, bookmaking and prostitution, among other crimes, and legitimate businesses in the garment, cheese, funeral and trucking industries. But Bonanno boasted there wasn't any of the infighting like in other groups.
And although he was arrested for things like minimum wage law violations and lying on citizenship papers…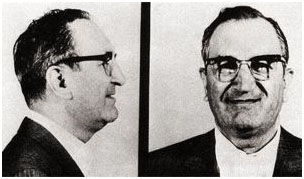 …he was never convicted of a serious crime.
Married to Fay Labruzzo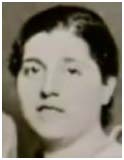 ...in 1931, and they had three children, Salvatore, Catherine and Joseph Junior.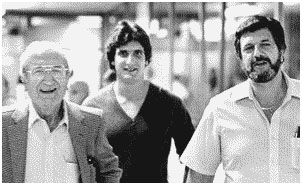 In October, 1964, Bonanno disappeared and was missing for two years! He later claimed he was kidnapped by his cousin Stefano Mangano, a crime boss in Buffalo New York
Eventually, Joe, whose nickname was Joe Bananas – which he hated – went into hiding retired to Arizona.
But unlike colleagues like Albert Anastasia, Paul Castellano or Sam Giancana, who died of bullet wounds, or Vito Genovese or John Gotti who died in prison, Joe Bonanno lived in retirement to the ripe old age of 97 when he died of heart failure at the age of 97 and his buried at the Holy Hope Cemetery and Mausoleum in Tucson.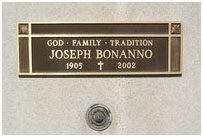 But he also wrote the book "A Man of Honor"…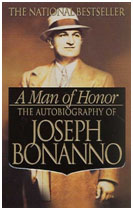 …which former U.S Attorney and future New York City Mayor Rudolph Giuliani…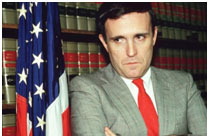 …used as a road map with the help of RICO laws to put of the New York mob bosses away in the late 1980's and 1990's.
Although he denied it, some felt that Joe forgot the old mob adage of "omerta"…the code of silence which translates to: "keep your mouth shut!"