Famously Dead A-Z:

Cause of Death:
View information about John Gotti's death here on famously-dead.com. You can view information about John Gotti's death and other famous deaths. You can view by name or by cause of death. We also have included the most popular famous deaths.
John Gotti's Death

John Gotti
Criminal
October 27, 1940
June 10, 2002
Cancer
The life and death of John Gotti:
He was called the "Dapper Don" for the way he dressed and the "Teflon Don" because of his knack at avoiding conviction. But make no mistake about it - John Gotti was as tough and brutal a mob boss as any who proceeded him. He's presumed to have arranged the murder of the neighbor, who accidentally killed Gotti's youngest son Frank, who was run over while riding a mini-bike. That neighbor disappeared and is believed to be have been killed.
John Joseph Gotti was born to a poor family in an Italian American section of the Bronx. His ancestors came from Naples and he was the fifth of thirteen children of John Joseph Gotti senior and his wife, Philomena, whose nickname was Fannie.
John's father didn't have a steady job, working as a day laborer. He also was a gambler, and the future Don came to resent him for being unable to provide for his family. John Junior wasn't much for school either. He had a history of cutting class and bullying other students. He ultimately dropped out of Brooklyn's Franklin K. Lane High School when he was 16.
John developed his street smarts instead, getting involved from the age of 12 with gangs who were associated with New York mobsters. When Gotti was only 14, he was accused of trying to steal a cement mixer from a construction site. When the machine fell on his foot, it crushed his toes and left him with a limp for the rest of his life.
He associated with young mobsters from the Fulton -Rockaway boys' gang and met future Gambino mobsters there.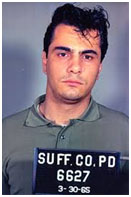 John was one of five brothers who came to prominence of the Gambino crime family.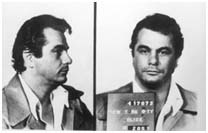 He spent a couple of years in prison on a reduced plea on a manslaughter charge that started as a murder rap. He was a protégé of Gambino underboss Aniello Della Croce. After Della Croce's death, Gotti worried he would be killed by reigning Gambino boss Paul Castellano for selling drugs.
Gotti also hated Castellano's leadership style, considering him greedy and never paying his dues at the street level. (Castellano was Carlo Gambino's brother-in-law.) Castellano was also having legal problems, having been arrested and indicted in a RICO case.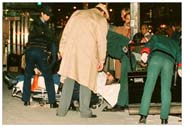 So Gotti's presumed to have arranged the murder of Castellano outside of Sparks' Steakhouse in New York City in December 1985, taking over control of the Gambino Mob shortly thereafter.
He was leading a crime enterprise that was making hundreds of millions of dollars a year in hijacking, loansharking, extortion, gambling, construction schemes and other criminal activities. In his book "Underboss", Gotti's associate Salvatore Gravano estimated that the boss was pulling in ten to twelve million dollars a year for himself.
Gotti had a very public and flamboyant style, becoming known as the Dapper Don for his expensive clothes and persona in front of the news cameras. He also became the Teflon Don, after a trio of high profile trials in the 1980s resulted in acquittal.

But when his underboss "Sammy the Bull" Gravano…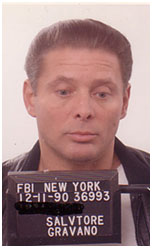 …agreed to turn states evidence and testify against him, Gotti's career hit the skids.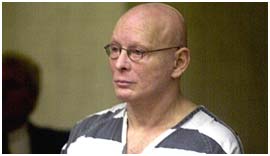 Gravano in his older years.
The Teflon turned to Velcro, as Gotti was convicted of five murders, conspiracy to commit murder, racketeering, obstruction of justice, illegal gambling, extortion, tax evasion, and loansharking.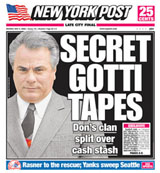 He was imprisoned at the US penitentiary in Marion, Illinois, spending most of his time in solitary confinement - only allowed out of the cell for an hour a day. Gotti and his wife Victoria had five children. Here he is talking with a family member while in prison.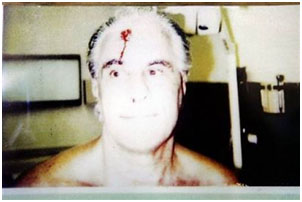 Gotti was severely beaten up by a fellow inmate and offered to pay $40,000 to kill his assailant. The Aryan Brotherhood accepted his offer but prison guards suspected something was up and the accused assailant was transferred to another prison.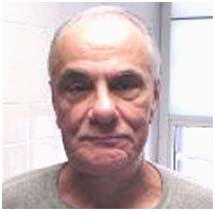 In 1998, Gotti was diagnosed with throat cancer and sent to the Medical Center for Federal Prisoners in Springfield, Missouri to remove the tumor. The cancer was back two years later and Gotti spent the last days of his life in Springfield, where he died in June, 2002.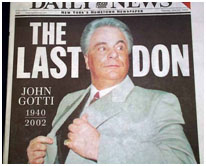 His funeral was held in a non-church facility as 300 onlookers followed the procession which passed by his Bergen Hunt and Fish club (his Queens hangout) to his gravesite.
None of the other New York families were represented at that funeral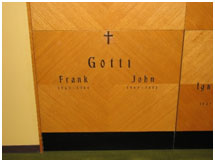 Gotti is buried with his son at St. John's Cemetery in Middle Village, Queens.