Famously Dead A-Z:

Cause of Death:
View information about James Foley's death here on famously-dead.com. You can view information about James Foley's death and other famous deaths. You can view by name or by cause of death. We also have included the most popular famous deaths.
James Foley's Death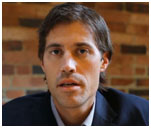 James Foley
Photo Journalist
October 18, 1973
August 19, 2014
Decapitation
The life and death of James Foley:
He was working as a freelance photo-journalist in the Middle East when he was kidnapped in November, 2012 in Northwestern, Syria. That's when James Wright Foley…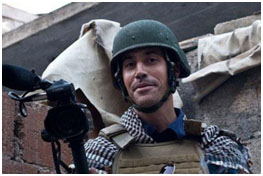 …went from war-zone reporter to a potential and eventual victim of terrorists.
Foley grew up in Rochester, New Hampshire and attended a local high school in Wolfeboro. He was the oldest of five children born to John and Diane Foley and was raised a Catholic.
A graduate of Marquette University, a Jesuit Catholic school, James also attended Northwestern University's Medill School of Journalism in 2008.
Foley began his career as a teacher in the "Teach for America" program in Arizona, Massachusetts and Chicago but then in the mid 2000's, changed careers to photojournalism. In 2009, he worked for USAID funded projects in Baghdad and was embedded with US troops in Iraq, where his brother was an officer in the US Air Force.
By 2011, he joined "Stars & Stripes" in Afghanistan. That's the official newspaper of the US Armed Forces, connected with the Defense Department but separated editorially. He later resigned that position when he was found to possess marijuana.
Later in 2011, Foley worked for "GlobalPost" to cover the uprising against Muammar Khadafy and embedding himself with rebel fighters.
In April 2011 Foley and three other journalists were detained in Libya by forces loyal to Gaddafi and Foley was released from jail 44 days later and went to Milwaukee to thank the community there for praying for his safe return.
He continued working as a freelancer for "GlobalPost" and other media outlets like "AgenceFrance-Presse" during the Syrian Civil War.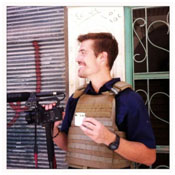 But on November 22, 2012, Foley was abducted after leaving an Internet café with this translator in Northwester Syria. He was on his way to the Turkish border and the translator was released.
Foley's kidnappers demanded a 100 million Euro ransom from his family, his employer "GlobalPost" and the U.S. to gain his release. "GlobalPost" said they spent millions trying to get him home but failed. The U.S. government also tried to secure his release but he had been moved many times during his captivity and could not be found.
On August 12, 2014, Foley's parents got an email from his captors saying that the U.S. government refused to pay the ransom
And on August 19, Foley's family confirmed his death, by being decapitated by a terrorist loyal to the ISIS, or the Islamic State movement.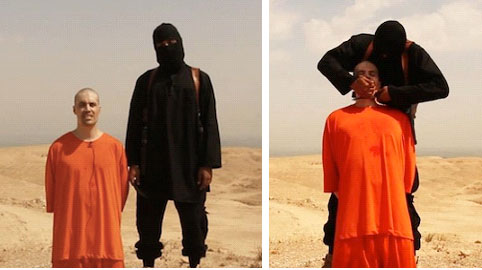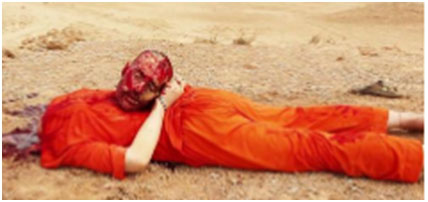 A video of the brutal killing was shot in an unknown desert location and it briefly ran on You Tube, before being taken down. Media sources gave the name of "Jihadi John" to the man who carried out the killing on camera. He's thought to be a British national.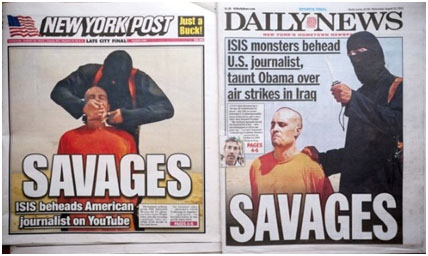 James' parents, John and Diane…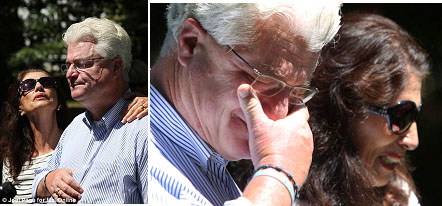 …met with reporters outside the family home in Rochester, New Hampshire. They said letters their son wrote to them were confiscated by his captors, so he asked another captive who was about to be freed to memorize his message and recount it to his family.
"People" magazine reported that it reads in part:
"Dear Family and Friends."
"I remember going to the mall with Dad, a very long bike ride with Mom. I remember so many great family times that take me away from this prison. Dreams of family and friends take me away and happiness fills my heart."
"I know you are thinking of me and praying for me. And I am so thankful. I feel you all especially when I pray. I pray for you to stay strong and to believe. I really feel I can touch you even in this darkness when I pray."
"Eighteen of us have been held together in one cell, which has helped me. We have had each other to have endless long conversations about movies, trivia, sports. We have played games made up of scraps found in our cell … we have found ways to play checkers, Chess, and Risk ... and have had tournaments of competition, spending some days preparing strategies for the next day's game or lecture. The games and teaching each other have helped the time pass. They have been a huge help. We repeat stories and laugh to break the tension."
"I have had weak and strong days. We are so grateful when anyone is freed; but of course, yearn for our own freedom. We try to encourage each other and share strength. We are being fed better now and daily. We have tea, occasional coffee. I have regained most of my weight lost last year."
The letter continues, mentioning specific memories Foley has of family members, and concluding, "Stay strong because I am going to need your help to reclaim my life."
The Justice Department is pursuing a criminal investigation into the beheading death of James Foley. At this point, there is no record that his remains have been returned to his family.
The gruesome terror campaign continued just a few weeks later, when on September 2nd, another American journalist, Steven Sotloff, was beheaded. Sotloff was revealed as an ISIS captive on the Foley video.