Famously Dead A-Z:

Cause of Death:
View information about Muammar Gaddafi 's death here on famously-dead.com. You can view information about Muammar Gaddafi 's death and other famous deaths. You can view by name or by cause of death. We also have included the most popular famous deaths.
Muammar Gaddafi 's Death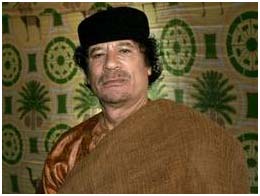 Muammar Gaddafi
Dictator
June 7, 1942
October 20, 2011
Beating, Stabbing, Shooting
When he was born in a desert tent, his country was an Italian colony. By the time he was 27, he rose to power by throwing out the Libyan monarchy in a military coup and held on for more than four decades as the country's dictator. Corruption and human rights abuses finally caught up with him and his own people turned against him. He was on the run for months when the angry mobs finally captured and killed him.
As the Libyan leader, he introduced sharia law (the moral and religious code of Islam) and nationalized Libya's oil industry. An international lightning rod for controversy, he was blamed for the 1988 bombing of a Pan Am jet that blew up over Lockerbie, Scotland, which killed 270 people. Qaddafi incurred the wrath of the United States, which bombed Libya trying to kill him. They missed.
And in the 1990's, relations actually warmed with the West, until about 2011. That's when the Arab Spring began, as Tunisia's dictator was turned out and Egyptian President Hosni Mubarak was ousted.
Libya was next. When Qaddafi's son and three grandsons were killed in April of that year, the handwriting was on the wall. Qaddafi lost control by July but escaped the Libyan capital. With help from NATO, the rebels eventually caught up with him in October in his hometown of Sirte.
He suffered a brutal end – enduring beatings, stabbings and gunshot wounds, according to sources who were there.
And his bloodied body was dragged through the streets/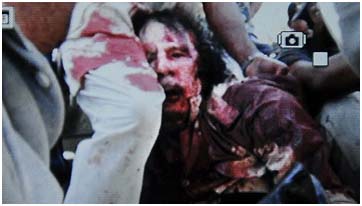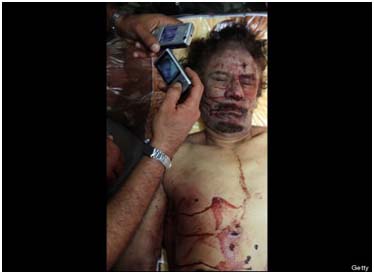 He ended up where he started, in the Libyan Desert, where he's buried.