Famously Dead A-Z:

Cause of Death:
View information about Roy Campanella's death here on famously-dead.com. You can view information about Roy Campanella's death and other famous deaths. You can view by name or by cause of death. We also have included the most popular famous deaths.
Roy Campanella's Death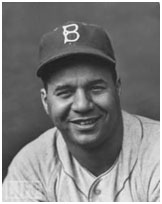 Roy Campanella
Baseball
November 19, 1921
June 26, 1993
Heart Failure
The life and death of Roy Campanella:
This Hall of Fame catcher…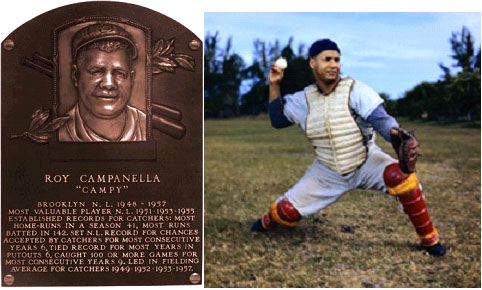 …was the winner of three National League Most Valuable Player Awards. But his career was delayed by baseball's ban on black players and cut short by a crippling car accident. Nevertheless, he was among the most beloved players on one of baseball's most beloved teams: The Brooklyn Dodgers of the late 1940's to the mid 1950's.
Roy Campanella was born and raised in Philadelphia. His father John was Italian, the son of Sicilian immigrants. His mother Ida was black. Because of that, despite his immense talent, Roy was forced to wait until he was 26 to break into the Brooklyn Dodgers' lineup in 1948…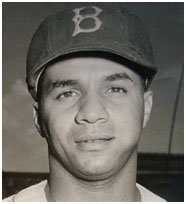 …a year after his teammate Jackie Robinson broke baseball's color barrier.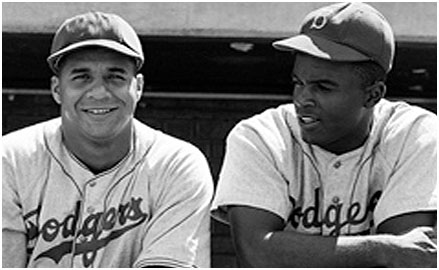 Before joining the Dodgers, Roy played in the Negro leagues and the Mexican League. The Dodgers signed Roy in 1946 and became their regular catcher in 1948.
Nicknamed "Campy", he played in every All-star game from 1949 through 1956 and was National League MVP in 1951, 1953 and the Dodgers' only championship year in Brooklyn, 1955.
He was a genuine baseball hero and reached out to his fans in many ways.
He was always being compared to his cross town rival, another 3 times MVP and Hall of Fame catcher, Yogi Berra of the New York Yankees.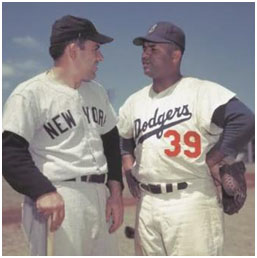 Roy was an old fashioned slugger…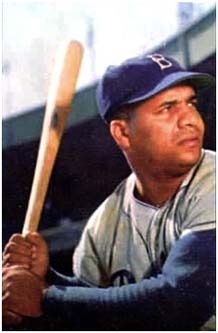 …playing in the Dodger's friendly Brooklyn home, Ebbets Field.
After the 1957 season, the Dodgers were relocated to Los Angeles by owner Walter O'Malley and Roy planned to play there too. But on the night of January 28, 1958, while driving home from his Harlem liquor store…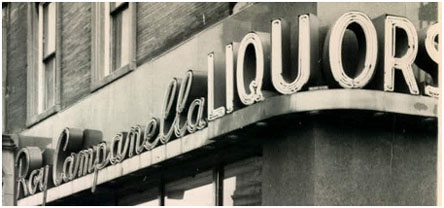 …to his home in Glen Cove, Long island, Roy's rented car skidded, hit a telephone pole and overturned,

Roy's neck was broken and he was left paralyzed from the shoulders down.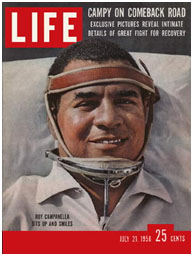 He eventually regained the ability to feed himself and shake hands, but needed a wheel chair for the rest of his life.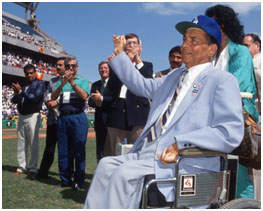 On May 7, 1959, the Dodgers held Roy Campanella Night at the Los Angeles Coliseum and a staggering crowd of more than 93,000 people attended to watch the Dodgers play an exhibition game against the Yankees. There was a lighting ceremony for Roy, during which the Coliseum's lights were turned off and fans lit matches and cigarette lighters.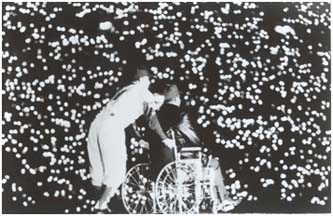 Campy was honored again in 1972 when the Dodgers retired his number 39, along with Robinson's number 42 and Sandy Koufax's number 32.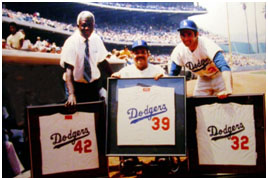 (Although Roy's uniform number 39 is retired by the Dodgers, Campy also wore numbers 33 and 56 in his rookie year – before choosing 39.)
Roy married three times. His first to Bernice Ray in 1939 ended in a divorce after they had 2 daughters together.
Roy married Ruthe Willis in April 1945 and they had three kids, but the marriage fell apart after Roy's accident.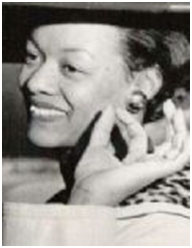 Roy married Roxie Doles in 1964…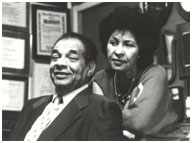 …and they were together until he died on heart failure In June 1993 and his home in Woodland Hills, California and was cremated.
The Dodgers created the Roy Campanella Award in 2006, honoring Roy's spirit and leadership qualities.