Famously Dead A-Z:

Cause of Death:
View information about Walter O'Malley's death here on famously-dead.com. You can view information about Walter O'Malley's death and other famous deaths. You can view by name or by cause of death. We also have included the most popular famous deaths.
Walter O'Malley's Death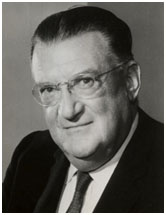 Walter O'Malley
Baseball
October 9, 1903
August 9, 1979
Heart Failure
The life and death of Walter O'Malley:
He's the man who brought Major League Baseball to the West Coast, to the delight of millions of fans from Seattle to San Diego, and to points east like Colorado and Arizona. However, he's also been despised by many in Brooklyn since the late 1950's for moving their beloved Dodgers to Los Angeles and is not too popular among some in L.A. who feel he made off with a big league land grab.
Walter Francis O'Malley was born in the Bronx and grew up rooting for, who'd have guessed, the New York Giants – arch rivals of the team he would once control. Walter's father Edwin was a cotton goods salesman and eventually the Commissioner of Public Markets for New York City.
The family had money and Walter had an Ivy league Education, graduating from the University of Pennsylvania, where he was salutatorian on graduation day, 1926.He went on to Columbia Law School but when his family lost its money in the 1929 Wall Street Crash, he finished his legal studies by taking night classes at Fordham University.
His legal career provided a wealth of opportunities, and he made many important contacts and made several astute investments. He was hired to work on mortgage foreclosures by the Brooklyn Trust Company and through that connection, became chief legal counsel to the Brooklyn Dodgers in 1942.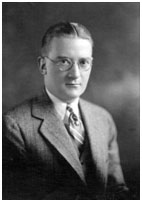 He worked closely with Branch Rickey during the signing of Jackie Robinson as the first black player in major league baseball.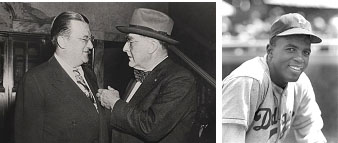 But the Rickey-O'Malley partnership was acrimonious and O'Malley would ridicule Rickey at every turn. And when Rickey sold his interest in the team, O'Malley took over the reins in October, 1950.
It coincided with a golden age of baseball in Brooklyn. After losing the pennant in a final day defeat to Philadelphia in 1950 and coming up short in a dramatic playoff to the Giants in 1951, the Dodgers went to the World Series in 1952, 1953 and won the Series in 1955.
But O'Malley was dissatisfied.
Ebbets Field, the team's home, was small, aging and landlocked.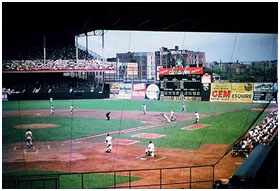 The surrounding neighborhood was changing, because of white flight to the suburbs. So O'Malley announced plans to build a new ballpark near the Long Island Railroad's Brooklyn terminal, at the busy intersection of Atlantic and Flatbush Avenues (and across the street from today's Barclay's Center, home of the NBA Nets and future home of the NHL Islanders.)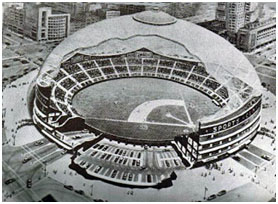 He unveiled a model geodesic dome designed by R. Buckminster Fuller and a design team of Princeton University graduate students. A decade before the Astrodome opened; O'Malley was proposing a dome ball park in Brooklyn, resting above mass transit facilities…which also happened a few years later in New York when Madison Square Garden was guilt over Pennsylvania Station. He really was ahead of his time on it.
However, it was there that O'Malley met an immovable force named Robert Moses…

…who did much of the city's planning and had many critics for his neighborhood-destroying highway projects like the Cross Bronx Expressway. Moses said no to O'Malley's attempt to buy up the land for the new ballpark using eminent domain.
Moses said we'll build you something in Flushing Meadow, in Queens – where the New York Mets now play. O'Malley concluded if they played in Queens, they wouldn't be the Brooklyn Dodgers anymore and decided he could go anywhere…which turned out to be Los Angeles, where city officials enticed him with a large parcel of land for his new ballpark.
The thing is, that piece of land known as Chavez Ravine, had been earmarked as a site for low income housing several years before and the poor families living there were forced off the land, seen here…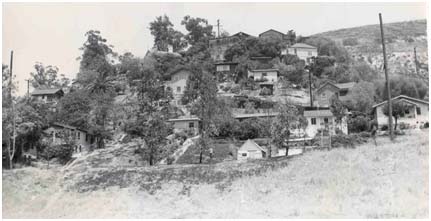 …through eminent domain purchases.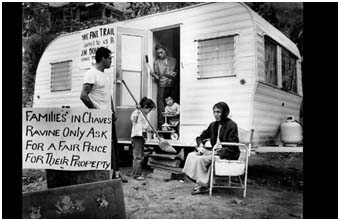 That housing project was dead before O'Malley arrived, but the now vacant land just a few miles from downtown L.A.was offered to him.
When O'Malley got the parcels at a bargain price (the city even leveled its hills) …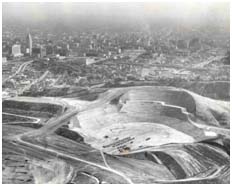 …and there was uproar among some Angelinos.
Despite a few seasons in the oddly laid out Los Angeles Coliseum, starting in 1958…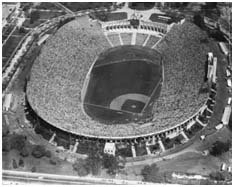 …the Dodgers thrived in L.A. winning World Championships in 1959, 1963 and 1965, 1981 and 1988. (The franchise won only one World Series in all of their years in Brooklyn, in 1955.)
O'Malley turned over the reins of the Dodgers to his son in March, 1970 and Peter O'Malley held onto it until the team was sold to Rupert Murdoch in 1998.
Walter O'Malley was long gone by then. He was diagnoses with cancer but ultimately died of congestive heart failure on August 9, 1979.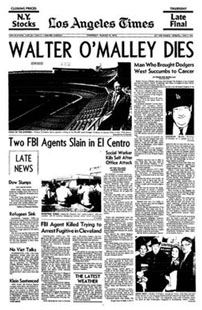 He's buried at Holy Cross Cemetery in Culver City, California, beside his wife Kay, who died less than a month before he did.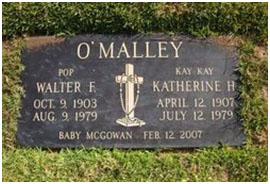 Ironically, when Ebbets Field was torn down…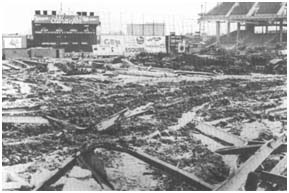 …the land it sat on became the site for a public housing project.

…while Chavez Ravine, originally intended as a site for public housing…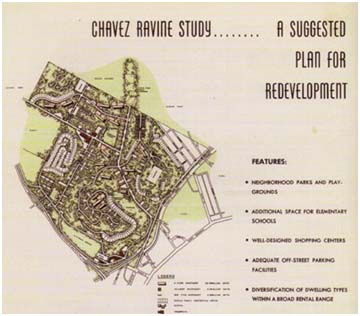 …became the home of the Dodgers.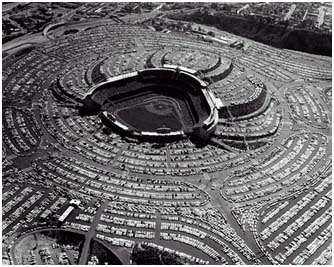 In Brooklyn, there was a joke that if Hitler, Stalin and O'Malley were together in a room and you only had two bullets, what would you do? The answer: shoot O'Malley -- twice.
Such was the outrage engendered by moving the popular team away from its loyal fans. The Dodgers had been part of Brooklyn's DNA – a source of price and identity, like the Brooklyn Bridge and Coney Island. While those landmarks remain, the Dodgers are long gone and a lot of Brooklynites felt that a hole was torn in the borough's soul. And they blamed O'Malley for it, even though many note that Robert Moses had a big hand in it too.
In spite of the entire negative swirl around him, O'Malley is a member of the Baseball Hall of Fame…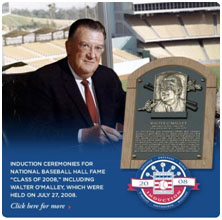 …for his influence on and contributions to the game, even though there are those who claim that baseball was headed west anyway and that O'Malley simply found a way to make even more money.