Famously Dead A-Z:

Cause of Death:
View information about Ralph Kiner's death here on famously-dead.com. You can view information about Ralph Kiner's death and other famous deaths. You can view by name or by cause of death. We also have included the most popular famous deaths.
Ralph Kiner's Death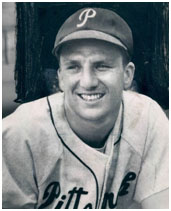 Ralph Kiner
Baseball Player, Sportscaster
October 27. 1922
February 6, 2014
Natural Causes
The life and death of Ralph Kiner:
From the playing field to the broadcast booth, he was a fixture in Major League baseball for much of nearly 70 years. He was one of the game's leading home run sluggers in the 1940's and early '50's and though his playing days were shortened by a back injury, he was back in the big time from 1962 until his death in a high profile job as a broadcaster for the New York Mets. He also appears to have had a lot of fun along the way while maintaining a reputation as a very charming guy.
Ralph McPherran Kiner was born in Santa Rita, New Mexico and grew up in Alhambra, California. He served as a Navy Pilot in World War II and after the war, started playing professional baseball for the Pittsburgh Pirates in April, 1946.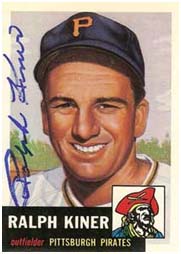 A year later, he led the National League with 51 home runs, taking advantage of a shortened left-center field porch at Pittsburgh's Forbes Field that came to be known as "Kiner's Korner." In 1949, Ralph slugged 54 home runs, with some noting that he was closing in on Babe Ruth's then record total of sixty in one season.
He was consistent, hitting more than forty home runs with more than 100 runs batted in every year from 1947 to 1951. Ralph made six straight National League All Star teams, from 1948 to 1953, and is credited with the quote: "Home run hitters drive Cadillacs and singles hitters drive Fords."
As one of baseball's biggest stars, he had a 1950's Wheaties commercial.
But in June 1953, Kiner was part of a ten player deal, in which he was traded to the Chicago Cubs.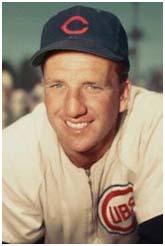 It was partly because of salary disputes. Pirates' General Manager Branch Rickey (the man who signed Jackie Robinson to the Dodgers) is reported to have told Ralph: "We finished last with you, we can finish last without you."
Kiner played with the Cubs in 1953 and 1954 and was then sent to the Cleveland Indians in the American League in 1955.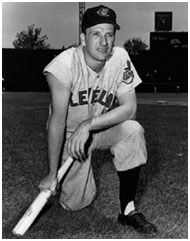 A back injury ended his playing days at age 32 but he had hit 369 home runs in nine seasons – a short but remarkable career. He had eight more career homers than the legendary Joe DiMaggio.
After retiring, Kiner served as General Manager of the minor-league San Diego Padres of the Pacific Coast League, a Cleveland farm club. In 1961, he became a broadcaster for the Chicago White Sox.
And a year later, he became part of the broadcast team for the New York Mets…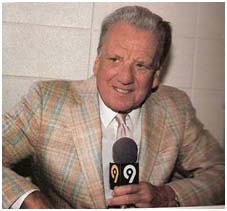 …and enjoyed a second, long baseball-related career.
Sometimes, he goofed on the air. Kiner was quoted as saying that if legendary manager "Casey Stengel were still alive, he'd be spinning in his grave." Ralph once misidentified Mets' catcher Gary Carter as Gary Cooper. Another gem: "solo home runs usually come with no one on base." His signature home run call was "that ball is gone, goodbye."
He also hosted the Mets' post game show, borrowing that old name from his Pittsburgh days, "Kiner's Korner"
While Ralph was leading the National League in Home Runs, he was also leading the league in another, less followed category – dating beautiful, famous women. Among his famous dates…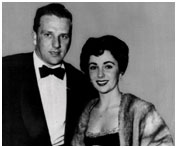 …Elizabeth Taylor, seen together here at a Hollywood movie premier in 1949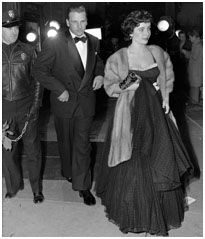 Ralph also dated Janet Leigh…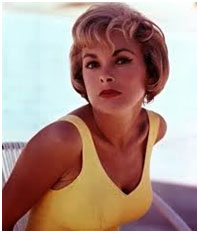 …who he met during the filming of the movie "Angels in the Outfield."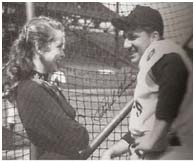 They soon became an item.
Kiner later had romantic links with Ava Gardner.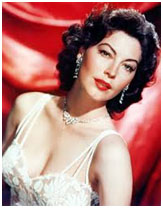 Marilyn Monroe and Jane Russell.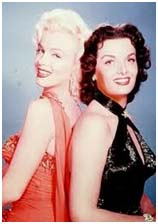 Then he met 1950's tennis star Nancy Chafee…

…and they were married in October, 1951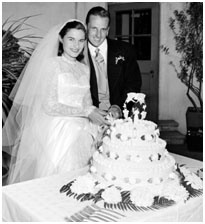 …and had three children: Michael, Scott and Kathryn. They divorced in 1968. Kiner married again in 1969 but he and Barbara Kiner divorced in 1980. He married Diane Shugart in 1982 and she died in 2004. Then he married Ann Kiner, who was his spouse when he died.
Ralph was well honored by baseball.
The Pirates retired his number 4 in 1987.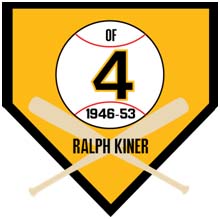 And he was elected to the Baseball Hall of Fame in 1975.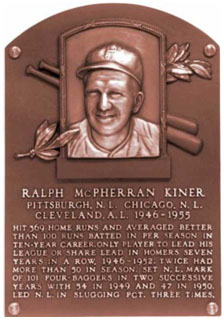 He was elected to the Mets' Hall of Fame in 1984 and during his final season (2013) Ralph Kiner was the oldest active announcer in Major League baseball.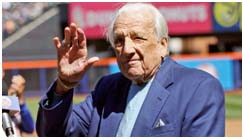 During the 2014 season, both the Pirates and Mets wore arm patches to honor Ralph for his contributions to their franchises.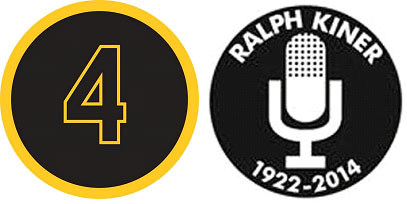 When he died at his home in Rancho Mirage, California, Kiner was battling Bell's palsy. Mets' owner Fred Wilpon called him "An original Met and extraordinary gentleman."