Famously Dead A-Z:

Cause of Death:
View information about Elizabeth Taylor's death here on famously-dead.com. You can view information about Elizabeth Taylor's death and other famous deaths. You can view by name or by cause of death. We also have included the most popular famous deaths.
Elizabeth Taylor's Death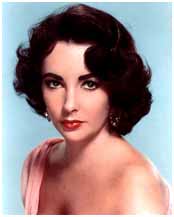 Elizabeth Taylor
Actress
February 27, 1932
March 23, 2011
Heart Failure
One of the true beauties of Hollywood, Elizabeth Taylor was famous for her acting ability, her glamorous lifestyle and her distinctive violet eyes. Her life was peppered with several successful movies, eight marriages, and a great number of life threatening illnesses.
Liz Taylor was born at Heathwood, a suburb of London. Her parents were Francis Taylor, an art dealer and Sara Sothern, a former actress. Her parents were originally from Kansas. So Elizabeth had dual citizenship, born in Britain and as the child of American citizens. She had an older brother, Howard.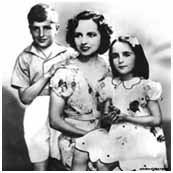 At age 3 Elizabeth started taking ballet lessons, but just before World War II started, her parents decided to return to the United States to avoid the fighting. They settled in Los Angeles where her father established an art gallery, including many paintings he shipped from England. That gallery opened many doors for the Taylor family in Hollywood.
Because of the child's natural beauty…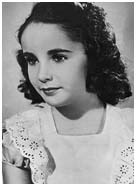 …Elizabeth's mother was urged by friends and strangers to have her screen tested, and she appeared in her first movie at the age of nine. She was cast in MGM's "Lassie Come Home" in 1943 with another child star, Roddy McDowell, who became a lifelong friend.
And she became a star at age 12 in 1944, in MGM's "National Velvet".
As she went into her teenage years…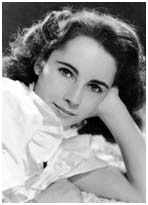 …Elizabeth started to shy away from making movies, but her mother forced her to practice relentlessly, until she could cry on cue.
Her first big adult role came with Spencer Tracy in 1950's "Father of the Bride."
The mid-'50's saw winners like "Giant", in which she co-starred with Rock Hudson and James Dean. And she received four straight Academy Award Best Actress nominations between 1957 and 1960, including Tennessee Williams' "Cat on a Hot Tin Roof" in 1958.
She won the Best Actress prize for "BUtterfield 8" in 1960.
And on Oscar night…
Another notable 1960's film success was "Cleopatra"…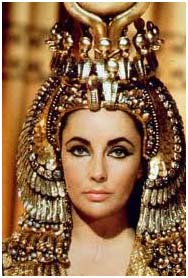 …and a much publicized affair and subsequent marriage to her co-star, Richard Burton.
Speaking of marriages, Liz married hotel heir Conrad "Nicky" Hilton in 1950…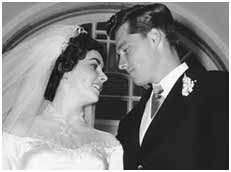 …Michael Wilding from 1952-1957.
Mike Todd in 1957…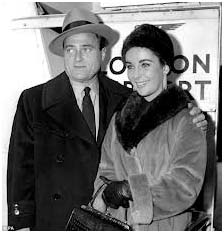 …the only one of her marriages not ending in divorce beause he died in a plane crash.
Todd's friend Eddie Fisher (married to Debbie Reynolds at the time, creating a scandal)…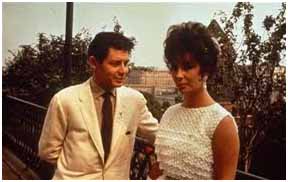 …was Liz's next husband, from 1959 to 1964. Followed by Burton…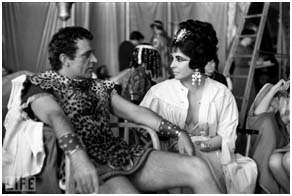 …who she married twice and with whom she co-starred in her second Best Actress Role in "Who's Afraid of Virginia Woolf?"
Liz and Dick made eleven films together.
U.S. Senator John Warner and Larry Fortensky, who she met at the Betty Ford clinic, were Taylor's other husbands. And that's not counting her boyfriends who included Henry Kissinger and Frank Sinatra.
When Liz was 27, she converted from Christian Science to Judaism and she worked for Jewish causes throughout her life.
She also supported humanitarian efforts, including funding to AIDS and HIV related projects and charities and cofounded the American foundation for AIDS research, supporting her longtime friend, Rock Hudson. Another of Taylor's famous friendships: Michael Jackson.
But with all of that, Liz Taylor also had many notable health problems, including her weight…

…which led to yo-yo dieting. She also suffered from a broken back five separate times…had both of her hips replaced… had a hysterectomy, dysentery and phlebitis …punctured her esophagus…had a benign brain tumor and skin cancer… and twice suffered from life-threatening bouts of pneumonia, once requiring an emergency tracheotomy. Add to that: osteoporosis and she was also treated for alcoholism and prescription drug addiction at the Betty Ford Center from December 1983 to January 1984
She also had a history of heart trouble and ultimately died of congestive heart failure in February 2011 after being admitted to Cedars-Sinai Medical Ctr., in Los Angeles. She was surrounded by her four children…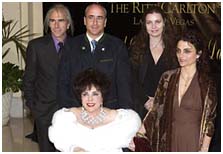 …Michael, Christopher, Elizabeth and adopted daughter Maria.
Elizabeth Taylor was buried in a private Jewish cemetery at Forest lawn Memorial Park in Glendale, California…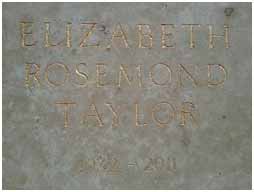 …where public access to her tomb is restricted.