Famously Dead A-Z:

Cause of Death:
View information about David Ruffin's death here on famously-dead.com. You can view information about David Ruffin's death and other famous deaths. You can view by name or by cause of death. We also have included the most popular famous deaths.
David Ruffin's Death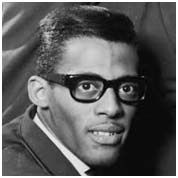 David Ruffin
Music
January 18, 1941
June 1, 1991
Drug Overdose
When you begin life in modest surroundings, and you want to make it big anyway, you should probably ask yourself "Why not?" It's ironic that this entertainer, who was in many ways iconic as the voice of one of Motown Record's most popular acts, came from those very circumstances, from a town by that very name.
David Ruffin, one of the voices of the 1960's, was born several months before the United States entered World War II in (believe it or not) Whynot, Mississippi, about fifteen miles from Meridian. His mother died when he was still an infant and his sometimes abusive father, a minister, remarried. David got his start singing in church as part of his family's gospel group.
As a teenager, he left home for Memphis, to study for the ministry. But he kept singing, performing in talent shows in Arkansas, and at 16, under the guardianship of Eddie Bush, David moved to Detroit where his older brother Jimmy…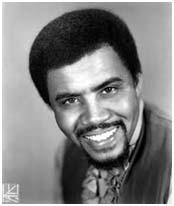 …was also pursuing a musical career. (Jimmy had a hit with "What Becomes of the Brokenhearted?")
David worked on his singing and in 1957, met a songwriter name Berry Gordy Junior, who would go on to establish one of the most successful record labels in the 60's: Motown. In fact, David did some construction work on the building that started as "Hitsville USA, home of Tamla Records which was later renamed Motown.
Jimmy was part of what was called a Motortown revue tour with a group called The Temptations and told his brother that they were looking for a singer. Otis Williams led the group and needed to replace founding member Al Bryant, who was fired. David's on stage style…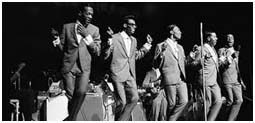 …helped him get the open job for a tenor.
He started singing backup, with Eddie Kendricks and Paul Wiliams usually doing leads.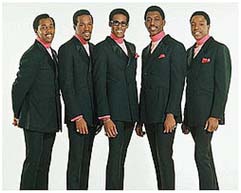 However, Smokey Robinson - who worked as a singer, writer and producer for Motown organization - heard something special in David's raspy voice and wrote this song, which became the group's signature hit.
After that, Ruffin's voice was heard on a string of Temptations hits, including: "Since I Lost My Baby", "My Baby", "Beauty Is Only Skin Deep", "I Know I'm Losing You"', "All I Need", "I Wish It Would Rain" and this, another song emblematic of the Temps and David Ruffin :
The music was great, but unfortunately by 1967 Ruffin's ego became a problem for the group. He started missing rehearsals and shows and was addicted to cocaine. He didn't travel with the rest of the act, preferring to travel around with his then-girlfriend, Tammi Terrell…

...another Motown artist who frequently recorded with Marvin Gaye.
The end was near and clear after Diana Ross became the lead name in the The Supremes, another Motown act. David felt the Temptations should be called "David Ruffin & the Temptations." Group leader Otis Williams did not care for the idea. The problems mushroomed when Ruffin demanded the group's financial records. Motown chief Berry Gordy was not too crazy about that idea.
When Ruffin missed a Cleveland concert in 1968, he was fired and replaced with Dennis Edwards. But David would follow the group and would crash their performances when "My Girl "or "Ain't Too Proud To Beg" started playing, walking on stage, grabbing the microphone from Edwards and stealing the show.
The group listened to David's pleas for another chance, but he ruined the relationship for good by missing another performance. Lawsuits and countersuits followed and David agreed to finish out his original contact with Motown. His first solo single was a song that had been earmarked for The Temptations.
Ruffin left Motown in 1977 and started recording for Warner Brothers records. He and Eddie Kendricks, who was also having problems with the rest of the members in the act, restored their friendship.
Kendricks was the voice on several of the group's other hits (like "The Way You Do the Things You Do and "Get ready") and he and David rejoined the Temptations for reunion tour, but it fell apart again in 1982 because of David's cocaine addiction.
David did a half year in low-security Indiana prison on a tax evasion conviction. A 1987 cocaine arrest put him back behind bars for repeated parole violations. He married twice and fathered four daughters and a son. (He never married Tammi Terrell, though they did have a much publicized relationship.)
David and Eddie started touring as a duet in 1985. In 1991, after a month-long tour of England with Kendricks, Ruffin died in June in a Philadelphia hospital. It blamed his death on an "adverse reaction" to drugs (cocaine.) However, some suspected foul play because his money belt was gone.
One common misconception needs to be corrected. David's body was not tossed from a speeding car outside a hospital, as portrayed in a television miniseries. Ruffin's estate sued NBC in a defamation case, and lost. His children said he was taken to the hospital in his limousine and escorted inside by the driver and that his body was claimed a few days after he died.
For all of the group's problems with David, they sang at his funeral
David's buried at Detroit's Woodlawn Cemetery…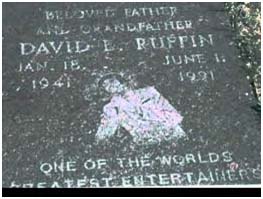 …and his work with The Temptations is recognized in the Rock and Rock Hall of Fame.