Famously Dead A-Z:

Cause of Death:
View information about Marvin Gaye's death here on famously-dead.com. You can view information about Marvin Gaye's death and other famous deaths. You can view by name or by cause of death. We also have included the most popular famous deaths.
Marvin Gaye's Death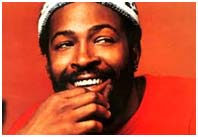 Marvin Gaye
Music
April 2, 1939
April 1, 1984
Shooting
He was one of Motown's biggest acts, but in a very cruel April fool's Day twist, he ended up on the wrong end of a Christmas gift that he had given his dad.
The son of a preacher by the same name, Marvin Gaye grew up in Washington DC. He had a tough start in life, the victim of beatings by his father. However, he developed a love of singing and joined several Doo-Wop groups while he was in high school.
The father-son bond was further strained during Junior's teenage years when Marvin Gaye Senior would kick him out of the house. Finally Marvin had enough. He left to join the Air Force, but he didn't like the menial tasks he was given…feigned mental illness…and was discharged.
As years passed one of Marvin's groups got a recording contract and he started writing songs. (A later hit that he helped write: "Beechwood 4-5789", recorded by the Marvelettes.) By 1960, he was in Detroit performing for Motown founder Berry Gordy. A deal was made and Marvin joined the company.
He had a ton of hits!
Some of his other big records included: "Too Busy Thinking About My Baby", "Mercy Mercy Me", "How Sweet It Is", " What's Going On", "Let's Get It On", " Sexual Healing", and with Tammi Terrell, "Ain't No Mountain High Enough", "You're All I Need To Get By" and "Ain't Nothing Like The Real Thing." (He developed a close tie with Terrell, although she suffered an untimely end of her own.)
Marvin also frequently appeared on TV
(He developed a close tie with Tammy Terrell, although she suffered an untimely end of her own.)
Marvin also developed a cocaine addiction and tax problems with the IRS. In a creative dispute over an album, Gaye left Motown. But the music continued and in 1983 he won a Grammy for "Sexual Healing."
His problems with his father also continued and boiled over on April 1, 1984.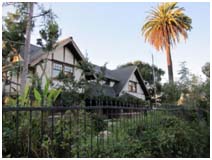 While at home, Marvin was speaking with his mother and his father shot him twice, after an ongoing family spat over misplaced business papers.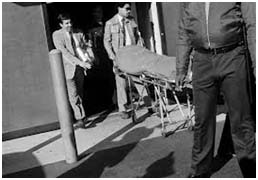 The singing star was DOA the day before he turned 45. The gun was given to Marvin Senior by Junior as a Christmas present.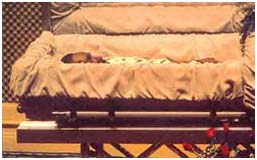 Marvin Gaye was cremated.
His father pleaded no contest to manslaughter and was sentenced to probation. He died of pneumonia in 1998.