Famously Dead A-Z:

Cause of Death:
View information about Eddie Kendricks's death here on famously-dead.com. You can view information about Eddie Kendricks's death and other famous deaths. You can view by name or by cause of death. We also have included the most popular famous deaths.
Eddie Kendricks's Death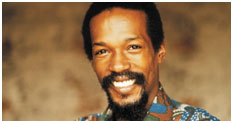 Eddie Kendricks
Singer
December 17, 1939
October 5, 1992
Cancer
The life and death of Eddie Kendricks:
He had one of the unmistakable voices of the 1960's, fronting some of the biggest hits from one of the very biggest Motown groups. And when things went sour with The Temptations, he went on to enjoy success as a solo act.
He was born in Union Springs, Alabama, about a week before Christmas and just as the 1930's were coming to an end. Edward James Kendrick was the son of Johnny and Lee Bell Kendrick and had three brothers and a sister. Eddie added an "s" to Kendrick as a professional name.
The family moved to Birmingham and by the late 1940's, he and his best friend Paul Williams started singing in their church choir. Eddie and Paul formed a singing group called The Cavaliers and began performing in Birmingham and by 1957, figured they'd do better up north – so they moved to Cleveland.
While there, they met Milton Jenkins who became their manager and convinced them to change their name to The Primes and to move on to Detroit. They were quite successful and the act led to a spin-off group called The Primettes (forerunner of The Supremes.)
When The Primes broke up in 1961, Eddie and Paul joined Melvin Franklin and Otis Williams, creating the foundation of The Temptations and signing with Motown Records. The group's other main lead singer, David Ruffin, joined the group later.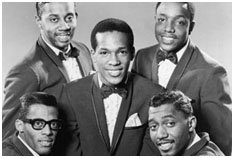 The Temps started signing backup for an early Motown star, Mary Wells, and with Eddie singing in a falsetto, hit the big time in 1964 with "The Way You Do the Things You Do."
Other hits followed with Eddie singing lead, like "The Girl's Alright with Me" and "Girl, Why You Wanna Make Me Blue."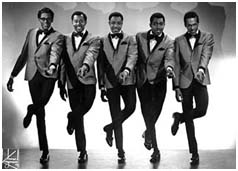 Another chart buster came in 1966, with "Get Ready."
Eddie and David Ruffin were the signature voices for The Temptations, and they shared the lead on 1967's "You're My Everything."
Besides singing, Eddie was the group's wardrobe manager, responsible for their flashy on-stage outfits. His nickname "Corn" was short for cornbread, his favorite food.
He was close friends with Martha Reeves of The Vandellas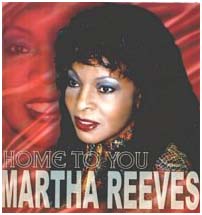 …and pursued Diana Ross and Mary Wilson of The Supremes romantically.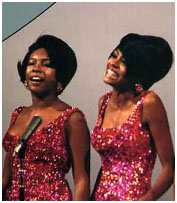 By the early 1970's, Eddie was getting restless with The Temptations new musical style, away from romantic ballads and toward a more psychedelic format. His old friend Paul Williams was frequently too ill to perform with the group and Eddie wasn't getting along with Otis and Melvin.
David Ruffin had already left The Temptations and he convinced Eddie to leave them too. Kendricks later expressed less than affectionate memories of Motown founder Berry Gordy.
"Just My Imagination" was his last big hit with The Temps in 1971. By the time it hit number one, he signed a solo deal with Motown's Tamla label. It took a while, but Eddie was back on top in 1973 with "Keep On Truckin'"
Future solo hits included "Boogie Down" in 1974. Eddie left Motown entirely in 1978 and had deals with Arista and Atlantic Records. However, his popularity was fading and his chain smoking affected his singing voice.
He and Ruffin re-joined the Temps for a 1982 reunion tour but band members noticed he couldn't hit the high notes anymore. He had it checked out by a doctor, who detected a small tumor on one of his lungs. Eddie declined chemotherapy because he didn't want to lose his hair.
Eddie and Ruffin teamed with Hall & Oates in 1985.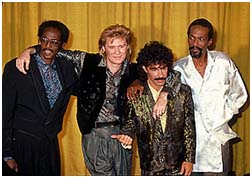 In 1989, Eddie and the rest of The Temptations were inducted into the Rock and Roll Hall of Fame, but by 1991, Ruffin was dead of a drug overdose and Eddie was diagnosed with lung cancer. Late that year, back in his home town Birmingham, Eddie had a lung removed to try to stop the spread of his cancer.
He died of the disease in Birmingham the next year at age 52, survived by three children, Parris, Aika and Paul.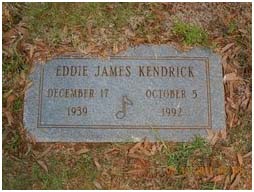 Eddie's buried in Elmwood Cemetery in Birmingham. In 1999, Eddie Kendrick Memorial Park was dedicated in his honor, using his family name, without that "s" he added for his stage persona.