Famously Dead A-Z:

Cause of Death:
View information about Sonny Bono's death here on famously-dead.com. You can view information about Sonny Bono's death and other famous deaths. You can view by name or by cause of death. We also have included the most popular famous deaths.
Sonny Bono's Death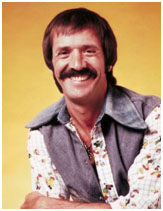 Sonny Bono
Music, Politics
February 16, 1935
January 5, 1998
Ski Accident
The life and death of Sonny Bono:
He started his career as a rock 'n roller…spent time as a variety show host on national television…and ended up a member of Congress. Salvatore "Sonny" Bono achieved great heights in many ways, only to have it all slip away on the ski slopes.
He was born to Italian immigrant parents in Detroit. The family later moved to California where Sonny went to school, but he didn't graduate high school. He had music on his mind and he began his songwriting career with a record made by Sam Cooke called "Things You Do to Me". His early resume also included work for record producer Phil Spector in the early 1960's.
But the good times really started rolling when he teamed up with his eventual second wife, Cher Sarkisian LaPiere, as a singing duo. Sonny wrote, arranged and produced several big songs. "I Got You Babe" was the first.
Other hits included "The Beat Goes On", "Bang Bang", and "You Better Sit Down Kids". That last one was prescient in a way. The couple who married in 1964 had a daughter they named Chastity, split up in 1975 both as an act and husband and wife. Sonny's infidelity was blamed.
But that happened after they hosted a popular variety show, "The Sonny and Cher Show" on CBS-TV.
It ran from 1971 to 1974.
Their daughter Chastity, now Chaz, went on to have a very well-known sex change operation. Sonny married twice more. His marriage to Susie Coelho ended in a 1984 divorce. He married Mary Whittaker in 1986.
Though the couple was long divorced, Sonny and Cher did appear together one final time on "Late Night with David Letterman" in November 13, 1987.
Sonny got into politics because he was having a hard time with local officials when he tried to open a restaurant in Palm Springs, California. So he ran for office and became Palm Springs" Mayor.
He tried for the Republican nomination for the U.S. Senate in 1992, but lost. And in 1994 he was elected as a congressman representing California's 44th District. For all of his clowning on TV, he showed a serious side in this House hearing on The National Endowment for the Arts.
He was also among a dozen co-sponsors of the House bill extending copyright rules and it was named the Sonny Bono Copyright Term Extension Act in his memory, after he died.
On January 5, 1998, Sonny died when he hit a tree while skiing at the Heavenly Ski Resort, near South Lake Tahoe, California. It happened less than a week after Michael Kennedy, one of Robert F. Kennedy's sons, died in a similar aspect accident in Aspen, Colorado.
At the request of his widow Mary, Sonny's former wife Cher spoke at his funeral.
Mary Bono was elected to fill the remainder of Sonny's Congressional term and was re-elected on her own merits four times before losing the seat in 2012.
Sonny is buried at Desert Memorial Park in Cathedral City, California.