Famously Dead A-Z:

Cause of Death:
View information about Ray Charles's death here on famously-dead.com. You can view information about Ray Charles's death and other famous deaths. You can view by name or by cause of death. We also have included the most popular famous deaths.
Ray Charles's Death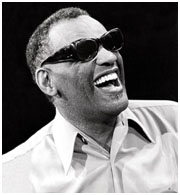 Ray Charles
Singer, Musician, Composer, Songwriter
September 23, 1930
June 10, 2004
Liver Disease
The life and death of Ray Charles:
He was an iconic musical pioneer, who helped develop soul music as he combined gospel, rhythm and blues and blues into a style all his own. He also became a big crossover act when he went into country and pop music in the 1960s after joining ABC Records.
His name at birth was Ray Charles Robinson, the son of a sharecropper named Aretha and Bailey Robinson, who worked as a mechanic in various capacities. Ray didn't spend much time with his father growing up and there is some doubt his parents were ever married. He was raised by his Mother Aretha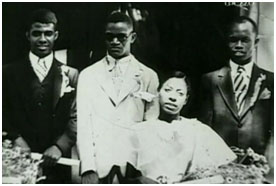 His father's first wife, a woman named Mary Jane, also help raised him. Growing up he called Aretha "Mama" and Mary Jane "Mother".
Ray's younger brother George drowned in a laundry tub when he was four years old and Ray was five. Ray also began losing his site at that time becoming completely blind by the age of 7, apparently because of glaucoma.
Devastated, Aretha used her connections and found a school that would accept blind, black children as students and although he didn't want to go at first, Ray attended the Florida School of The Deaf and Blind in Saint Augustine from 1937 to 1945.
It was there that his musical talent blossomed and he was taught to play the classical piano music of Mozart and Beethoven. He learned how to read music using braille. While he was happy to play the classical piano, Ray was also interested in the jazz and blues music that he heard on the radio. He was a big fan of Nat King Cole, citing him as a primary influence.
Ray was jolted at the age of 14 when he suffered another huge loss. His mother died in 1945 and Ray returned to school after the funeral but was expelled in October of that year for a prank that he played on a teacher.
Now on the road, Ray moved to Jacksonville to play the piano with bands and was on the move with his music, later going to Orlando and Tampa. These were lean times and he often didn't eat for days.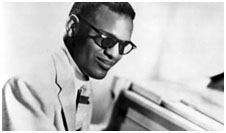 He decided to leave Florida for a big city , thought about Chicago or New York but rejected that, and settled in Seattle. That's where he met another rising star, a then 15-year-old named Quincy Jones.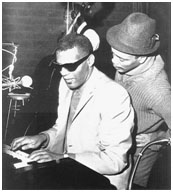 It was also around this time that, to avoid confusion with the star prize fighter Sugar Ray Robinson (whose real name was Walker Smith), Ray Charles Robinson dropped his family name and famously became Ray Charles.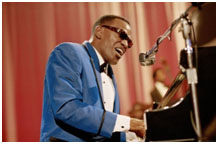 The list of hits is really impressive.
"Hit the Road Jack" was a Rhythm and Blues Grammy award-winning hit.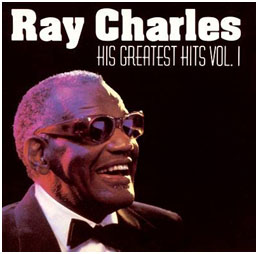 Some other hits include "I Got a Woman" – which brought him national fame and "What I Say". He sang pop music too, like "I Can't Stop Loving You".
"Georgia on My Mind" was a big hit in 1960.
And his country and western songs opened him up to a whole new audience.
Ray's deal with Columbia Records teamed him up with duets with George Jones, Chet Atkins, Hank Williams Junior, Mickey Gilly, BJ Thomas and Willie Nelson, with whom he recorded the number one country duet "Seven Spanish Angels."
By the late 1960s Ray's songs started disappearing from the radio. But Ray kept on going, with his own take on "America the Beautiful" and started playing with Stevie Wonder, and won a 1977 Grammy for "Living in the City."
Ray was active in the civil rights movement, remembered for refusing to play in an Augusta, Georgia arena that restricted the rights of black members in the audience.
Ray married twice and is pictured here with Della Robinson.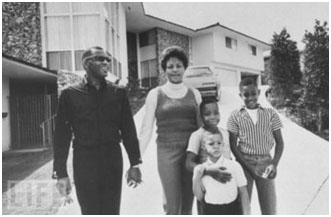 He had 12 children with 10 different women, including a six-year love affair with Margie Hendricks, one of the original Raelettes, who sang with him on "Hit the Road Jack."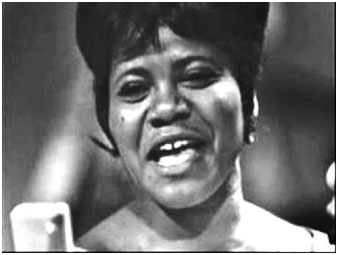 Ray also had much publicized issues with substance abuse, arrested on a narcotics charge of 1961 in an Indiana hotel before a performance. In 1964 he was arrested for possession of marijuana and heroin.
Ray underwent successful hip replacement surgery in 2003 was planning to go back on tour but then he succumbed to a variety of ailments.
By June 2004 he died at his home in Beverly Hills a result of acute liver disease.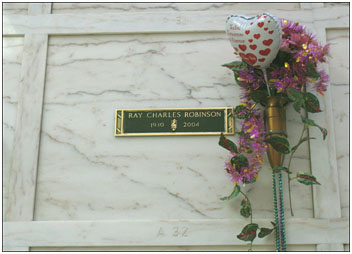 Ray Charles has a star on the Hollywood Walk of Fame.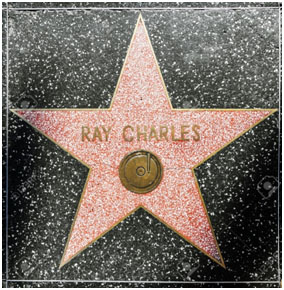 Frank Sinatra called Ray the only true genius in show business, although Ray downplayed that idea.
"Georgia on My Mind" was made the official state song for Georgia and Ray Charles was one of the first musicians born in the state to be inducted into the Georgia state Hall of Fame.
And his life was portrayed in the movie 2004 "Ray", starring Jamie Foxx, for which Foxx won an Academy Award for Best Award.